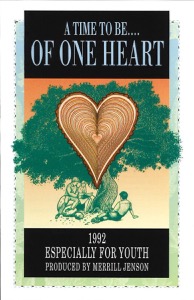 Especially for Youth 1992: A Time to Be… Of One Heart
EFY 1992: Of One Heart, English.
Provo, Utah, USA. Brigham Young University; Trollhaven Music; Merrill Jenson.
1992. 10 songs.
Album produced for the annual "Especially for Youth" (EFY) conferences sponsored by Brigham Young University.
The primary focus of SingPraises.net is music published by The Church of Jesus Christ of Latter-day Saints. However, other hymnals and collections, including the one on this page, are indexed for reference.
---
Indexes
References
List of songs

Songs

(Return to top)
1.

Of One Heart

Artist: Vickey Pahnke Taylor; Steve James

Words: Steve James; Vickey Pahnke Taylor

Music: Steve James; Vickey Pahnke Taylor

Arr.: Merrill Jenson; Steve James

Other versions of this song:

2.

A Change of Heart

Words: Wanda Lindstrom

Music: Wanda Lindstrom

Other versions of this song:

3.

When Your Heart Says Go

Words: Don Stirling

Music: Sam Cardon

Other versions of this song:

4.

One Heart, One Mind

Artist: Kathryn Laycock Little; Roger Hoffman; Marvin Payne

Words: Roger Hoffman

Music: Roger Hoffman

Other versions of this song:

5.

I Know in My Heart

Words: Jeff Herrera

Music: Jeff Herrera

Other versions of this song:

6.

He'll Make You Whole

Artist: Sonja Jenson; Joel McCausland

Words: Joel McCausland

Music: Merrill Jenson

Other versions of this song:

7.

Seeds of Truth

Words: Kevin R. Olson

Music: Kevin R. Olson

Other versions of this song:

8.

Because He Loves Us

Words: Joy Saunders Lundberg

Music: Janice Kapp Perry

Other versions of this song:

9.

The Prince of Peace

Artist: Barry Gibbons; Leroy Gibbons; Lucie Gibbons; Felicia Sorensen Wolfe

Words: James Marsden; Barry Gibbons

Music: James Marsden; Barry Gibbons

Arr.: Merrill Jenson; James Marsden

Other versions of this song:

10.

Taking It Home with Me

Artist: Barry Gibbons; Lucie Gibbons; Steve James; Wanda Lindstrom; Bryce Neubert; Vickey Pahnke Taylor; Felicia Sorensen Wolfe

Words: Vickey Pahnke Taylor; Steve James

Music: Vickey Pahnke Taylor; Steve James

Arr.: Merrill Jenson; Steve James

Other versions of this song: