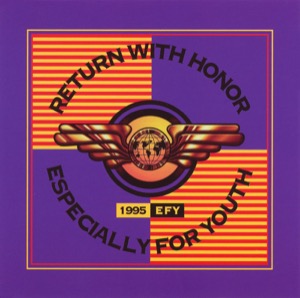 EFY 1995: Return with Honor
Especially for Youth 1995: Return with Honor
EFY 1995: Return with Honor, English.
Provo, Utah, USA. Brigham Young University; Embryo Records; Kenneth Cope; Michael Webb; Randy Kartchner.
1995. 13 songs.
Album produced for the annual "Especially for Youth" (EFY) conferences sponsored by Brigham Young University.
The primary focus of SingPraises.net is music published by The Church of Jesus Christ of Latter-day Saints. However, other hymnals and collections, including the one on this page, are indexed for reference.
---
Indexes
References
List of songs

Songs

(Return to top)
1.

Return with Honor

Artist: Kenneth Cope; Julie de Azevedo; Michael Webb

Words: Randy Kartchner; Kenneth Cope; Michael Webb; Vickey Pahnke Taylor; Evan Stephens

Music: Randy Kartchner; Kenneth Cope; Michael Webb; Vickey Pahnke Taylor

Other versions of this song:

2.

Born for This Day?

Artist: Vickey Pahnke Taylor

Words: Clive Romney; Randy Kartchner; Kenneth Cope

Music: Clive Romney; Randy Kartchner; Kenneth Cope

Other versions of this song:

3.
4.

Broken Hearts

Words: Greg Simpson; Kenneth Cope

Music: Greg Simpson; Kenneth Cope

Other versions of this song:

5.

The Right Track

Words: Kenneth Cope; Randy Kartchner

Music: Kenneth Cope; Randy Kartchner

Other versions of this song:

6.

I Will Remember Him

Artist: Michael Webb; Emilie de Azevedo; Greg Simpson; Kenneth Cope; Randy Thorderson; Julie de Azevedo; Vickey Pahnke Taylor

Words: Michael Webb; Dan Truman; Clive Romney

Music: Michael Webb; Dan Truman; Clive Romney

Other versions of this song:

7.

No Deposit, No Return

Artist: Moana Wolfgramm; Elizabeth Wolfgramm

Words: Kenneth Cope; Michael Webb; Vickey Pahnke Taylor

Music: Kenneth Cope; Michael Webb; Vickey Pahnke Taylor

Other versions of this song:

8.

What Have I Done with His Name?

Words: Kenneth Cope

Music: Kenneth Cope

Other versions of this song:

9.

You'll Never Walk Alone

Words: Oscar Hammerstein II

Music: Richard Rodgers

10.
11.

Back in His Arms Again

Words: Kenneth Cope; Greg Simpson

Music: Kenneth Cope; Greg Simpson

Other versions of this song:

12.

Taking It Home with Me

Artist: Allison Larkin; Jayson Seegmiller; Denise Smith; Priscilla Packard; Elizabeth Wold; Todd Seamons; Cindy Harper; Taylor Anderson; Becky Garrett; Richard Benson; Junior Salima

Words: Vickey Pahnke Taylor; Steve James

Music: Vickey Pahnke Taylor; Steve James

Other versions of this song:

13.

You'll Never Walk Alone (Bonus Track)

Artist: The Tabernacle Choir at Temple Square

Words: Oscar Hammerstein II

Music: Richard Rodgers