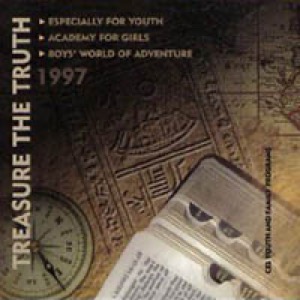 EFY 1997: Treasure the Truth
Especially for Youth 1997: Treasure the Truth
EFY 1997: Treasure the Truth, English.
Provo, Utah, USA. Brigham Young University; Highway Records; Kenneth Cope; Jeff Simpson.
1997. 11 songs.
Album produced for the annual "Especially for Youth" (EFY) conferences sponsored by Brigham Young University.
The primary focus of SingPraises.net is music published by The Church of Jesus Christ of Latter-day Saints. However, other hymnals and collections, including the one on this page, are indexed for reference.
---
Indexes
References
List of songs

Songs

(Return to top)
1.

Treasure the Truth

Words: Kenneth Cope

Music: Kenneth Cope

Other versions of this song:

2.

Shine on Me

Words: Julie de Azevedo; Greg Simpson

Music: Julie de Azevedo; Greg Simpson

Other versions of this song:

3.
4.

Keeper of the Flame

Words: Julie de Azevedo

Music: Julie de Azevedo

Other versions of this song:

5.

Best of Me

Words: Greg Simpson

Music: Greg Simpson

Other versions of this song:

6.
7.

Window to His Love

Words: Julie de Azevedo

Music: Julie de Azevedo

Other versions of this song:

8.
9.
10.

More Than the Gold

Words: Kenneth Cope; Greg Simpson

Music: Kenneth Cope; Greg Simpson

Other versions of this song:

11.

Taking It Home with Me

Artist: Katherine Nelson; Greg Simpson

Words: Vickey Pahnke Taylor; Steve James

Music: Vickey Pahnke Taylor; Steve James

Other versions of this song: