There Is Sunshine in My Soul Today
First line: There's sunshine in my soul to-day / There is sunshine in my soul today / There is [There's] sunshine in my soul today / There's sunshine in my soul today / There is sunshine in my soul today; more glorious and bright / There's sunshine in my soul today, More glorious
Original language: English

Words: Eliza E. Hewitt
Music: John R. Sweney

There Is Sunshine in My Soul Today
Hymns (1985, 2002 ed.), 227
1. There is sunshine in my soul today,More glorious and brightThan glows in any earthly sky,For Jesus is my light.
[Chorus]Oh, there's sunshine, blessed sunshineWhen the peaceful happy moments roll.When Jesus shows his smiling face,There is sunshine in the soul.
2. There is music in my soul today,A carol to my King,And Jesus listening can hearThe songs I cannot sing.
3. There is springtime in my soul today,For when the Lord is near,The dove of peace sings in my heart,The flow'rs of grace appear.
4. There is gladness in my soul today,And hope and praise and love,For blessings which he gives me now,For joys "laid up" above.

These charts show the use of this song in English hymnbooks and other collections published by The Church of Jesus Christ of Latter-day Saints. If a song appears in multiple editions of the same hymnbook, it is only counted once. [undetermined] means that tune information has not yet been entered in.
Tunes that have appeared with this song in English
Appearances of this song over time in English
Tune: Sunshine (by John R. Sweney) (Return to top)
Tune 227
X:227 Q:1/4=104 M:4/4 L:1/8 K:G G3/2A/ | B2 D2 E3/2F/ G3/2A/ | B6 B3/2c/ | B2 A2 D2 A2 | G6 yy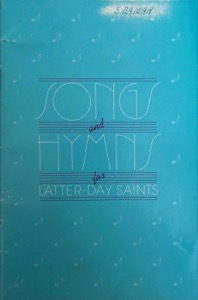 There's Sunshine in My Soul Today
Unofficial or Local Publications
Sunshine in the Soul