Ere Long the Veil Will Rend in Twain
First line: Ere long the vail will rend in twain / Ere long the veil will rend in twain / Eere long the veil will rend in twain
Original language: English

Words: Parley P. Pratt
Music: Lowell Mason

Ere long the veil will rend in twain
Sacred Hymns (Manchester Hymnal) (1840, 1912 ed.), 12
1. Ere long the veil will rend in twain,The King descend with all His train;The earth shall shake with awful fright,And all creation feel His might.
2. The angel's trumpet long shall sound,And wake the nations under ground;Throughout the vast domain of space'Twill echo back from place to place.
3. Lift up your heads, ye Saints in peace,The Savior comes for your release;The day of the redeemed has come,When Saints shall all be welcomed home.
4. Behold the Church! it soars on highTo meet the Saints amid the sky,To hail the King in clouds of fire,And tune and strike the immortal lyre.
5. Hosanna! now the trump shall sound,Proclaim the joys of heaven around,When all the Saints together joinIn songs of love, and all divine.
6. With Enoch here we all shall meet,And worship at Messiah's feet,Unite our hands and hearts in love,And reign on thrones with Christ above.
7. The city that was seen of old,Whose walls were jasper, streets were gold,We'll now inherit, throned in might,The Father and the Son delight.
8. Celestial crowns we shall receive,And glories great our God will give;While loud hosannas we'll proclaim,And sound aloud the Savior's name.
9. Our hearts and tongues shall join in one,To praise the Father and the Son,While all the heavens shall shout again,And all creation say, Amen.

These charts show the use of this song in English hymnbooks and other collections published by The Church of Jesus Christ of Latter-day Saints. If a song appears in multiple editions of the same hymnbook, it is only counted once. [undetermined] means that tune information has not yet been entered in.
Tunes that have appeared with this song in English
Appearances of this song over time in English
Tune: Ere Long the Veil Will Rend in Twain (by Lowell Mason) (Return to top)
Tune 6019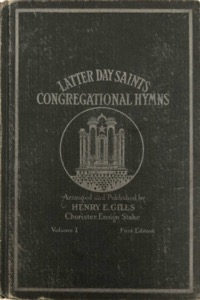 Unofficial or Local Publications
Ere Long the Veil Will Rend in Twain