Faith of Our Fathers
First line: Faith of our fathers, living still, in spite of dungeon, fire and sword / Faith of our fathers / Faith of our fathers, living still [faith] / Faith of our fathers! living still / Faith of the martyrs, living still / Faith of our fathers, we will strive To win all nations
Original language: English

Words: Frederick W. Faber
Music: Henri F. Hemy; James G. Walton

Faith of Our Fathers
Hymns (1985, 2002 ed.), 84
1. Faith of our fathers, living still,In spite of dungeon, fire, and sword;Oh, how our hearts beat high with joyWhene'er we hear that glorious word.
[Chorus]Faith of our fathers, holy faith,We will be true to thee till death!
2. Faith of our fathers, we will striveTo win all nations unto thee,And thru the truth that comes from God,Mankind shall then be truly free.
3. Faith of our fathers, we will loveBoth friend and foe in all our strife,And preach thee, too, as love knows how,By kindly words and virtuous life.

These charts show the use of this song in English hymnbooks and other collections published by The Church of Jesus Christ of Latter-day Saints. If a song appears in multiple editions of the same hymnbook, it is only counted once. [undetermined] means that tune information has not yet been entered in.
Tunes that have appeared with this song in English
Appearances of this song over time in English
Tune: St. Catherine (by Henri F. Hemy; James G. Walton) (Return to top)
Tune 84
X:84 Q:1/4=108 M:3/4 L:1/4 K:G B A G | (G F) G | (A E) F | G3 | yy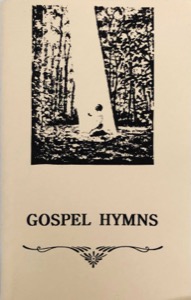 Other Restoration-Based Denominations
Faith of Our Fathers