Lead, Kindly Light
First line: Lead, kindly light, amid th'encircling gloom / Lead kindly light, amid the encircling gloom / Lead, kindly Light, amid th'encircling gloom; Lead / Lead, kindly Light, amid th' encircling gloom / Lead, kindly Light / Divina Luz, con esplendor benigno
Original language: English

Words: John Henry Newman
Music: John B. Dykes

Lead, Kindly Light
Hymns (1985, 2002 ed.), 97
1. Lead, kindly Light, amid th'encircling gloom;Lead thou me on!The night is dark, and I am far from home;Lead thou me on!Keep thou my feet; I do not ask to seeThe distant scene—one step enough for me.
2. I was not ever thus, nor pray'd that thouShouldst lead me on.I loved to choose and see my path; but now,Lead thou me on!I loved the garish day, and, spite of fears,Pride ruled my will. Remember not past years.
3. So long thy pow'r hath blest me, sure it stillWill lead me onO'er moor and fen, o'er crag and torrent, tillThe night is gone.And with the morn those angel faces smile,Which I have loved long since, and lost awhile!

These charts show the use of this song in English hymnbooks and other collections published by The Church of Jesus Christ of Latter-day Saints. If a song appears in multiple editions of the same hymnbook, it is only counted once. [undetermined] means that tune information has not yet been entered in.
Tunes that have appeared with this song in English
Appearances of this song over time in English
Tune: Lux Benigna (by John B. Dykes) (Return to top)
Tune 97
X:97 Q:1/2=72 M:3/2 L:1/4 K:G D G A | B3/2 B/ A G E G | E2 D4 | yy
Other Restoration-Based Denominations
Lead, kindly Light, amid the encircling gloom
Other Restoration-Based Denominations
Lead, kindly Light, amid the encircling gloom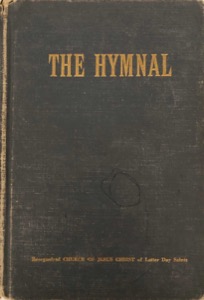 Other Restoration-Based Denominations
Lead, kindly Light, amid the encircling gloom
Unofficial or Local Publications
Lead Kindly Light