The Lord Gave Me a Temple
First line: The Lord gave me a temple to live within / The Lord gave me a temple / The Lord gave me a temple to live within on earth
Original language: English

Words: Donnell Hunter
Music: Darwin Wolford

The Lord Gave Me a Temple
Children's Songbook (1989, 2017 ed.), no. 153
1. The Lord gave me a temple to live within on earth.Once in Heaven I was spirit, but I left my home at birth.I'll make my temple brighter; I'll keep my spirit free.My body is the temple my Father gave to me.
2. If I keep my body clean and pure and habit-free,I may in Father's temple claim blessings promised me.On resurrection morning, I'll take my body brightAnd in celestial glory forever live in light.

These charts show the use of this song in English hymnbooks and other collections published by The Church of Jesus Christ of Latter-day Saints. If a song appears in multiple editions of the same hymnbook, it is only counted once. [undetermined] means that tune information has not yet been entered in.
Tunes that have appeared with this song in English
Appearances of this song over time in English
Tune: The Lord Gave Me a Temple (by Darwin Wolford) (Return to top)
Tune 458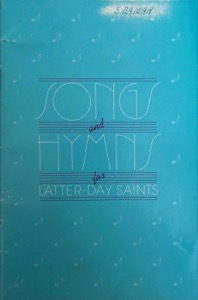 The Lord Gave Me a Temple