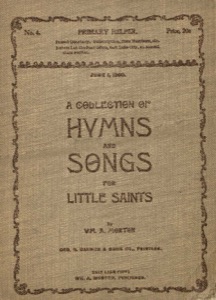 Hymns and Songs for Little Saints
A Collection of Hymns and Songs for Little Saints
Hymns and Songs for Little Saints, English.
Salt Lake City, Utah, USA. William A. Morton.
1900. First edition. 50 songs.
The primary focus of SingPraises.net is music published by The Church of Jesus Christ of Latter-day Saints. However, other hymnals and collections, including the one on this page, are indexed for reference.
---
Indexes
References
List of songs

Songs

(Return to top)
5.

Come, Join with me to Sing and Praise

Words: Anon.

Music: Robert B. Baird

Other versions of this song:

6.

Let us All Unite and Sing

Words: William A. Morton

Music: Ebenezer Beesley

Other versions of this song:

7.
8.

Never say "Fail"

Words: Nona

Music: S. C. Hanson

Other versions of this song:

9a.

O, Father, Look Upon Us

Words: Anon.

Music: Robert B. Baird

Other versions of this song:

9b.

Glory to Thee, my God, this Night

Words: Thomas Ken

Music: Robert B. Baird

Other versions of this song:

10a.

Not Too Young for God to See

Words: Anon.

Music: Anon.

Other versions of this song:

10b.

Children's Hymn of Praise

Words: Anon.

Music: Anon.

Other versions of this song:

11a.

Child's Hymn

Words: Anon.

Music: Anon.

Other versions of this song:

11b.

Be in Time

Words: Anon.

Music: S. S. Turley

Other versions of this song:

12a.

Primary Song

Words: William A. Morton

Music: Anon.

Other versions of this song:

12b.
13a.

Little Things

Words: Anon.

Music: Anon.

Other versions of this song:

13b.

Don't Kill the Birds

Words: C. B. Derry

Music: Anon.

Other versions of this song:

14a.

The Sweet Story of Old

Words: Jemima Luke

Music: Greek air

Other versions of this song:

14b.

Heavenly Father

Words: Anon.

Music: Anon.

Other versions of this song:

15a.

Who Shall Sing if not the Children?

Words: George W. Bethune

Music: Anon.

Other versions of this song:

15b.

Remember thy Creator

Words: Anon.

Music: Frances R. Havergal

Other versions of this song:

16.

O, What Can Little Hands do

Words: Grace W. Hinsdale

Music: Henry E. Button

Other versions of this song:

17.

Our Father in Heaven

Words: Alvin A. Beesley

Music: Robert B. Baird

Other versions of this song:

18.

Happy Children

Words: William O. Cushing

Music: George F. Root

Other versions of this song:

19a.

If Ever I See

Words: Anon.

Music: Anon.

Other versions of this song:

19b.

Don't Give Up

Words: Phoebe Cary

Music: Anon.

Other versions of this song:

20.

Remember Your Prayers

Words: Anon.

Music: Edwin F. Parry

Other versions of this song:

21a.

There is a Happy Land

Words: Andrew Young

Music: Hindu melody

Other versions of this song:

21b.

Happy are the Days of Childhood

Words: Anon.

Music: Edwin F. Parry

Other versions of this song:

22.

What Kind of Boys

Words: Anon.

Music: Anon.

Other versions of this song:

23.

Try, Try Again

Words: T. H. Palmer

Music: Anon.

Other versions of this song:

24a.

The Golden Rule

Words: Anon.

Music: Anon.

Other versions of this song:

24b.

Twinkle, Twinkle Little Star

Words: Jane Taylor

Music: Anon.

Other versions of this song:

25a.

Come now, Little Children

Words: William A. Morton

Music: Ebenezer Beesley

Other versions of this song:

25b.

Evening Prayer

Words: Mary Lundie Duncan

Music: Robert B. Baird

Other versions of this song:

26.

Children, do you Love Each Other?

Words: Anon.

Music: Lewis D. Edwards

Other versions of this song:

27a.

If a Body Finds a Lesson

Words: Anon.

Music: Anon.

Other versions of this song:

27b.

Work and Play

Words: Anon.

Music: Anon.

Other versions of this song:

28a.

The Young Robins

Words: Anon.

Music: H. E. Cogswell

Other versions of this song:

28b.

What we Should Learn

Words: Anon.

Music: Edwin F. Parry

Other versions of this song:

29.

Our Brave Boys and Girls

Words: Anon.

Music: Richard S. Horne

Other versions of this song:

30.

The Old, Old Story

Words: Harriet B. McKeever

Music: Sweeney

Other versions of this song:

31.

Whispering Hope

Words: Septimus Winner

Music: Septimus Winner

Other versions of this song:

32a.

Patriotic Song

Words: Anon.

Music: Anon.

Other versions of this song:

32b.
33a.

The Violet

Words: Anon.

Music: D. D. E. Jones

Other versions of this song:

33b.

God is Ever Good

Words: Anon.

Music: Anon.

Other versions of this song:

34.

Our Mountain Home of Freedom

Words: Anon.

Music: James H. Hood

Other versions of this song:

36a.

Memorial Hymn (For Decoration Day)

Words: Anon.

Music: Alma Hardy

Other versions of this song:

36b.

Children's Devotional Hymn

Words: Henry A. Tuckett

Music: Henry A. Tuckett

Other versions of this song:

37.

Welcome to All

Words: Henry A. Tuckett

Music: Henry A. Tuckett

Other versions of this song:

39.

Word of Wisdom

Words: Anon.

Music: Anon.

Other versions of this song:

40.

I Love You, Mother

Words: Joy Allison

Music: Ebenezer Beesley

Other versions of this song: