Haere Mai, e te Feia Mo'a
English: Come, Come, Ye Saints

First line: Venez, venez, sans craindre le devoir / Come, come, ye Saints / We'll make the air with music ring / Come, come, ye saints, no toil nor labour fear / Come, come, ye Saints, no toil nor labor fear / We'll find the place / Come, come, ye saints, no toil / Come, come ye Saints, not toil nor labor fear / Come, come, ye Saints, no toil or labor fear

Original language: English


Words: William Clayton
Music: English folk song




Venez, venez, sans craindre le devoir
Cantiques (1993, 2017 ed.), 18
1. Venez, venez, sans craindre le devoir,Travailler au progrès!Si le chemin à vos yeux paraît noir,Le secours est tout près.Mieux vaut lutter de tout son cœur,Pour acquérir le vrai bonheur.Venez, joyeux, ne craignez rien,Tout est bien, tout est bien!
2. Pourquoi gémir, déplorer votre sort?Tout est bien, tout est bien.Peut-on gagner la palme sans effort,En quittant le chemin?Recouvrons-nous du bouclier;Allons partout nous écrierQue Dieu sera notre soutien.Tout est bien, tout est bien!
3. Dieu nous prépare un brillant avenirDans l'Ouest, au lointain.Notre destin pourra s'y accomplirEn dépit du Malin.Et nos transports célébrerontAu monde entier nos chants dirontTous les bienfaits du Roi divin.Tout est bien, tout est bien!
4. Et si la mort nous arrête en chemin:Heureux jour! Tout est bien!Fini l'effort et fini le chagrinCar le ciel est atteint.Mais si nos jours sont épargnés,Pour voir les saints se reposer,Ah, que ce chant sonnera bien!Tout est bien, tout est bien!

These charts show the use of this song in French hymnbooks and other collections published by The Church of Jesus Christ of Latter-day Saints. If a song appears in multiple editions of the same hymnbook, it is only counted once. [undetermined] means that tune information has not yet been entered in.
Tunes that have appeared with this song in French
Appearances of this song over time in French
Tune: All Is Well / Winter Quarters (by English folk song) (Return to top)
Tune 30
X:30 Q:1/4=84 M:4/4 L:1/8 K:G G2 G3/2A/ B3 G | FG AB c4 | yy
X:326 Q:1/4=84 M:4/4 L:1/8 K:C clef=treble-8 c2 c3/2d/ e3 c | Bc de f4 | yy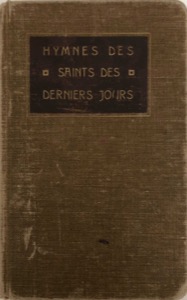 Venez, venez sans craindre