Children's Songbook (1989–Present)
The Children's Songbook was introduced in 1989 and is the Church's official songbook for children, used in the Church's Primary program. The book contains songs that teach the basic doctrines of the gospel simply and clearly, as well as traditional and fun songs for children that aren't necessarily related to the gospel. It is currently available in 43 languages (as of January 2022).
Additional information

Characteristics of the Children's Songbook

The Children's Songbook has a drawing of a group of children sitting outside, gathered around a woman who is reading or singing from a songbook. Around the picture is a greenish-blue border with vertical stripes.

The book can be purchased from Store.LDS.org as a softcover, hardcover, or pocket-size book (not all options are available in every language).

The original English edition of the Children's Songbook contains 268 songs. Each translated version of the book includes 110 of these songs in a standard order (pages 2–138), plus additional songs at the end (pages 139–148) chosen by the translators.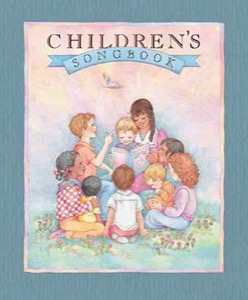 Hymnals/collections that appear in light grey have not been fully indexed.

---

Related collections
Children's Songbook (1989–Present)