Hymns and Children's Songs (1978–2016)
Hymns and Children's Songs is a booklet used mainly in countries where full translations of the 1985 hymnbook and the Children's Songbook are not available. The book has been translated into more than 70 languages. Older editions of the book vary as to which songs are included, but the books published recently contain 35 selected hymns and 10 selected children songs in a standard order. These same hymns were included in older editions of the Church's Gospel Principles (pre-2009) and Gospel Fundamentals manuals.
Additional information

Characteristics of Hymns and Children's Songs

Older editions of the book have a yellow or beige cover with a stamped floral design, bordered by a checkered pattern. Newer editions have a brown or gray cover with a silhouette image of a family singing or learning together, similar to the image on the pre-2009 Gospel Principles manual. The booklets come either spiral-bound or staple-bound.

Several of these books have been replaced by new full hymnbooks. Others have gone out of print in favor of languages where a full hymnbook already exists and members are bilingual. However, many of them are still being used in church meetings and homes around the world. The list below may not be complete.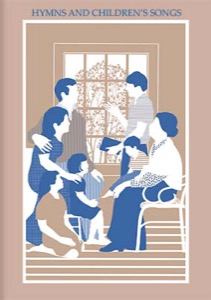 Hymnals/collections that appear in light grey have not been fully indexed.

---

Related collections
Hymns and Children's Songs (1978–2016)