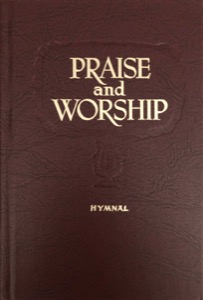 Praise and Worship, English.
Kansas City, Missouri, USA. LifeWay Christian Resources; Lillenas Publishing Company.
1952. Only known edition. 497 songs.
Maroon cover with embossed gold lettering.
The primary focus of SingPraises.net is music published by The Church of Jesus Christ of Latter-day Saints. However, other hymnals and collections, including the one on this page, are indexed for reference.
---
Indexes
References
List of songs

Songs

(Return to top)
1.

All Hail the Power of Jesus' Name

Words: Edward Perronet

Music: Oliver Holden

2.

All Hail the Power of Jesus' Name

Words: Edward Perronet

Music: James Eller

3.

A Mighty Fortress Is Our God

Words: Martin Luther

Music: Martin Luther

Other versions of this song:

4.

Praise Him! Praise Him!

Words: Fanny J. Crosby

Music: Chester G. Allen

5.

How Firm a Foundation!

Words: Selection of Hymns, John Rippon, 1787; Robert Keen

Music: Unknown

6.

How Firm a Foundation!

Words: Selection of Hymns, John Rippon, 1787; Robert Keen

Music: Unknown

7.

The Son of God Goes Forth to War

Words: Reginald Heber

Music: Henry S. Cutler

Other versions of this song:

8.

The Glorious Hope

Words: Samuel Medley

Music: Lowell Mason

9.

There is a Name I Love to Hear

Words: F. Whitfield

Music: W. H. Havergal

10.

O Master, Let Me Walk With Thee

Words: Washington Gladden

Music: H. P. Smith

Other versions of this song:

11.

Take My Life, and Let It Be

Words: Frances R. Havergal

Music: Caesar Malan

Other versions of this song:

12.

Jesus, the Very Thought of Thee

Words: Bernard of Clairvaux

Music: John B. Dykes

Other versions of this song:

13.

Sweetly Resting

Words: Mary D. James

Music: W. Warren Bently

14.

Are Ye Able? Said the Master

Words: Earl Marlatt

Music: Harry S. Mason

Other versions of this song:

15.

Saviour, Like a Shepherd Lead Us

Words: Dorothy Ann Thrupp

Music: William B. Bradbury

Other versions of this song:

16.

My Faith Looks Up to Thee

Words: Ray Palmer

Music: Lowell Mason

Other versions of this song:

17.

Lamp of Our Feet

Words: Bernard Barton

Music: W. A. Schulthes

Other versions of this song:

18.

Higher Ground

Words: Johnson Oatman Jr.

Music: Chas. H. Gabriel

Other versions of this song:

19.

A Blessing in Prayer

Words: E. E. Hewitt

Music: Wm. J. Kirkpatrick

20.

Wonderful Saviour

Words: J. M. H.

Music: J. M. Harris

21.

Something for Jesus

Words: S. Dryden Phelps

Music: Robert Lowry

Other versions of this song:

22.

I Worship Thee, O Holy Ghost

Words: W. F. Warren

Music: Haydn

23.

Near the Cross

Words: Fanny J. Crosby

Music: W. H. Doane

Other versions of this song:

24.

Sweet Will of God

Words: Mrs. C. H. M.

Music: Mrs. C. H. Morris

25.

Open My Eyes, That I May See

Words: Clara H. Scott

Music: Chas. H. Scott

Other versions of this song:

26.

Give Me Jesus

Words: Fanny J. Crosby

Music: Jno. R. Sweney

27.

Sitting at the Feet of Jesus

Words: J. H.

Music: Asa Hull

28.

Lead Me to Calvary

Words: Jennie Evelyn Hussey

Music: Wm. J. Kirkpatrick

Other versions of this song:

29.

A Closer Walk with Thee

Words: H. L.

Music: Haldor Lillenas

30.

O Day of Rest and Gladness

Words: Christopher Wordsworth

Music: Lowell Mason

Other versions of this song:

31.

Love Divine

Words: Charles Wesley

Music: John Zundel

Other versions of this song:

32.

There's a Wideness

Words: Frederick W. Faber

Music: Lizzie S. Tourjee

Other versions of this song:

33.

Oh, for a Heart to Praise My God!

Words: Charles Wesley

Music: Carl G. Glazer

Other versions of this song:

34.

Jesus, I'll go through with Thee

Words: E. E. Williams

Music: H.L. Gilmour

35.

God Moves in a Mysterious Way

Words: William Cowper

Music: G.A. Rossini

Other versions of this song:

36.

Now the Day is Over

Words: Sabine Baring-Gould

Music: Joseph Barnaby

Other versions of this song:

37.

In Life's Quiet Hours

Words: Fra Morton Sims

Music: Haldor Lillenas

38.

I Do Not Ask to Choose My Path

Words: Henry J. Zelley

Music: H. L. Gilmour

39.

The beautiful garden of prayer

Words: Eleanor Allen Schroll

Music: J. H. Fillmore

Other versions of this song:

40.

Oh, Worship the King

Words: Robert Grant

Music: J. Michael Haydn

Other versions of this song:

41.

My Soul, Be on Thy Guard

Words: George Heath

Music: Lowell Masom

Other versions of this song:

42.

O Jesus, I Have Promised

Words: John E. Bode

Music: Arthur H. Mann

Other versions of this song:

43.

Safe in the Arms of Jesus

Words: Fanny J. Crosby

Music: W. H. Doane

Other versions of this song:

44.

There Is a Green Hill Far Away

Words: Cecil Frances Alexander

Music: Geo. C. Stebbins

Other versions of this song:

45.

I Know I Love Thee Better, Lord

Words: Frances Ridley Havergal

Music: R. E. Hudson

46.

The call for reapers

Words: J. O. Thompson

Music: J. B. O. Clemm

47.

I Am Thine, O Lord

Words: Fanny J. Crosby

Music: W. H. Doane

Other versions of this song:

48.

I Love Thy Kingdom, Lord

Words: Psalm 137; Timothy Dwight

Music: Aaron Williams

Other versions of this song:

49.

Gloria Patri

Words: Anonymous

Music: Charles Meineke

Other versions of this song:

50.

Meare. My God, to Thee

Words: Sarah F. Adams

Music: Lowell Mason

Other versions of this song:

51.

Forever Here My Rest Shall Be

Words: Charles Wesley

Music: Hugh Wilson

52.

My Jesus, I Love Thee

Words: William R. Featherstone

Music: A. J. Gordon

Other versions of this song:

53.

Blessed quietness

Words: Manie Payne Ferguson

Music: Marshall

Other versions of this song:

54.

A Charge to Keep I Have

Words: Charles Wesley

Music: Lowell Mason

Other versions of this song:

55.

Majestic Sweetness

Words: Samuel Stennett

Music: Thomas Hastings

56.

Come Thou Fount

Words: Robert Robinson

Music: Asahel Nettleton

Other versions of this song:

57.

In the Cross of Christ

Words: John Bowring

Music: Ithamar Conkey

Other versions of this song:

58.

O God, Our Help in Ages Past

Words: Isaac Watts

Music: William Croft

Other versions of this song:

59.

In Heavenly Love Abiding

Words: Anna L. Waring

Music: S. S. Wesley

Other versions of this song:

60.

The Rock That Is higher than I

Words: Erastus Johnson

Music: William G. Fischer

Other versions of this song:

61.

More Love to Thee

Words: Elizabeth T. Prentiss

Music: W. H. Doane

Other versions of this song:

62.

Down to the Sacred Wave

Words: Samuel F. Smith

Music: J. C. Woodman

Other versions of this song:

63.

What a Friend

Words: Joseph Scriven

Music: Charles C. Converse

Other versions of this song:

64.

Meditation

Words: Joseph Swain

Music: Freeman Lewis

Other versions of this song:

65.

Blest Be the Tie That Binds

Words: John Fawcett

Music: H. G. Nageli

Other versions of this song:

66.

Lead On, O King Eternal

Words: Ernest W. Shurtleff

Music: Henry Smart

Other versions of this song:

67.

O Sacred Head, Now Wounded

Words: Arnulf of Leuven; Paul Gerhardt

Music: Lowell Mason

Other versions of this song:

68.

All That Thrills My Soul

Words: T. H.

Music: Thoro Harris

69.

When I Survey

Words: Isaac Watts

Music: Lowell Mason

70.

When I Survey

Words: Isaac Watts

Music: I. B Woodbury

71.

Here at Thy Table, Lord

Words: May P. Hoyt

Music: William F. Sherwin

Other versions of this song:

72.

Sweet Hour of Prayer

Words: William W. Walford

Music: Wm. G. Bradbury

Other versions of this song:

73.

Holy Ghost, with Light Divine

Words: Andrew Reed

Music: L. Gottschalk

Other versions of this song:

74.

Come, Holy Spirit, Dove Divine

Words: Adoniram Judson

Music: Lowell Mason

75.

Lord, I Hear of Showers of Blessing

Words: Elizabeth Codner

Music: Wm. B. Bradbury

76.

This Is the Day the Lord Hath Made

Words: Isaac Watts

Music: T. A. Arne

Other versions of this song:

77.

Blessed Be the Name

Words: Charles Wesley

Music: R. E. Hudson

78.

Unsearchable Riches

Words: F. J. C.

Music: J. R. Sweney

79.

Oh, for a Faith That Will Not Shrink

Words: William H. Bathurst

Music: Carl G. Glazer

Other versions of this song:

80.

Jesus Calls Us

Words: Cecil Frances Alexander

Music: William H. Jude

Other versions of this song:

81.

Friendship with Jesus

Words: Joseph C. Ludgate

Music: Foster

Other versions of this song:

82.

Blessed Hour of Prayer

Words: Fanny J. Crosby

Music: W. H. Doane

Other versions of this song:

83.

Stand up, ye soldiers

Words: George Duffield

Music: Unknown

Other versions of this song:

84.

This is my Father's world, And to my list'ning ears

Words: Maltbie D. Babcock

Music: Unknown

Other versions of this song:

85.

Hail, thou once despised Jesus

Words: John Bakewell

Music: Unknown

86.

Arise, my soul, arise, shake off

Words: Charles Wesley; Wesley's Collection

Music: Unknown

Other versions of this song:

87.

Hiding in Thee

Words: William Orcutt Cushing

Music: Unknown

88.

There is a fountain filled with blood, drawn from Immanuel's vein [veins]

Words: William Cowper

Music: Unknown

89.

Near to the heart of God

Words: Cleland Boyd McAfee

Music: Unknown

Other versions of this song:

90.

Jesus shall reign where'er the sun

Words: Isaac Watts

Music: Unknown

Other versions of this song:

91.

When morning gilds the skies

Song credits not available

Other versions of this song:

92.

All the way my Savior leads me

Words: Fanny J. Crosby

Music: Unknown

Other versions of this song:

93.

Sun of my soul [our souls], thou [my] [O] Savior [Father] dear

Words: John Keble

Music: Unknown

Other versions of this song:

94.

Must Jesus bear the [his] cross alone

Words: Thomas Shepherd

Music: Unknown

Other versions of this song:

95.

Lo he comes with clouds descending

Words: Charles Wesley

Music: Unknown

Other versions of this song:

96.

From every stormy wind [sense] that blows

Words: Hugh Stowell

Music: Unknown

97.

Jesus is my Refuge

Words: Hugh C. Benner

Music: Unknown

98.

He leadeth me, O blessed thought

Words: Joseph H. Gilmore

Music: Unknown

Other versions of this song:

99.

Nearer the cross my heart can say

Words: Fanny J. Crosby

Music: Unknown

100.

Publish glad tidings, tidings of peace

Words: Mary A. Thomson

Music: Unknown

Other versions of this song:

101.

Sweeter than all

Words: Johnson Oatman

Music: Unknown

102.

I gave my life for [to] thee

Words: Frances R. Havergal

Music: Unknown

Other versions of this song:

103.

O the blood, the precious blood

Words: J. A. Stocktow; WIlliam McDonald

Music: Unknown

104.

More about Jesus would I know

Words: Eliza E. Hewitt

Music: Unknown

Other versions of this song:

105.

Beneath the cross of Jesus I fain would take my stand

Words: Elizabeth C. Clephane

Music: Unknown

Other versions of this song:

106.

Sweetest note in seraph song

Words: William H. Hunter; William Hunter

Music: Unknown

107.

I will praise him

Words: Margaret J. Harris

Music: Unknown

108.

Open the windows of heaven

Words: Charles Edward Pollock

Music: Unknown

109.

Jesus, I my cross have taken, all to leave

Words: Henry F. Lyte

Music: Unknown

Other versions of this song:

110.

O sweet rest

Song credits not available

111.

'Tis midnight, and on Olive's brow

Words: William B. Tappan

Music: Unknown

Other versions of this song:

112.

Living for Jesus

Words: C. F. W.

Music: C. F. Weigle

113.

Awake, my soul, in [to] joyful [joyous] lays

Words: Samuel Medley

Music: Unknown

Other versions of this song:

114.

Precious name, O how sweet

Words: Lydia O. Baxter

Music: Unknown

Other versions of this song:

115.

Under the blood

Words: Eliza E. Hewitt

Music: Unknown

116.

Every bridge is burned behind me

Words: Johnson Oatman

Music: Unknown

117.

Jesus, Lover [Savior] of my soul, Let me to thy bosom [refuge] fly

Words: Charles Wesley

Music: Unknown

Other versions of this song:

118.

Let all the people praise Thee

Words: Lelia N. Morris

Music: Unknown

119.

Jesus, thine all victorious love

Words: Charles Wesley, 1707-1788

Music: Unknown

120.

Is this not the land of Beulah

Song credits not available

121.

Come, thou almighty King, Help us thy name to sing

Song credits not available

Other versions of this song:

122.

O could I [we] speak the matchless worth

Words: Samuel Medley

Music: Unknown

123.

Look ye saints the sight is glorious

Words: Thomas Kelly

Music: Unknown

Other versions of this song:

124.

Thou thinkest, Lord, of me

Words: Edward S. Lorenz

Music: Unknown

Other versions of this song:

125.

Dear Lord and Father [Master] of mankind [us all], Forgive our foolish ways

Words: John Greenleaf Whittier

Music: Unknown

Other versions of this song:

126.

Jewels

Words: William O. Cushing

Music: Unknown

Other versions of this song:

127.

O that will be glory

Words: Charles H. Gabriel

Music: Unknown

Other versions of this song:

128.

My Savior first of all

Words: Fanny J. Crosby

Music: Unknown

Other versions of this song:

129.

Sweet by and by

Words: S. Fillmore Bennett

Music: Unknown

Other versions of this song:

130.

The last mile of the way

Words: Johnson Oatman Jr.

Music: Unknown

Other versions of this song:

131.

The eastern gate

Words: I. G. Martin

Music: Unknown

132.

Over there

Words: DeWitt C. Huntington

Music: Unknown

Other versions of this song:

133.

In the New Jerusalem

Words: C. B. Widmeyer

Music: Unknown

134.

Abide with me, fast falls the eventide

Words: Henry F. Lyte

Music: Unknown

Other versions of this song:

135.

The pearly white city

Words: Arthur F. Ingler

Music: Unknown

Other versions of this song:

136.

Jesus is mine

Words: Jane C. Bonar

Music: Unknown

Other versions of this song:

137.

We'll understand it better by and by

Words: Charles Albert Tindley

Music: Unknown

138.

Every day, every hour

Words: Fanny J. Crosby

Music: Unknown

139.

Home of the soul

Words: Ellen M. H. Gates

Music: Unknown

Other versions of this song:

140.

The unclouded day

Words: Josiah K. Alwood

Music: Unknown

141.

There'll be no sorrow there

Words: Lewis Hartsough

Music: Unknown

142.

There'll be no shadows

Words: Edgar Lewis

Music: Unknown

143.

Where they need no sun

Words: Haldor Lillenas

Music: Unknown

144.

I shall be like him

Words: William A. Spencer

Music: Unknown

145.

When the roll is called up yonder

Words: James M. Black

Music: Unknown

Other versions of this song:

146.

Beautiful river

Words: Robert Lowry

Music: Unknown

Other versions of this song:

147.

Zion's hill

Words: James A. Crutchfield

Music: Unknown

148.

He has never failed me yet

Words: William J. Henry

Music: Unknown

149.

Jesus understands

Words: R. F. R. Bell

Music: Unknown

150.

God will take care of you

Words: Civilla D. Martin; Walter S. Martin

Music: Unknown

Other versions of this song:

151.

Never alone

Words: Eliza E. Hewitt

Music: Unknown

152.

I must tell Jesus all of my trials

Words: Elisha A. Hoffman

Music: Unknown

Other versions of this song:

153.

Child of a King

Words: Harriet E. Buell

Music: Unknown

Other versions of this song:

154.

God leads us along

Words: G. A. Young

Music: Unknown

155.

How can I be lonely

Words: Haldor Lillenas

Music: Unknown

Other versions of this song:

156.

It is well with my soul

Words: Horatio Spafford

Music: Unknown

Other versions of this song:

157.

Jesus is all I need

Words: James Rowe

Music: Unknown

158.

Jesus will walk with me down through the valley

Words: Haldor Lillenas

Music: Unknown

159.

The cross is not greater than his grace

Words: Ballington Booth

Music: Unknown

160.

Under his wings I am [I'm] safely abiding

Words: William Orcutt Cushing

Music: Unknown

161.

Your roses may have thorns

Words: Haldor Lillenas

Music: Unknown

162.

No, not one

Words: Johnson Oatman

Music: Unknown

163.

'Tis good to live in Canaan

Words: Lelia N. Morris

Music: Unknown

164.

Old time power

Words: Charlie D. Tillman

Music: Unknown

165.

The haven of rest

Words: Henry L. Gilmour

Music: Unknown

Other versions of this song:

166.

Wonderful words of life

Words: Philip Paul Bliss

Music: Unknown

Other versions of this song:

167.

Since the Holy Ghost abides

Words: F. E. Hill

Music: Unknown

168.

The blood will never lose its power

Words: Civilla D. Martin

Music: Unknown

169.

'Tis burning in my soul

Words: Delia T. White

Music: Unknown

170.

At Calvary

Words: William R. Newell

Music: Unknown

171.

Once a sinner far from Jesus, I was perishing with cold

Words: Johnson Oatman

Music: Unknown

172.

At the cross

Words: Isaac Watts

Music: Unknown

173.

The solid rock

Words: Edward Mote

Music: Unknown

Other versions of this song:

174.

The cleansing wave

Words: Phoebe Palmer

Music: Unknown

175.

The Comforter has come

Words: Francis Bottome

Music: Unknown

176.

Where Jesus is, ''tis heaven

Words: C. F. Butler

Music: Unknown

177.

Tell me the story of Jesus, write on my heart

Words: Fanny J. Crosby

Music: Unknown

Other versions of this song:

178.

O happy day that fixed [seals] [stays] my choice

Words: Philip Doddridge

Music: Unknown

Other versions of this song:

179.

I will hasten to him

Words: Palmer Hartsough

Music: Unknown

180.

My wonderful Lord

Words: Haldor Lillenas

Music: Unknown

181.

On the victory side

Words: Fanny J. Crosby

Music: Unknown

182.

Look and live

Words: William A. Ogden

Music: Unknown

183.

Sweeter as the years go by

Words: Lelia Naylor Morris

Music: Unknown

Other versions of this song:

184.

There is power in the blood of Jesus

Words: Hugh C. Benner

Music: Unknown

185.

Rescue the perishing, care for the dying

Words: Fanny J. Crosby

Music: Unknown

Other versions of this song:

186.

His grace aboundeth more

Words: Kate Ulmer

Music: Unknown

187.

Still sweeter every day

Words: William Clark Martin

Music: Unknown

Other versions of this song:

188.

We'll work 'till Jesus comes

Words: Elizabeth K. Mills

Music: Unknown

Other versions of this song:

189.

Showers of blessing

Words: Daniel W. Whittle

Music: Unknown

Other versions of this song:

190.

Trusting Jesus, that is all

Words: Edgar Page Stites

Music: Unknown

Other versions of this song:

191.

Wonderful

Words: Haldor Lillenas

Music: Unknown

192.

Glory to his name

Words: Elisha A. Hoffman

Music: Unknown

Other versions of this song:

193.

I'm so glad, I'm so glad

Words: Lelia N. Morris

Music: Unknown

194.

Leaning on the everlasting arms

Words: Elisha A. Hoffman

Music: Unknown

Other versions of this song:

195.

Living by faith in Jesus above

Words: James Wells

Music: Unknown

196.

He Loves Me

Words: Isaac Watts

Music: Unknown

197.

Joy in my soul

Words: James Bruce Mackay

Music: Unknown

198.

Jesus, Jesus, how I trust him

Words: Louisa M. R. Stead

Music: Unknown

Other versions of this song:

199.

Holiness unto the Lord is our watchword

Words: Lelia N. Morris

Music: Unknown

200.

Nothing but the blood of Jesus

Words: Robert Lowry

Music: Unknown

201.

I know God's promise is true

Words: Lelia N. Morris

Music: Unknown

202.

A Holy Ghost revival

Words: Lelia N. Morris

Music: Unknown

203.

Saved by the blood

Words: Bertha Mae Lillenas

Music: Unknown

204.

I'm glad salvation's free

Song credits not available

205.

The morning light is breaking; the darkness disappears

Words: Samuel F. Smith

Music: Unknown

Other versions of this song:

206.

Till we meet, till we meet

Words: Jeremiah E. Rankin

Music: Unknown

Other versions of this song:

207.

I'll go where you want me to go

Words: Mary Brown

Music: Unknown

Other versions of this song:

208.

The Lord is my Shepherd, I shall not want; He maketh me down to lie

Words: Ralph E. Hudson

Music: Unknown

209.

He rolled the sea away

Words: Henry J. Zelley

Music: Unknown

210.

A new touch of fire

Words: Lelia N. Morris

Music: Unknown

211.

He will carry you through

Words: A. A. Jameson; Haldor Lillenas

Music: Unknown

212.

Hallelujah, 'tis done

Words: Philip P. Bliss

Music: Unknown

213.

The Everlasting Arms

Words: Mrs. C. H. M.

Music: Mrs. C. H. Morris

214.

When thou walkest by the way

Words: Charles Price Jones

Music: Unknown

215.

He was not willing that any should perish

Words: Lucy Rider Meyer

Music: Unknown

216.
217.

He ransomed me

Words: Julia H. Johnston

Music: Unknown

218.

I feel like traveling on

Words: William Hunter

Music: Unknown

219.

Bringing in the sheaves

Words: Knowles Shaw

Music: Unknown

Other versions of this song:

220.

A Glorious Church

Words: R. E. H.

Music: R. E. Hudson

221.

A Wonderful Fountain

Words: Haldor Lillenas

Music: Unknown

222.

All in all

Words: Edgar Lewis

Music: Unknown

223.

I love to tell the story of unseen things above

Words: Katherine Hankey

Music: Unknown

Other versions of this song:

224.

All the way along it is Jesus

Words: Ada Blenkhorn

Music: Unknown

225.

The old Book and the old faith

Words: George H. Carr

Music: Unknown

226.

Altogether lovely

Words: Haldor Lillenas; Marie Wolf

Music: Unknown

227.

The old rugged cross

Words: George Bennard

Music: Unknown

Other versions of this song:

228.

Yes, I'll sing the wondrous story

Words: Francis H. Rowley, 1854-1952

Music: Unknown

229.

O give me the old time religion

Words: Margaret J. Harris

Music: Unknown

230.

Anywhere with Jesus I can safely go

Words: Jessie B. Pounds

Music: Unknown

Other versions of this song:

231.

The past is all under the blood

Words: Lelia Naylor Morris

Music: Unknown

Other versions of this song:

232.

He Abides

Words: Herbert Buffum

Music: Unknown

233.
234.

Wonderful Savior

Words: Elisha Albright Hoffman; Elisha A. Hoffman

Music: Unknown

235.

Send the gospel tidings over land and sea

Words: Haldor Lillenas

Music: Unknown

236.

This is my story, this is my song

Words: Fanny J. Crosby

Music: Unknown

Other versions of this song:

237.

The sweet Beulah land

Words: Henry J. Zelley

Music: Unknown

238.

I would not be denied

Words: Charles Price Jones

Music: Unknown

239.

Blessed Redeemer

Words: Avis B. Christiansen

Music: Unknown

Other versions of this song:

240.

Beulah land

Words: Edgar Page Stites

Music: Unknown

Other versions of this song:

241.

The work must go on

Words: Laurene Highfield

Music: Unknown

Other versions of this song:

242.

Victory in Jesus

Words: Eugene M. Bartlett Sr.

Music: Unknown

Other versions of this song:

243.

Take time to be holy

Words: William D. Longstaff

Music: Unknown

Other versions of this song:

244.

Come over into Canaan

Words: Haldor Lillenas

Music: Unknown

245.

I'm pressing on

Words: Johnson Oatman

Music: Unknown

246.

There is power in the blood

Words: Lewis E. Jones

Music: Unknown

Other versions of this song:

247.

Redeemed, how I love to proclaim it

Words: Fanny J. Crosby

Music: Unknown

248.

Come to the feast

Words: Charles H. Gabriel

Music: Unknown

Other versions of this song:

249.

This is like heaven to me

Words: J. E. French

Music: Unknown

250.

'Tis marvelous and wonderful

Words: Lelia N. Morris

Music: Unknown

251.

Revive us again

Words: William P. Mackay

Music: Unknown

Other versions of this song:

252.

I'll Be a Soldier for Jesus

Words: Isaac Watts

Music: Mrs. C. H. Morris

253.

Throw out the life line across the dark wave

Words: Edward S. Ufford

Music: Unknown

Other versions of this song:

254.

Covered by the blood

Words: Nellie Edwards

Music: Unknown

255.

Walking in the beautiful light of God

Words: Haldor Lillenas

Music: Unknown

256.

Soldiers of Christ, arise, and put [gird] your armor

Words: Charles Wesley

Music: Unknown

Other versions of this song:

257.

Toiling on

Words: Fanny J. Crosby

Music: Unknown

Other versions of this song:

258.

O deeper yet, I pray

Words: Charles Price Jones

Music: Unknown

259.

I've anchored in Jesus

Words: Lewis E. Jones

Music: Unknown

260.

A shelter in the time of storm

Words: Vernon J. Charlesworth

Music: Unknown

Other versions of this song:

261.

The old account settled long ago

Words: Frank M. Graham

Music: Unknown

262.

Oh, How I Love Jesus!

Song credits not available

263.

Follow on

Words: William Orcutt Cushing

Music: Unknown

264.

Peal out the watchword, silence it never

Words: Frances R. Havergal

Music: Unknown

Other versions of this song:

265.

The fight is on, O Christian soldier

Words: Lelia Naylor Morris

Music: Unknown

Other versions of this song:

266.

I would be true, for there are those

Words: Howard A. Walter

Music: Unknown

Other versions of this song:

267.

In my heart there rings a melody

Words: Elton M. Roth

Music: Unknown

268.

From Greenland's icy mountains

Words: Reginald Heber

Music: Unknown

Other versions of this song:

269.

Is my name written there

Words: Mary Ann Kidder

Music: Unknown

270.

Under the atoning blood

Words: Haldor Lillenas

Music: Unknown

271.

My burden is gone

Words: Haldor Lillenas

Music: Unknown

272.

Jesus never fails

Words: Arthur A. Luther

Music: Unknown

Other versions of this song:

273.

Give Him the Glory

Words: Elisha A. Hoffman; Elisha Albright Hoffman

Music: Unknown

274.

It pays to serve Jesus

Words: Frank C. Huston

Music: Unknown

275.

Give of your best to the Master, Give of the strength

Words: Howard B. Grose

Music: Unknown

Other versions of this song:

276.

Glorious freedom

Words: Haldor Lillenas

Music: Unknown

277.

Victory all the time

Words: Lelia N. Morris

Music: Unknown

278.

It cleanseth me

Words: F. L. Snyder

Music: Unknown

279.

Great is Immanuel

Words: Haldor Lillenas

Music: Unknown

280.

The power, the power, gives victory

Words: Charles F. Weigle

Music: Unknown

281.

The garden of my heart

Words: Haldor Lillenas

Music: Unknown

282.

The healing waters

Words: H. H. Heimar

Music: Unknown

283.

Walking in the King's highway

Words: Florence Horton

Music: Unknown

284.

Hallelujah, I am free

Words: A. A. Jameson

Music: Unknown

285.

Hallelujah, we shall rise

Words: J. Edmond Thomas

Music: Unknown

286.

He brought me out of the miry clay

Words: Henry L. Gilmour; Henry J. Zelley

Music: Unknown

287.

Hark, the voice of Jesus crying Who will go and work today

Words: Daniel March

Music: Unknown

Other versions of this song:

288.

Our Lord's return to earth again

Words: James M. Kirk

Music: Unknown

289.

The Macedonian cry

Words: Cecil F. Alexander

Music: Unknown

290.

Washed in the blood, by the spirit sealed

Words: Charles Price Jones

Music: Unknown

291.

He hideth my soul

Words: Fanny J. Crosby

Music: Unknown

292.

The way of the cross leads home

Words: Jessie B. Pounds

Music: Unknown

Other versions of this song:

293.

It Is Glory Just to Walk with Him

Words: Avis M. Burgeson

Music: Haldor Lillenas

294.

We Have an Anchor

Words: Priscilla J. Owens

Music: Wm. J. Kirkpatrick

Other versions of this song:

295.

It Is Jesus

Words: William C. Poole

Music: Unknown

296.

We shall see the King some day

Words: Lewis E. Jones

Music: Unknown

297.

We Will Stand the Storm

Words: Isaac Watts

Music: Unknown

298.

Living forever O marvelous thought

Words: Haldor Lillenas

Music: Unknown

299.

All for Jesus, all for Jesus, All my being's ransomed powers

Words: Mary D. James

Music: Unknown

Other versions of this song:

300.

He included me

Words: Johnson Oatman

Music: Unknown

301.

It is mine

Words: Elisha Albright Hoffman; Elisha A. Hoffman

Music: Unknown

302.

He is able to deliver thee

Words: William A. Ogden

Music: Unknown

303.

He is so precious to me

Words: Charles H. Gabriel

Music: Unknown

304.

We'll girdle the globe

Words: Vivian A. Dake

Music: Unknown

305.

It is truly wonderful

Words: Barney E. Warren

Music: Unknown

306.

Jesus is all the world to me, My life

Words: William L. Thompson

Music: Unknown

307.

He keeps me singing

Words: Luther B. Bridgers

Music: Unknown

Other versions of this song:

308.

We're marching to Zion

Words: Isaac Watts

Music: Unknown

Other versions of this song:

309.

Jesus is mighty to save

Words: Lelia N. Morris

Music: Unknown

310.

When the tithes are gathered in

Words: Lelia N. Morris

Music: Unknown

311.

Dare to be a Daniel

Words: Philip P. Bliss

Music: Unknown

312.

He shall reign

Words: Haldor Lillenas

Music: Unknown

313.

Trust and obey, for there's no other way

Words: John H. Sammis

Music: Unknown

Other versions of this song:

314.

He that winneth souls

Words: Eliza E. Hewitt

Music: Unknown

315.

Launch out

Words: Albert B. Simpson

Music: Unknown

316.

He took my sins away

Words: Margaret J. Harris

Music: Unknown

317.

For the darkness shall turn to dawning

Words: H. Ernest Nichol

Music: Unknown

Other versions of this song:

318.

He's a wonderful Savior to me

Words: Virgil P. Brock

Music: Unknown

Other versions of this song:

319.

When I see the blood

Words: John G. Foote

Music: Unknown

320.

Coming back again

Song credits not available

321.

Love lifted me

Words: James Rowe

Music: Unknown

Other versions of this song:

322.

Heavenly sunlight

Words: Henry J. Zelley

Music: Unknown

323.

Hidden peace

Words: John S. Brown

Music: Unknown

324.

When we all get to heaven

Words: Eliza E. Hewitt

Music: Unknown

325.

Holiness forevermore

Words: Haldor Lillenas

Music: Unknown

326.

Where he leads I'll follow

Words: William A. Ogden

Music: Unknown

327.

It's real

Words: H. L. Cox

Music: Unknown

328.

Break thou the bread of life

Words: Mary Ann Lathbury

Music: Unknown

Other versions of this song:

329.

Jesus saves, Jesus saves

Words: Priscilla J. Owens

Music: Unknown

Other versions of this song:

330.

Whosoever, surely meaneth me

Words: J. Edwin McConnell

Music: Unknown

331.

Whosoever will

Words: Philip Paul Bliss

Music: Unknown

Other versions of this song:

332.

Joy unspeakable

Words: Barney E. Warren

Music: Unknown

333.

Wonderful the matchless grace of Jesus

Words: Haldor Lillenas

Music: Unknown

334.

Wonderful peace

Words: Warren D. Cornell

Music: Unknown

Other versions of this song:

335.

Reach your arms around the world for Jesus

Words: Vida Munden Nixon

Music: Unknown

336.

Wonderful story of love; tell it to me again

Words: J. Merrite Driver

Music: Unknown

337.

Ask the Savior to help you

Words: Horatio R. Palmer

Music: Unknown

Other versions of this song:

338.

Lean on His arms, trusting in His love

Words: Edgar Lewis

Music: Unknown

339.

Wonderful peace

Words: Haldor Lillenas

Music: Unknown

340.

Glory, glory

Words: William O. Cushing

Music: Unknown

Other versions of this song:

341.

Honey in the rock

Words: F. A. Graves

Music: Unknown

342.

It's just like His great love

Words: Edna R. Worrell

Music: Unknown

Other versions of this song:

343.

Close to thee

Words: Fanny J. Crosby

Music: Unknown

Other versions of this song:

344.

Rise and shine

Words: Jarrette E. Aycock

Music: Unknown

345.

How the fire fell

Words: Johnson Oatman

Music: Unknown

346.

Saved by power divine

Words: Jack P. Scholfield

Music: Unknown

Other versions of this song:

347.

I belong to the King, I'm a child of his love

Words: Ida L. Reed Smith

Music: Unknown

348.

Leaving all to follow Jesus

Words: Ida M. Budd

Music: Unknown

349.

Saved to the uttermost I am the Lord's

Words: William J. Kirkpatrick

Music: Unknown

Other versions of this song:

350.

Let the Holy Ghost come in

Words: R. F. Reynolds

Music: Unknown

351.

Tell me the old, old story of unseen things above

Words: Katherine Hankey

Music: Unknown

Other versions of this song:

352.

I love to walk with Jesus

Words: Charles F. Weigle

Music: Unknown

353.

Come, ye [you] disconsolate, where'er ye [you] languish

Words: Thomas Moore; Thomas Hastings

Music: Unknown

Other versions of this song:

354.

The winds and waves shall obey Thy will

Words: Mary Ann Baker

Music: Unknown

Other versions of this song:

355.

Send the light

Words: Charles H. Gabriel

Music: Unknown

Other versions of this song:

356.

I know whom I have believed

Words: Daniel W. Whittle

Music: Unknown

Other versions of this song:

357.

Since I have been redeemed

Words: Edwin O. Excell

Music: Unknown

358.

I love him better every day

Words: Thoro Harris

Music: Unknown

359.

I have settled the question

Words: Haldor Lillenas

Music: Unknown

360.

Faith of our fathers, living still [faith]

Words: Frederick W. Faber

Music: Unknown

Other versions of this song:

361.

Since Jesus came into my heart

Words: Rufus H. McDaniel

Music: Unknown

Other versions of this song:

362.

The light of the world

Words: Philip Paul Bliss

Music: Unknown

Other versions of this song:

363.

Go forth

Words: Haldor Lillenas

Music: Unknown

364.

My burdens rolled away

Words: Minnie A. Steele

Music: Unknown

365.

My Redeemer

Words: Philip Paul Bliss

Music: Unknown

Other versions of this song:

366.

Rouse then, soldiers [freemen]

Words: William F. Sherwin

Music: Unknown

Other versions of this song:

367.

Standing, standing

Words: R. Kelso Carter

Music: Unknown

Other versions of this song:

368.

My Savior's love

Words: Charles H. Gabriel

Music: Unknown

Other versions of this song:

369.

He's everything to me

Words: Kate Byron

Music: Unknown

370.

From all that [who] dwell [dwells] below the [in earth and] skies

Words: Isaac Watts

Music: Unknown

Other versions of this song:

371.

Standing on the Word

Words: Haldor Lillenas

Music: Unknown

372.

My soul is filled with glory

Words: J. M. Harris

Music: Unknown

373.

Let them praises give Jehovah

Song credits not available

374.

Guide me, O thou great Jehovah

Words: William Williams

Music: Unknown

Other versions of this song:

375.

My wonderful Friend

Words: Haldor Lillenas

Music: Unknown

376.

One More Day's Work for Jesus

Words: Anna B. Warner

Music: Robert Lowry

377.

Sunshine in the soul

Words: Eliza E. Hewitt

Music: Unknown

Other versions of this song:

378.

Tell the blessed story

Words: Haldor Lillenas

Music: Unknown

379.

Stepping in the light

Words: Eliza E. Hewitt

Music: Unknown

Other versions of this song:

380.

Onward, Christian soldiers, marching as to war, With the cross

Words: Sabine Baring-Gould

Music: Unknown

Other versions of this song:

381.

Such love

Words: C. Bishop

Music: Unknown

382.

Pentecostal power

Words: Charles H. Gabriel; Charlotte G. Homer

Music: Unknown

383.

My mother's old Bible is true

Words: D. M. Shanks

Music: Unknown

384.

Sunlight, Sunlight

Words: Judson W. Van DeVenter

Music: Unknown

Other versions of this song:

385.

Faith is the victory

Words: John H. Yates

Music: Unknown

Other versions of this song:

386.

Holy, holy, holy, Lord God Almighty, Early

Words: Reginald Heber

Music: Unknown

Other versions of this song:

387.

Sweeping this way

Words: C. H. Good

Music: Unknown

388.

The blood washed pilgrim

Words: R. Kelso Carter

Music: Unknown

389.

Constantly abiding

Words: Anne S. Murphy

Music: Unknown

Other versions of this song:

390.

How sweet the name of Jesus sounds

Words: John Newton

Music: Unknown

Other versions of this song:

391.

Sweet peace, the gift of God's love

Words: Peter P. Bilhorn

Music: Unknown

Other versions of this song:

392.

The closer I walk the sweeter He seems

Words: Haldor Lillenas

Music: Unknown

393.

Tell it to Jesus

Words: Jeremiah E. Rankin

Music: Unknown

Other versions of this song:

394.

The Comforter has come to abide

Words: Haldor Lillenas

Music: Unknown

395.

Conquerors through the blood

Words: C. H. Morris

Music: Unknown

396.

I need thee every hour, most gracious Lord

Words: Annie S. Hawks

Music: Unknown

Other versions of this song:

397.

Come and dine, the Master calleth

Words: Charles B. Widmeyer

Music: Unknown

Other versions of this song:

398.

Hallelujah, amen

Words: Fanny J. Crosby

Music: Unknown

399.

Whiter than snow

Words: Eden Reade Latta

Music: Unknown

400.

Rock of Ages, cleft for me, Let me hide myself in Thee

Words: Augustus M. Toplady

Music: Unknown

Other versions of this song:

401.

A world wide revival

Words: Lelia N. Morris

Music: Unknown

402.

Jesus, Savior, pilot me

Words: Edward Hopper

Music: Unknown

Other versions of this song:

403.

It never runs dry

Words: Lelia N. Morris

Music: Unknown

404.

Have thine own way, Lord

Words: Adelaide A. Pollard

Music: Unknown

Other versions of this song:

405.

There was no arm to save

Words: Lelia N. Morris

Music: Unknown

406.

O for a thousand tongues to sing my great [dear] Redeemer's praise

Words: Charles Wesley

Music: Unknown

407.

The Lily of the Valley

Words: Charles W. Fry

Music: Unknown

Other versions of this song:

408.

Am I a soldier of the cross

Words: Isaac Watts

Music: Unknown

409.

It is for us all today

Words: Leander L. Pickett

Music: Unknown

410.

Blest feast of love divine

Words: Edward Denny

Music: Unknown

411.

Going afar upon the mountain

Words: William A. Ogden

Music: Unknown

412.

Let the lower lights be burning

Words: Philip Paul Bliss

Music: Unknown

Other versions of this song:

413.

There Is a Fountain

Words: William Cowper

Music: Mrs. John T. Benson

414.

Bring them in

Words: Alexcenah Thomas

Music: Unknown

Other versions of this song:

415.

Make his praise glorious

Words: Lelia N. Morris

Music: Unknown

416.

Work, for the night is coming, work through the morning hours

Words: Anna L. Coghill

Music: Unknown

Other versions of this song:

417.

God's Kingdom is at Hand

Words: Lelia N. Morris

Music: Unknown

418.

Amazing grace, how sweet the sound, That saved

Words: John Newton

Music: Unknown

Other versions of this song:

419.

Moment by moment

Words: Daniel W. Whittle

Music: Unknown

Other versions of this song:

420.

Tell me the stories of Jesus, I love to hear

Words: W. H. Parker

Music: Unknown

Other versions of this song:

421.

Praise him, praise him, all ye little children

Song credits not available

422.

Yes, Jesus loves me

Words: Anna Warner

Music: Unknown

Other versions of this song:

423.

Jesus loves even me

Words: Philip Paul Bliss

Music: Unknown

Other versions of this song:

424.

Savior, while my heart is tender, I would yield that heart to Thee

Words: John Burton

Music: Unknown

425.

Our church is such a friendly place

Words: Elizabeth Jones

Music: Unknown

426.

Fairest Lord Jesus, Ruler of all nature

Words: Gesangbuch, Münster, 1677

Music: Unknown

Other versions of this song:

427.

We gather together to ask the Lord's blessing

Words: Nederlandtsche Gedenckclanck, 1626; Adriaen Valerius

Music: Unknown

Other versions of this song:

428.

Come, ye [you] thankful people, come

Words: Henry Alford

Music: Unknown

Other versions of this song:

429.

Battle hymn of the Republic

Words: Julia Ward Howe

Music: Unknown

Other versions of this song:

430.

God of Our Fathers

Words: Daniel C. Roberts

Music: George W. Warren

Other versions of this song:

431.

Doxology

Words: Thomas Ken

Music: Louis Bourgeois

Other versions of this song:

432.

For the Beauty of the Earth

Words: Folliott S. Pierpoint

Music: Conrad Kocher

Other versions of this song:

433.

O beautiful for spacious skies

Words: Katherine Lee Bates

Music: Unknown

Other versions of this song:

434.

The star spangled banner

Words: Francis Scott Key

Music: Unknown

Other versions of this song:

435.

My country, 'tis of thee, Sweet land of liberty

Words: Samuel F. Smith

Music: Unknown

Other versions of this song:

436.
437.

God save the queen

Words: Anon.

Music: Unknown

Other versions of this song:

438.

On this stone now laid with prayer

Words: John Pierpont

Music: Unknown

Other versions of this song:

439.

All things are thine: no gift have we

Words: John Greenleaf Whittier

Music: Unknown

Other versions of this song:

440.

O thou whose hand has brought us

Words: Frederick W. Goadby

Music: Unknown

Other versions of this song:

441.

The Church's one foundation is Jesus Christ her Lord

Words: Samuel J. Stone

Music: Unknown

Other versions of this song:

442.

Come and worship, come and worship

Words: James Montgomery

Music: Unknown

Other versions of this song:

443.

Hallelujah, hallelujah, sing this Christmas morn

Words: Faith Chambers Wilson

Music: Unknown

444.

While shepherds watch [watched] their flocks by night

Words: Nahum Tate

Music: Unknown

Other versions of this song:

445.

It came upon the [a] midnight clear

Words: Edmund H. Sears

Music: Unknown

Other versions of this song:

446.

Hark, the herald angels sing, glory to the newborn King

Words: Charles Wesley

Music: Unknown

Other versions of this song:

447.

Joy to the world, the Lord is [has] come

Words: Isaac Watts

Music: Unknown

Other versions of this song:

448.

O little town of Bethlehem, How still we see

Words: Phillips Brooks

Music: Unknown

Other versions of this song:

449.

Noel, Noel

Words: English carol; Christmas Carols, W. Sandys, 1833

Music: Unknown

Other versions of this song:

450.

Away in a [the] manger, no crib

Words: Martin Luther; Little Children's Book for Schools and Families, 1885

Music: Unknown

Other versions of this song:

451.

Silent night, holy night, all is calm, all is bright

Words: Joseph Mohr

Music: Unknown

Other versions of this song:

452.

Oh, Come All Ye Faithful

Words: Latin hymn, 18th century; John F. Wade

Music: Unknown

Other versions of this song:

453.
454.

Christ is Risen

Words: Hugh C. Benner

Music: Unknown

455.

Crown him

Words: Lelia N. Morris

Music: Unknown

456.

Hallelujah, what a Savior

Words: Philip P. Bliss

Music: Unknown

457.

Christ arose

Words: Robert Lowry

Music: Unknown

Other versions of this song:

458.

Crown him with many crowns [thorns]

Words: Matthew Bridges; Godfrey Thring

Music: Unknown

Other versions of this song:

459.

Christ the [our] Lord is [has] risen today, [Alleluia] [Sons of men]

Words: Charles Wesley, 1707-1788

Music: Unknown

460.

Dear [Lord] [Well] Jesus, I long to be perfectly whole

Words: James L. Nicholson

Music: Unknown

461.

O to be like Thee, blessed Redeemer

Words: Thomas O. Chisholm

Music: Unknown

462.

I am coming, Lord

Words: Lewis Hartsough

Music: Unknown

463.

Almost persuaded now to believe, Almost

Words: Philip Paul Bliss

Music: Unknown

Other versions of this song:

464.

Just as I am, without one plea, But [Save] that thy blood

Words: Charlotte Elliott

Music: Unknown

Other versions of this song:

465.

Savior, Savior, hear my humble cry

Words: Fanny J. Crosby

Music: Unknown

Other versions of this song:

466.

Jesus, I come

Words: William T. Sleeper

Music: Unknown

467.

Lord, I'm Coming Home

Words: W. J. K.

Music: Wm. J. Kirkpatrick

468.

I can hear my [the] Savior calling

Words: Ernest W. Blandly

Music: Unknown

Other versions of this song:

469.

Are you ready, are you ready

Words: William L. Thompson

Music: Unknown

470.

Will Jesus find us watching

Words: Fanny J. Crosby

Music: Unknown

Other versions of this song:

471.

I'm praying for you

Words: S. O'Maley Cluff

Music: Unknown

Other versions of this song:

472.

Jesus will give you rest

Words: Fanny J. Crosby

Music: Unknown

473.

His way with thee

Words: Cyrus S. Nusbaum

Music: Unknown

474.

Jesus is calling

Words: J. M. Harris

Music: Unknown

475.

Is your all on the altar

Words: Elisha A. Hoffman

Music: Unknown