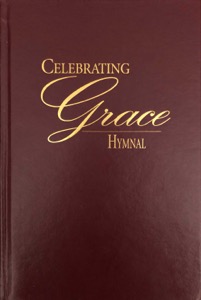 Celebrating Grace Hymnal, English.
Macon, Georgia, USA. Celebrating Grace, Inc..
2010. Only known edition. 621 songs.
Book © 2010 Celebrating Grace, Inc.
Maroon, green, white, or blue cover with embossed gold lettering.
The primary focus of SingPraises.net is music published by The Church of Jesus Christ of Latter-day Saints. However, other hymnals and collections, including the one on this page, are indexed for reference.
---
Indexes
References
List of songs
Jump to:

God the Trinity: Mystery of Three-in-One

(Return to top)
1.

Holy, Holy Holy

Words: Reginald Heber

Music: John B. Dykes

Other versions of this song:

2.

Come, Thou Almighty King

Words: Anonymous

Music: Felice de Giardini

Other versions of this song:

3.

Holy, Holy, Holy

Words: Argentine folk song

Music: Iona Community (Scotland)

Language: English, Spanish

Other versions of this song:

4.

Father, I Adore You

Words: Terrye Coelho Strom

Music: Terrye Coelho Strom

Other versions of this song:

5.

Come, Great God of All the Ages

Words: Mary Jackson Cathey

Music: Cyril V. Taylor

6.

Creator God, Creating Still

Words: Jane Parker Huber

Music: William Croft

Other versions of this song:

7.

Worthy of Worship

Words: Terry W. York

Music: Mark Blankenship

8.

Glorify Thy Name

Words: Donna Adkins

Music: Donna Adkins

9.

Holy God, We Praise Your Name

Words: Ignaz Franz

Music: Unknown

Other versions of this song:

10.

Holy Is the Lord

Words: Unknown

Music: Franz Schubert

Other versions of this song:

12.

God Our Father, We Adore Thee

Words: Joel H. Johnson

Music: John Zundel

Other versions of this song:

13.

All Glory Be to God on High

Words: Nikolaus Decius

Music: Heinrich Reimann

Other versions of this song:

14.

Eternal Father, Strong to Save

Words: William Whiting

Music: John B. Dykes

Other versions of this song:

15.

God of Dawn, Each Day's Renewal

Words: Marjorie Dobson

Music: Hal Hopson

Other versions of this song:

God the Father: The Source of All Being

(Return to top)
17.

This Is My Father's World

Words: Maltbie D. Babcock

Music: Franklin L. Sheppard

Other versions of this song:

18.

Too Splendid for Speech

Words: Thomas H. Troeger

Music: Mark Edwards

19.

I Sing the Mighty Power of God

Words: Isaac Watts

Music: Ralph Vaughan Williams

Other versions of this song:

20.

Creation Sings (the Father's Song)

Words: Keith Getty; Stuart Townend; Kristyn Getty

Music: Keith Getty; Stuart Townend; Kristyn Getty

21.

God, Who Stretched the Spangled Heavens

Words: Catherine Cameron

Music: K. Lee Scott

Other versions of this song:

22.

How Great Our God's Majestic Name

Words: Timothy Dudley-Smith

Music: John Hatton

23.

All Things Bright and Beautiful

Words: Cecil Frances Alexander

Music: Michael Evers

Other versions of this song:

24.

Creator God, We Give You Thanks

Words: Betty Anne J. Arner

Music: Robert Schumann

26.

God of Creation, All-Powerful

Words: Margaret Clarkson

Music: David Allen

27.

Morning Has Broken

Words: Eleanor Farjeon

Music: Mark Edwards

Other versions of this song:

28.

Many and Great

Words: Joseph R. Renville

Music: Richard Proulx

Other versions of this song:

29.

God Has Given Us Creation

Words: David W. Music

Music: Donald Murphy

31.

Ancient Words

Words: Lynn DeShazo

Music: Lynn DeShazo

32.

God Has Spoken by the Prophets

Words: George W. Briggs

Music: Ludwig van Beethoven; Edward Hodges

33.

Guide Me, O Thou Great Jehovah

Words: William Williams

Music: John Hughes

Other versions of this song:

34.

Word of God, Across the Ages

Words: Ferdinand Q. Blanchard

Music: Franz Josph Haydn

35.

Break Thou the Bread of Life

Words: Mary Ann Lathbury

Music: William F. Sherwin

Other versions of this song:

36.

Light on the Path

Words: Timothy Dudley-Smith

Music: Edward J. Hopkins

37.

God, Our Father, You Have Led Us

Words: Terry W. York

Music: John Hughes

38.

Thy Word

Words: Amy Grant

Music: Michael W. Smith; John Sharber

39.

God Moves in a Mysterious Way

Words: William Cowper

Music: Milburn Price

Other versions of this song:

41.

There's a Wideness in God's Mercy

Words: Frederick W. Faber

Music: Lizzie Tourjee

Other versions of this song:

42.

If My People's Hearts Are Humbled

Words: Claire Cloninger

Music: Donald Murphy

43.

Grace Alone

Words: Scott Wesley Brown; Jeff Nelson

Music: Scott Wesley Brown; Jeff Nelson; Michael Evers

44.

O My Soul, Bless God the Father

Words: Unknown

Music: Christian F. Witt; Henry J. Gauntlett

45.

The God of Abraham Praise

Words: Moses Maimonides; Daniel ben Judah; Thomas Olivers

Music: Meyer Lyon

Other versions of this song:

46.

O God of Every Nation

Words: William Watkins Reid Jr.

Music: Mary Rose Jensen

Other versions of this song:

48.

Great Is Thy Faithfulness

Words: Thomas O. Chisholm

Music: William M. Runyan

Other versions of this song:

49.

As the Deer

Words: Psalm 42; Martin Nystrom

Music: Martin Nystrom

Other versions of this song:

50.

How Lovely, God, How Lovely

Words: Arlo D. Duba

Music: Hal Hopson

51.

On Eagle's Wings

Words: Michael Joncas

Music: Michael Joncas

Other versions of this song:

52.

O Worship the King

Words: Robert Grant

Music: Joseph Martin Kraus; William Gardiner

Other versions of this song:

53.

Forever

Words: Chris Tomlin

Music: Chris Tomlin

54.

Like a Mother with Her Children

Words: Jann Aldredge-Clanton

Music: Allison Gilliam

55.

Give to the Winds Your Fears

Words: Paul Gerhardt; John Wesley

Music: William H. Walter

56.

Sometimes a Light Surprises

Words: William Cowper

Music: Mark Edwards

Other versions of this song:

57.

Be Still, My Soul

Words: Katharina von Schlegel

Music: Jean Sibelius

Other versions of this song:

58.

Immortal, Invisible, God Only Wise

Words: Walter Chalmers Smith

Music: Unknown

Other versions of this song:

59.

My Lord Is Near Me All the Time

Words: Barbara Fowler Gaultney

Music: Barbara Fowler Gaultney

60.

Like a River Glorious

Words: Frances R. Havergal

Music: James Mountain

61.

We Gather Together

Words: Nederlandtsche Gedenckclanck, 1626; Adriaen Valerius

Music: Edward Kremser

Other versions of this song:

62.

God of Our Fathers

Words: Daniel C. Roberts

Music: George W. Warren

Other versions of this song:

63.

Lead On, O King Eternal

Words: Ernest W. Shurtleff

Music: Henry T. Smart

Other versions of this song:

64.

The King of Love My Shepherd Is

Words: Henry W. Baker

Music: Unknown

Other versions of this song:

65.

The Lord's My Shepherd, I'll Not Want

Words: Francis Rous

Music: Jessie Seymour Irvine; David Grant

Other versions of this song:

66.

My Shepherd Will Supply My Need

Words: Isaac Watts

Music: Shelby Trapp

Other versions of this song:

67.

In Suffering Love the Thread of Life

Words: Rob Johns

Music: Annabel M. Buchanan

68.

He Leadeth Me! O Blessed Thought

Words: Joseph H. Gilmore

Music: William B. Bradbury

Other versions of this song:

69.

Children of the Heavenly Father

Words: Caroline V. Sandell-Berg

Music: Unknown

Other versions of this song:

70.

In Deepest Night

Words: Susan Palo Cherwien

Music: David Schwoebel

71.

Be Thou My Vision

Words: Dallán Forgaill; Irish hymn, 8th century

Music: David Allen

Other versions of this song:

72.

Day by Day

Words: Caroline V. Sandell-Berg

Music: Oscar Ahnfelt

Other versions of this song:

73.

Nothing Can Trouble

Words: St. Teresa of Ávila; Taizé Community

Music: Jacques Berthiér

Language: English, Spanish

Other versions of this song:

74.

There Is a Balm in Gilead

Words: Unknown

Music: J. Harold Moyer

75.

If I Fly as Birds at Dawning

Words: Edith Sinclair Downing

Music: David L. Edwards; Jean E. Wood-Kobert

76.

If You Will Only Let God Guide You

Words: Georg Neumark; Catherine Winkworth

Music: Georg Neumark

77.

In Heavenly Love Abiding

Words: Anna L. Waring

Music: David Evans

Other versions of this song:

God the Son: The Incarnate One

(Return to top)
79.

O Come, O Come, Emmanuel

Words: Latin, 9th century

Music: Thomas Helmore

Other versions of this song:

80.

Hope, Peace, Joy and Love

Words: Randy Edwards; Sherry Upshaw

Music: Randy Edwards

81.

Let All Mortal Flesh Keep Silence

Words: Gerard Moultrie

Music: Unknown

Other versions of this song:

82.

Light the Light, the Fire of Life

Words: David Montoya

Music: David W. Music

83.

Come, Thou Long-Expected Jesus

Words: Charles Wesley

Music: Rowland H. Prichard

Other versions of this song:

84.

The People Who in Darkness Walked

Words: David W. Music

Music: David W. Music

85.

Christians All, Your Lord Is Coming

Words: Jim Miller

Music: Donald Murphy

86.

Now the Heavens Start to Whisper

Words: Mary Louise Bringle

Music: Unknown

87.

Arise, Your Light Is Come

Words: Ruth Duck

Music: William H. Walter

Other versions of this song:

88.

Blest Be the God of Israel

Words: Michael A. Perry

Music: Hal Hopson

Other versions of this song:

89.

Comfort, Comfort Ye My People

Words: Isaiah 40:1–5; Johannes G. Olearius

Music: Unknown

Other versions of this song:

90.

People, Look East

Words: Eleanor Farjeon

Music: Shelby Trapp

Other versions of this song:

91.

My Soul Proclaims with Wonder

Words: Carl P. Daw

Music: J. Harold Moyer

92.

Young Mary Lived in Nazareth

Words: Rae E. Whitney

Music: David W. Music

94.

Tell Out, My Soul

Words: Timothy Dudley-Smith

Music: Henry W. Greatorex

95.

Prepare the Royal Highway

Words: Mikael Franzén; Phillip M. Young

Music: David W. Music

96.

I Want to Walk as a Child of the Light

Words: Kathleen Thomerson

Music: Kathleen Thomerson

97.

The King Shall Come When Morning Dawns

Words: John Brownlie

Music: Donald Murphy

98.

Hail to the Lord's Anointed

Words: James Montgomery

Music: Unknown

Other versions of this song:

99.

View the Present Through the Promise

Words: Thomas H. Troeger

Music: Luther O. Emerson

Other versions of this song:

100.

Lo, He Comes with Clouds Descending

Words: Charles Wesley

Music: Mark Edwards

Other versions of this song:

102.

Joy to the World! The Lord Is Come

Words: Isaac Watts

Music: George Frederick Handel; Lowell Mason

Other versions of this song:

103.

O Come, All Ye Faithful

Words: Latin hymn, 18th century; John F. Wade

Music: John Francis Wade

Other versions of this song:

104.

Once in Royal David's City

Words: Cecil Frances Alexander

Music: Henry J. Gauntlett; David Schwoebel

Other versions of this song:

105.

Lo, How a Rose E'er Blooming

Words: German carol, 16th century

Music: Michael Praetorius

Other versions of this song:

106.

He is Born

Words: Unknown

Music: David W. Music

107.

O Little Town of Bethlehem

Words: Phillips Brooks

Music: Lewis H. Redner

Other versions of this song:

109.

Hark! Hear the Voice

Words: Robert Sterling; Claire Cloninger

Music: Robert Sterling

110.

Away in a Manger

Words: Martin Luther; Little Children's Book for Schools and Families, 1885

Music: James R. Murray

111.

Away in a Manger

Words: Martin Luther; Little Children's Book for Schools and Families, 1885

Music: William J. Kirkpatrick

112.

Child in the Manger

Words: Mary MacDonald; Lachlan Macbean

Music: Mark Edwards

113.

Of the Father's Love Begotten

Words: Aurelius Prudentius

Music: Andrew Daniels

Other versions of this song:

114.

Gentle Mary Laid Her Child

Words: Joseph Simpson Cook

Music: Ernest MacMillan

115.

The Hands That First Held Mary's Child

Words: Thomas H. Troeger

Music: Ralph Vaughan Williams

116.

O Sleep Well, Beautiful Baby

Words: John E. Simons

Music: Benjamin Briggs

117.

Still, Still, Still

Words: Austrian carol

Music: Walter Ehret

Other versions of this song:

119.

His Name Is Called Emmanuel

Words: Ken Bible; Tom Fettke

Music: Ralph Vaughan Williams

120.

Emmanuel

Words: Bob McGee

Music: Bob McGee

121.

Let Our Gladness Banish Sadness

Words: Jaroslav J. Vajda

Music: Michael Burkhardt

122.

Good Christian Friends, Rejoice

Words: Heinrich Seuse; John Mason Neale (adapter)

Music: Unknown

Other versions of this song:

123.

While Shepherds Watched Their Flocks

Words: Nahum Tate

Music: George Frederick Handel

Other versions of this song:

124.

The First Nowell

Words: English carol; Christmas Carols, W. Sandys, 1833

Music: Unknown

Other versions of this song:

125.

Angels We Have Heard on High

Words: French carol

Music: Edward Shippen Barnes; Austin Lovelace

Other versions of this song:

126.

Angels from the Realms of Glory

Words: James Montgomery

Music: Henry T. Smart

Other versions of this song:

127.

Hark! The Herald Angels Sing

Words: Charles Wesley

Music: Felix Mendelssohn; William H. Cummings

128.

From Heaven Above to Earth I Come

Words: Martin Luther

Music: Unknown

Other versions of this song:

129.

Jesus, the Light of the World

Words: Charles Wesley

Music: George D. Elderkin; Evelyn Simpson-Curenton

131.

In the Bleak Midwinter

Words: Christina G. Rossetti

Music: Gustav Holst

Other versions of this song:

132.

It Came upon the Midnight Clear

Words: Edmund H. Sears

Music: Richard Storrs Willis

Other versions of this song:

133.

On Christmas Night All Christians Sing

Words: Unknown

Music: Ralph Vaughan Williams

134.

Silent Night, Holy Night

Words: Joseph Mohr

Music: Franz Grüber

Other versions of this song:

136.

Where Shepherds Lately Knelt

Words: Jaroslav J. Vajda

Music: Craig Courtney

137.

Sing We Now of Christmas

Words: French carol

Music: Mark Blankenship

Other versions of this song:

138.

How Far Is It to Bethlehem

Words: Frances A. Chesterton

Music: Andrew Daniels

Other versions of this song:

139.

Infant Holy, Infant Lowly

Words: Polish carol; Piotrowi Skardze

Music: Wilbur Lee

Other versions of this song:

140.

Jesus Came to Dwell Among Us

Words: Beth Rice Luttrell

Music: Benjamin Harlan

142.

God's Love Made Visible!

Words: Iola Brubeck

Music: Dave Brubeck

Other versions of this song:

143.

Go, Tell It on the Mountain

Words: Southern folk song

Music: John W. Work III

Other versions of this song:

144.

Oh, Come, Little Children

Words: Johann A. P. Schulz

Music: Johann A. P. Schulz

145.

Star-Child

Words: Shirley Erena Murray

Music: Carlton Young

Other versions of this song:

146.

One Small Child

Words: David Meece

Music: David Meece

147.

Love Came Down at Christmas

Words: Christina Rossetti

Music: David Evans

148.

What Child Is This

Words: William Chatterton Dix

Music: John Stainer

Other versions of this song:

150.

As with Gladness Men of Old

Words: William Chatterton Dix

Music: Conrad Kocher; William Henry Monk

Other versions of this song:

151.

We Three Kings

Words: John Henry Hopkins Jr.

Music: John Henry Hopkins, Jr.

Other versions of this song:

152.

When Jesus Came to Jordan

Words: F. Pratt Green

Music: Thomas Leary

Other versions of this song:

153.

The One Who Taught Beside the Sea

Words: John Thornburg

Music: Kathleen Grace

154.

Christ Is the World's Light

Words: Fred Pratt Green

Music: David Evans

155.

We Are Singing, for the Lord Is Our Light

Words: Hal Hopson

Music: Hal Hopson

156.

Shine, Jesus, Shine

Words: Graham Kendrick

Music: Graham Kendrick; Tom Fettke

Other versions of this song:

158.

Jesus Shall Reign

Words: Isaac Watts

Music: John Hatton

Other versions of this song:

159.

Fairest Lord Jesus

Words: Gesangbuch, Münster, 1677

Music: Richard Storrs Willis

Other versions of this song:

161.

See Our Lord in All His Glory

Words: Ken Bible

Music: John Hughes (1873-1932)

162.

We Have Come at Christ's Own Bidding

Words: Carl P. Daw

Music: Lynn Shaw Bailey

163.

Wonderful Words of Life

Words: Philip Paul Bliss

Music: Philip P. Bliss

Other versions of this song:

164.

O Sing a Song of Bethlehem

Words: Louis F. Benson

Music: Ralph Vaughan Williams, 1872-1958

Other versions of this song:

165.

Thou Didst Leave Thy Throne

Words: Emily E. S. Elliott

Music: Timothy R. Matthews

Other versions of this song:

167.

I Saw the Cross of Jesus

Words: Frederick Whitfield

Music: Anonymous

168.

I Take the Cross of Jesus Christ

Words: R.G. Huff

Music: Ralph Vaughan Williams, 1872-1958

169.

Lord, Who Throughout These Forty Days

Words: Claudia F. Hernaman

Music: Unknown

170.

What Meekness and What Majesty

Words: Terry W. York

Music: Ralph Manuel

171.

What Wondrous Love Is This

Words: Appalachian folk hymn; Alexander Means

Music: William J. Reynolds

Other versions of this song:

172.

Hosanna, Loud Hosanna

Words: Jennette Threlfall

Music: William Henry Monk, 1823-1889

173.

Lift Up Your Heads

Words: Georg Weissel

Music: Unknown

Other versions of this song:

175.

All Glory, Laud, and Honor

Words: Theodulph of Orleans

Music: Melchior Teschner

Other versions of this song:

176.

With Waving Palms and Shouts of Praise

Words: Jan McGuire

Music: Ralph Vaughan Williams, 1872-1958

177.

The King of Glory Comes

Words: Willard F. Jabusch, 1930-

Music: John Ferguson

178.

How Deep the Father's Love for Us

Words: Stuart Townend

Music: Stuart Townend

179.

Alone in Gethsemane

Words: William B. Petricko

Music: William B. Petricko

Other versions of this song:

180.

Go to Dark Gethsemane

Words: James Montgomery

Music: Richard Redhead

Other versions of this song:

182.

Alas, and Did My Savior Bleed

Words: Isaac Watts

Music: Hugh Wilson

Other versions of this song:

183.

In the Cross of Christ I Glory

Words: John Bowring

Music: Ithamar Conkey; Michael Evers

Other versions of this song:

184.

Beneath the Cross of Jesus

Words: Elizabeth C. Clephane

Music: Frederick C. Maker

Other versions of this song:

185.

The Old Rugged Cross

Words: George Bennard

Music: George Bennard

Other versions of this song:

186.

When I Survey the Wondrous Cross

Words: Isaac Watts

Music: Lowell Mason

Other versions of this song:

187.

I Gaze upon the Wondrous Cross

Words: Tom Eggleston

Music: Tom Eggleston

188.

Man of Sorrows! What a Name

Words: Philip P. Bliss

Music: Philip P. Bliss

190.

The Power of the Cross

Words: Keith Getty; Stuart Townend

Music: Keith Getty; Stuart Townend

191.

O Sacred Head, Now Wounded

Words: Arnulf of Leuven; Paul Gerhardt

Music: Hans Leo Hassler; Johann Sebastian Bach

Other versions of this song:

192.

Were You There

Words: African-American spiritual

Music: John W. Work; Frederick J. Work

Other versions of this song:

194.

Christ the Lord Is Risen Today

Words: Charles Wesley

Music: Unknown

Other versions of this song:

195.

Easter People, Raise Your Voices

Words: William M. James

Music: Mark Edwards

196.

Alleluia No. 1

Words: Donald Fishel

Music: Donald Fishel

197.

We Welcome Glad Easter

Words: Anonymous

Music: Unknown

198.

Jesus Christ Is Risen Today

Words: Latin hymn

Music: Robert Williams; David Evans

Other versions of this song:

200.

In the Garden

Words: C. Austin Miles

Music: C. Austin Miles

Other versions of this song:

202.

Jesus, Prince and Savior

Words: Timothy Dudley-Smith

Music: David Schwoebel

203.

Day of Arising

Words: Susan Palo Cherwien

Music: Mark Edwards

204.

That Easter Day with Joy Was Bright

Words: John Mason Neale

Music: Michael Praetorius; George R. Woodward

205.

Christ Is Alive

Words: Brian Wren

Music: Unknown

Other versions of this song:

206.

Christ Is Risen! Shout Hosanna!

Words: Brian Wren

Music: Wilbur Lee

207.

Low in the Grave He Lay

Words: Robert Lowry

Music: Robert Lowry

Other versions of this song:

208.

He Is Lord

Words: Unknown

Music: Tom Fettke

209.

The Head That Once Was Crowned

Words: Thomas Kelly

Music: Carl G. Gläser; Lowell Mason

Other versions of this song:

210.

I Know That My Redeemer Lives

Words: Samuel Medley

Music: John Hatton

Other versions of this song:

211.

Scatter the Darkness

Words: Stephen P. Starke

Music: Shelby Trapp

212.

O Sons and Daughters of the King

Words: Jean Tisserand

Music: Melchior Vulpius

Other versions of this song:

214.

The Day of Resurrection!

Words: John of Damascus

Music: Henry T. Smart

Other versions of this song:

215.

Rejoice, the Lord Is King

Words: Charles Wesley

Music: John Darwall

Other versions of this song:

217.

Alleluia! Sing to Jesus

Words: William Chatterton Dix

Music: Ludwig van Beethoven; Edward Hodges

Other versions of this song:

218.

Come, Ye Faithful, Raise the Strain

Words: John of Damascus

Music: Arthur S. Sullivan

Other versions of this song:

219.

Hail the Day That Sees Him Rise

Words: Charles Wesley

Music: Robert Williams

Other versions of this song:

220.

Look, Ye Saints! The Sight Is Glorious

Words: Thomas Kelly

Music: William Owen

Other versions of this song:

221.

King of Glory, Risen Lord

Words: Mary Rose Jensen

Music: Mary Rose Jensen; Benjamin Briggs

222.

Thine Is the Glory

Words: Edmond L. Budry

Music: George Frederick Handel

Other versions of this song:

223.

Crown Him with Many Crowns

Words: Matthew Bridges; Godfrey Thring

Music: George J. Elvey

Other versions of this song:

God the Spirit: Transforming Presence

(Return to top)
225.

On Pentecost They Gathered

Words: Jane Parker Huber

Music: Melchior Teschner

Other versions of this song:

226.

Wind Who Makes All Winds That Blow

Words: Thomas H. Troeger

Music: Joseph Parry

Other versions of this song:

227.

Their Hearts Were Set Ablaze

Song credits not available

228.

A Rushing, Mighty Wind

Words: David W. Music

Music: William H. Walter

229.

Let Every Christian Pray

Words: Fred Pratt Green

Music: Joseph Barnby

231.

Breathe on Me

Words: Edwin Hatch; B.B. McKinney

Music: B.B. McKinney

232.

Holy Spirit, Come upon Me

Words: Jan McGuire

Music: Hal Hopson

233.

Like the Murmur of the Dove's Song

Words: Carl P. Daw Jr.

Music: Peter Cutts

Other versions of this song:

234.

Spirit of the Living God

Words: Daniel Iverson

Music: Daniel Iverson; B.B. McKinney

Other versions of this song:

235.

Breathe on Me, Breath of God

Words: Edwin Hatch

Music: Robert Jackson

Other versions of this song:

236.

Gracious Spirit, Dwell with Me

Words: Thomas T. Lynch

Music: Kathleen Grace

Other versions of this song:

238.

Spirit, Now Live in Me

Words: Bryan J. Leech

Music: Bryan Jeffery Leech

Other versions of this song:

239.

God Turned the Spirit Loose in Wind

Words: John Core

Music: Claude L. Bass

Other versions of this song:

241.

Sweet, Sweet Spirit

Words: Doris Akers

Music: Doris Akers; Kurt Kaiser

242.

Come, Teach Us, Spirit of Our God

Words: Shirley Erena Murray

Music: Donald Murphy

243.

Spirit of God, Descend upon My Heart

Words: George Croly

Music: Frederick C. Atkinson

Other versions of this song:

244.

Blessed Quietness

Words: Manie Payne Ferguson

Music: W.S. Marshall; John Sharber

Other versions of this song:

God's People: The Church as Community

(Return to top)
246.

The Church's One Foundation

Words: Samuel J. Stone

Music: Samuel S. Wesley

Other versions of this song:

247.

Built on the Rock

Words: Nicolai F. S. Grundtvig; Carl Doving; Fred C. M. Hansen

Music: Mark Blankenship

248.

Christ Is Made the Sure Foundation

Words: Latin hymn

Music: Dale Wood

Other versions of this song:

249.

The Church of Christ Cannot Be Bound

Words: Adam M. L. Tice

Music: Carl G. Gläser; Lowell Mason

Other versions of this song:

250.

Living Stones

Words: Terry W. York

Music: William Croft

251.

I Will Be Your God

Words: Judith A. Fetter

Music: Unknown

252.

We Are a People of Faith

Words: J. Paul Williams

Music: David Schwoebel

254.

Diverse in Culture, Nation, Race

Words: Ruth Duck

Music: Robert Schumann

255.

We Are God's People

Words: Bryan Jeffery Leech

Music: Johannes Brahms; Fred Bock

256.

We Are People of God's Peace

Words: Menno Simons

Music: Ernest MacMillan

Other versions of this song:

258.

In Christ We Live

Words: Jane Martin; Donn Wisdom

Music: Jane Martin; Donn Wisdom

259.

Blest Are They

Words: David Haas

Music: David Haas; Michael Evers

261.

Onward, Christian Soldiers

Words: Sabine Baring-Gould

Music: Arthur Seymour Sullivan, 1842-1900

Other versions of this song:

262.

I Love Thy Kingdom, Lord

Words: Psalm 137; Timothy Dwight

Music: Aaron Williams

Other versions of this song:

263.

To Worship, Work, and Witness

Words: Henry Lyle Lambdin

Music: George J. Webb

264.

Where Charity and Love Prevail

Words: Tenth-century text; Taizé Community

Music: Shelby Trapp

Other versions of this song:

265.

When We Are Living

Words: Anon.; Roberto Escamilla

Music: Hal Hopson

Other versions of this song:

267.

Blest Be the Tie

Words: John Fawcett

Music: Johann G. Nägeli; Lowell Mason

Other versions of this song:

268.

The Bond of Love

Words: Otis Skillings

Music: Otis Skillings

269.

We All Are One in Mission

Words: Rusty Edwards

Music: Thomas Leary

270.

Christian Hearts, in Love United

Words: Nicolaus L. von Zinzendorf; Frederick W. Foster

Music: Unknown

271.

Christian People, Sing Together

Words: Marjorie Dobson

Music: Donald Murphy

272.

They'll Know We Are Christians

Words: Peter Scholtes

Music: Peter Scholtes

Other versions of this song:

273.

In Christ There Is No East or West

Words: William A. Dunkerley

Music: Harry T. Burleigh

Other versions of this song:

274.

As Grain on Scattered Hillsides

Words: Ruth Duck

Music: Hal Hopson

275.

Who Is My Mother, Who Is My Brother

Words: Shirley Erena Murray

Music: Jack Schrader

Other versions of this song:

276.

We Belong to Jesus' Body

Words: Richard Leach

Music: Margaret R. Tucker

278.

We Are Travelers on a Journey

Words: Richard Gillard

Music: Benjamin Briggs

280.

Speak, O Lord

Words: Keith Getty; Stuart Townsend

Music: Keith Getty; Stuart Townend

Other versions of this song:

281.

Love Divine, All Loves Excelling

Words: Charles Wesley

Music: John Zundel

Other versions of this song:

282.

Glorious Things of Thee Are Spoken

Words: John Newton

Music: Franz Joseph Haydn

Other versions of this song:

283.

Holy Presence, Holy Teacher

Words: Shirley Erena Murray

Music: Benjamin Harlan

Other versions of this song:

285.

God of Grace and God of Glory

Words: Harry E. Fosdick

Music: John Hughes

Other versions of this song:

286.

O God in Whom All Life Begins

Words: Carl P. Daw Jr.

Music: Arthur Seymour Sullivan

Other versions of this song:

287.

When the Church of Jesus

Words: F. Pratt Green

Music: Ralph Vaughan Williams

Other versions of this song:

288.

Lord, Your Church on Earth is Seeking

Words: Hugh Sherlock

Music: Wolfgang A. Mozart; Hubert P. Main

Other versions of this song:

289.

The Servant Song

Words: Richard Gillard

Music: Richard Gillard; Andrew Daniels

290.

Lord, Make Us Servants of Your Peace

Words: James Quinn

Music: Mark Edwards

291.

God of Beauty, Truth, and Goodness

Words: Wesley L. Forbis

Music: Sandra T. Ford; James Pethel

292.

The Lord of Life, a Vine Is He

Words: Unknown

Music: John Carter

293.

O for a Faith, a Living Faith

Words: William R. Hornbuckle

Music: David Schwoebel

God's People: The Church at Worship

(Return to top)
295.

Come, Thou Fount of Every Blessing

Words: Robert Robinson

Music: Unknown

Other versions of this song:

296.

Brethren, We Have Met to Worship

Words: George Atkins

Music: Unknown

Other versions of this song:

297.

Here I Am to Worship

Words: Tim Hughes

Music: Tim Hughes

298.

God Is Here!

Words: F. Pratt Green

Music: Cyril V. Taylor

Other versions of this song:

299.

Stand Up and Bless the Lord

Words: James Montgomery

Music: William Crotch

Other versions of this song:

301.

In This Very Room

Words: Ron Harris; Carol Harris

Music: Ron Harris; Carol Harris

Other versions of this song:

302.

Come Away from Rush and Hurry

Words: Marva J. Dawn

Music: Natalie Sleeth

Other versions of this song:

303.

All Who Hunger, Gather Gladly

Words: Sylvia G. Dunstan

Music: Unknown

Other versions of this song:

304.

At the Break of Day

Words: Aristeu Pires, Jr.; Ralph Manuel

Music: Aristeu Pires, Jr.

306.

Come, Christians, Join to Sing

Words: Christian H. Bateman

Music: David Evans

307.

All Creatures of Our God and King

Words: St. Francis of Assisi; William H. Draper (adapter)

Music: Ralph Vaughan Williams

Other versions of this song:

308.

Alleluia, Praise the Lord

Words: Traditional Nigerian

Music: Unknown

Other versions of this song:

309.

When, in Our Music, God Is Glorified

Words: F. Pratt Green

Music: Charles V. Stanford

Other versions of this song:

310.

Joyful, Joyful, We Adore Thee

Words: Henry Van Dyke

Music: Ludwig van Beethoven; Edward Hodges

Other versions of this song:

312.

Rejoice, Ye Pure in Heart

Words: Edward H. Plumptre

Music: Arthur H. Messiter

Other versions of this song:

313.

All You Works of God, Bless the Lord

Words: Stephen P. Starke

Music: Doreen Potter

Other versions of this song:

314.

Let All the World in Every Corner Sing

Words: George Herbert

Music: Robert G. McCutchan

Other versions of this song:

315.

Sing Praise to God Who Reigns Above

Words: Johann J. Schütz

Music: Heinrich Reimann

Other versions of this song:

316.

Amen, Sing Praises to the Lord

Words: Stephen C. Molefe

Music: S. C. Molefe

Other versions of this song:

317.

Songs of Praise the Angels Sang

Words: James Montgomery

Music: John B. Wilkes

Other versions of this song:

318.

For All the Love

Words: L.J. Edgerton Smith

Music: Charles V. Stanford

319.

Praise to the Lord, the Almighty

Words: Joachim Neander

Music: William S. Bennett

Other versions of this song:

320.

Glory to God

Words: Liturgical text

Music: Ralp Manuel

Other versions of this song:

321.

Gloria, Gloria

Words: Liturgical text; Taizé Community

Music: Jacques Berthier

Other versions of this song:

322.

How Great Is Our God

Words: Chris Tomlin; Jesse Reeves; Ed Cash

Music: Chris Tomlin; Jesse Reeves; Ed Cash

323.

How Great Thou Art

Words: Carl Boberg; Stuart K. Hine (adapter)

Music: Stuart K. Hine

Other versions of this song:

325.

Great Is the Lord

Words: Michael W. Smith; Deborah D. Smith

Music: Michael W. Smith; Deborah D. Smith

Other versions of this song:

326.

How Majestic Is Your Name

Words: Michael W. Smith

Music: Michael W. Smith

Other versions of this song:

327.

New Songs of Celebration Render

Words: Erik Routley

Music: Donald Murphy

328.

O Sing to the Lord

Words: Brazilian folk song

Music: Jack Schrader

Other versions of this song:

330.

From All That Dwell Below the Skies

Words: Isaac Watts

Music: Gordon Young

Other versions of this song:

331.

All Peope That on Earth Do Dwell

Words: William Kethe

Music: Unknown

Other versions of this song:

332.

O for a Thousand Tongues to Sing

Words: Charles Wesley

Music: Carl G. Gläser; Lowell Mason

333.

Make a Joyful Noise

Words: William B. Petricko

Music: William B. Petricko; Andrew Daniels

334.

Praise the Lord Who Reigns Above

Words: Charles Wesley

Music: Unknown

Other versions of this song:

335.

Praise the Lord! Ye Heavens, Adore Him

Words: Psalm 148; John Kempthorne

Music: Rowland H. Prichard

Other versions of this song:

336.

I'll Praise My Maker

Words: Isaac Watts

Music: Matthäus Greiter

Other versions of this song:

337.

Praise, My Soul, the King of Heaven

Words: Henry F. Lyte

Music: Mark Andrews

Other versions of this song:

339.

All Hail the Power of Jesus' Name

Words: Edward Perronet

Music: Oliver Holden

340.

All Hail the Power of Jesus' Name

Words: Edward Perronet

Music: James Ellor

341.

For the Beauty of the Earth

Words: Folliott S. Pierpoint

Music: Conrad Kocher; William Henry Monk

Other versions of this song:

342.

He Is Exalted

Words: Twila Paris

Music: Twila Paris

343.

His Name Is Wonderful

Words: Audrey Mieir

Music: Audrey Mieir

Other versions of this song:

344.

Glorious Is Thy Name

Words: B.B. McKinney

Music: B.B. McKinney

345.

When Morning Gilds the Skies

Words: Edward Caswall; Robert Bridges

Music: Joseph Barnby

Other versions of this song:

346.

Majesty

Words: Jack Hayford

Music: Jack Hayford; Eugene Thomas

348.

Shout to the Lord

Words: Darlene Zschech

Music: Darlene Zschech

Other versions of this song:

349.

To God Be the Glory

Words: Fanny J. Crosby

Music: William H. Doane

Other versions of this song:

350.

Blessed Be the Name

Words: Charles Wesley

Music: Ralph E. Hudson

351.
352.

All Praise to Thee

Words: F. Bland Tucker

Music: Ralph Vaughan Williams

Other versions of this song:

353.

Praise the One Who Breaks the Darkness

Words: Rusty Edwards

Music: Donald Murphy

354.

Praise Him! Praise Him!

Words: Fanny J. Crosby

Music: Chester Allen

Other versions of this song:

355.

We Praise Thee, O God

Words: William P. Mackay

Music: John J. Husband

Other versions of this song:

356.

We Praise You, O God, Our Redeemer

Words: Julia Cady Cory

Music: Edward Kremser

357.

O Praise the Gracious Power

Words: Thomas H. Troeger

Music: Arthur H. Messiter

359.

We Will Give You Praise Unending

Words: Allison Gilliam

Music: Allison Gilliam

360.

We Will Glorify

Words: Twila Paris

Music: Twila Paris; David Allen

Other versions of this song:

361.

My Jesus, I Love Thee

Words: William R. Featherstone

Music: Adoniram J. Gordon

Other versions of this song:

362.

I Love You, Lord

Words: Laurie Klein

Music: Laurie Klein; Eugene Thomas

Other versions of this song:

364.

I Love Thee

Words: Anonymous

Music: Anonymous

365.

More Love to Thee, O Christ

Words: Elizabeth T. Prentiss

Music: William H. Doane

Other versions of this song:

366.

O God Beyond All Praising

Words: Michael A. Perry

Music: Gustav Holst

Other versions of this song:

367.

Bless the Lord

Words: Taizé Community

Music: Jacques Berthièr

Other versions of this song:

368.

We Praise You with Our Minds, O Lord

Words: Hugh McElrath

Music: William J. Reynolds

369.

The Majesty and Glory of Your Name

Words: Linda Lee Johnson

Music: Tom Fettke

Other versions of this song:

371.

Now Thank We All Our God

Words: Martin Rinkhart

Music: Johann Crüger; Felix Mendelssohn

Other versions of this song:

372.

Come, Ye Thankful People, Come

Words: Henry Alford

Music: George J. Elvey

Other versions of this song:

373.

Give Thanks

Words: Henry Smith

Music: Henry Smith

Other versions of this song:

374.

I Thank You, Lord

Words: Mary Kay Beall

Music: Mary Kay Beall

375.

Give Thanks to God

Words: J. Paul Williams

Music: David N. Johnson; Andrew Daniels

376.

For the Fruit of All Creation

Words: F. Pratt Green

Music: Luther O. Emerson

Other versions of this song:

377.

There Is a Redeemer

Words: Melody Green

Music: Melody Green

378.

We Gather Here in Grateful Praise

Words: Roy E. De Brand

Music: Unknown

379.

Let All Things Now Living

Words: Katherine K. Davis

Music: Unknown

380.

Lord, for the Years

Words: Timothy Dudley-Smith

Music: Michael Baughen; David Iliff

381.

The Lord's Prayer

Song credits not available

382.

Our Father God, Who Art in Heaven

Words: Adoniram Judson

Music: Donald Murphy

383.

Near to the Heart of God

Words: Cleland Boyd McAfee

Music: Cleland B. McAfee

Other versions of this song:

384.

Speak to My Heart

Words: B.B. McKinney

Music: B.B. McKinney

385.

Hear Our Prayer, O Lord

Words: George Whelpton

Music: George Whelpton

Other versions of this song:

386.

Jesus, the Very Thought of Thee

Words: Bernard of Clairvaux

Music: John B. Dykes

Other versions of this song:

387.

God Who Made Us, Christ Who Calls Us

Words: Terry W. York

Music: William H. Jude

388.

Rain Down

Words: Jaime Cortez

Music: Jaime Cortez; John Carter

Other versions of this song:

389.

Lord, Listen to Your Children Praying

Words: Ken Medema

Music: Ken Medema

391.

Prayer Is the Soul's Sincere Desire

Words: James Montgomery

Music: Robert G. McCutchan

Other versions of this song:

392.

Open Our Eyes

Words: Bob Cull

Music: Robert Cull; David Allen

Other versions of this song:

393.

Jesus, Remember Me

Words: Luke 23:42; Taizé Community

Music: Jacques Berthiér

Other versions of this song:

394.

Jesus, Thou Joy of Loving Hearts

Words: Latin

Music: Henry Baker

Other versions of this song:

395.

Open My Eyes, That I May See

Words: Clara H. Scott

Music: Clara H. Scott

Other versions of this song:

396.

For Such a Time As This

Words: Thomas A. Jackson

Music: John B. Dykes

397.

Come, Holy Spirit

Words: Marian Wood Chaplin

Music: Marian Wood Chaplin

398.

Jesus, Walk Beside Me

Words: Mary R. Bittner

Music: Anna Laura Page

399.

O Lord, Hear My Prayer

Words: Taizé Community

Music: Jacques Berthiér

Other versions of this song:

400.

Precious Lord, Take My Hand

Words: Thomas A. Dorsey

Music: Thomas A. Dorsey

Other versions of this song:

401.

No, Not Despairingly

Words: Horatius Bonar

Music: Ann B. Spratt

403.

Lead Me, Guide Me

Words: Doris Akers

Music: Doris Akers; Richard Smallwood

404.

I Need Thee Every Hour

Words: Annie S. Hawks

Music: Robert Lowry

Other versions of this song:

405.

Savior, Like a Shepherd Lead Us

Words: Hymns for the Young; Dorothy Ann Thrupp

Music: William B. Bradbury

Other versions of this song:

406.

Jesus, Lover of My Soul

Words: Charles Wesley

Music: Joseph Parry

Other versions of this song:

407.

My Faith Looks Up to Thee

Words: Ray Palmer

Music: Lowell Mason

Other versions of this song:

409.

What a Friend We Have in Jesus

Words: Joseph Scriven

Music: Charles C. Converse

Other versions of this song:

410.

All Praise to Thee, My God

Words: Thomas Ken

Music: Thomas Tallis

Other versions of this song:

412.

Sweet Hour of Prayer

Words: William W. Walford

Music: William B. Bradbury

Other versions of this song:

413.

Dear Lord and Father of Mankind

Words: John Greenleaf Whittier

Music: Frederick C. Maker

Other versions of this song:

415.

Lift High the Cross

Words: George William Kitchin; Michael Robert Newbolt

Music: Sydney H. Nicholson

Other versions of this song:

416.

Name of All Majesty

Words: Timothy Dudley-Smith

Music: Michael Baughen; Noël Tredinnick

417.

Fill the Earth with Music

Words: R. G. Huff

Music: James Mountain

418.

A Mighty Fortress Is Our God

Words: Martin Luther

Music: Martin Luther

Other versions of this song:

419.

Jesus Is Lord

Words: Stuart Townend; Keith Getty

Music: Keith Getty; Stuart Townend; Mark Edwards

420.

Ye Servants of God

Words: Charles Wesley

Music: Swee Hong Linn; Michael Evers

Other versions of this song:

422.

Jesus! What a Friend for Sinners

Words: J. Wilbur Chapman

Music: Rowland H. Prichard

423.

This Is the Threefold Truth

Words: Fred Pratt Green

Music: Jack Schrader

424.

At the Name of Jesus

Words: Caroline M. Noel

Music: Milburn Price

425.

How Firm a Foundation

Words: Selection of Hymns, John Rippon, 1787; Robert Keen

Music: Unknown

Other versions of this song:

426.

Tell Me the Story of Jesus

Words: Fanny J. Crosby

Music: John R. Sweney

Other versions of this song:

427.

We've a Story to Tell

Words: H. Ernest Nichol

Music: H. Ernest Nichol

Other versions of this song:

429.

Send Forth Your Word, O God

Words: Milburn Price

Music: Milburn Price

430.

Since Our Great High Priest, Christ Jesus

Words: Christopher M. Idle

Music: William Henry Monk

431.

Jesus Is Lord of All

Words: LeRoy McClard

Music: LeRoy McClard

432.

We Have Heard the Joyful Sound

Words: Priscilla J. Owens

Music: Josiah Booth

Other versions of this song:

433.

Halle, Halle

Words: Caribbean folk song; George Mulrain

Music: Carlton Young

Other versions of this song:

435.

Share His Love

Words: William J. Reynolds

Music: William J. Reynolds

436.

Seek Ye First

Words: Karen Lafferty

Music: Karen Lafferty

Other versions of this song:

437.

How Wide the Love of Christ

Words: Herman G. Stuempfle, Jr.

Music: William H. Walter

438.

O the Deep, Deep Love of Jesus

Words: Samuel Trevor Francis

Music: Thomas J. Williams

Other versions of this song:

439.

Mine Eyes Have Seen the Glory

Words: Julia Ward Howe

Music: Unknown

Other versions of this song:

440.

Though I May Speak with Bravest Fire

Words: Hal H. Hopson

Music: Hal Hopson

Other versions of this song:

442.

How Sweet the Name of Jesus Sounds

Words: John Newton

Music: Austin Lovelace

Other versions of this song:

443.

Ask Ye What Great Thing I Know

Words: Johann C. Schwedler; Benjamin H. Kennedy

Music: Henri A. C. Malan; Lowell Mason

444.

Only Love

Words: Rafael Grullón; S. T. Kimbrough, Jr.

Music: Rafael Grullón; Jorge Lockward

445.

There Is a Fountain

Words: William Cowper

Music: Unknown

Other versions of this song:

447.

We Are Raised to Newness of Life

Words: Allison Gilliam

Music: Allison Gilliam

448.

Come to the Water

Words: Pepper Choplin

Music: Pepper Choplin

449.

Baptized in Water

Words: Michael Saward

Music: Mark Edwards

450.

With Water Freely Flowing

Words: Larry E. Schultz

Music: Hal Hopson

Other versions of this song:

451.

Come, Be Baptized

Words: Gary Alan Smith

Music: Gary Alan Smith

Other versions of this song:

452.

Come, Holy Spirit, Dove Divine

Words: Adoniram Judson

Music: H. Percy Smith

453.

Praise and Thanksgiving Be to God

Words: H. Francis Yardley

Music: David Evans

455.

Here, at Your Table, Lord

Words: May P. Hoyt

Music: William F. Sherwin

Other versions of this song:

456.

I Come with Joy

Words: Brian Wren

Music: Austin Lovelace

Other versions of this song:

457.

Come and Feast, for All Are Welcomed

Words: Larry E. Schultz

Music: Henry T. Smart

458.

Let Us Talents and Tongues Employ

Words: Fred Kaan

Music: Doreen Potter

Other versions of this song:

459.

Come, Share the Lord

Words: Bryan J. Leech

Music: Bryan Jeffery Leech

Other versions of this song:

460.

Here, O My Lord, I See You Face to Face

Words: Horatius Bonar

Music: Edward J. Hopkins

Other versions of this song:

461.

Let Us Break Bread Together

Words: African-American spiritual

Music: Carlton Young

Other versions of this song:

462.

In Remembrance

Words: Ragan Courtney

Music: Buryl Red

Other versions of this song:

463.

From Every Race, from Every Clime

Words: Thomas Bruce McDormand

Music: Alexander R. Reinagle; Michael Evers

464.

Take the Bread, Children, Take the Bread

Words: Herbert Brokering

Music: Carl Schalk

465.

As He Gathered at His Table

Words: Paul A. Richardson

Music: Paul A. Richardson

466.

Jesus, at Your Holy Table

Words: Tom Allen

Music: Benjamin Briggs

467.

We Are One in Christ

Words: James Chepponis

Music: Gustav Holst

468.

You Satisfy the Hungry Heart

Words: Omer Westendorf

Music: Robert E. Kreutz

Other versions of this song:

469.

Put Peace into Each Other's Hands

Words: Fred Kaan

Music: Unknown

Other versions of this song:

471.

Come, Ye Sinners, Poor and Needy

Words: Joseph Hart

Music: Unknown

Other versions of this song:

472.

Turn Your Eyes upon Jesus

Words: Helen H. Lemmel

Music: Helen H. Lemmel

Other versions of this song:

473.

Will You Come and Follow Me

Words: John L. Bell; Iona Community

Music: John L. Bell

Other versions of this song:

474.

Softly and Tenderly

Words: Will L. Thompson

Music: Will L. Thompson

Other versions of this song:

475.

Only Trust Him

Words: John H. Stockton

Music: John H. Stockton

476.

You Walk Along Our Shoreline

Words: Sylvia G. Dunstan

Music: Samuel S. Wesley

Other versions of this song:

477.

We Are Called to Be God's People

Words: Thomas A. Jackson

Music: Franz Joseph Haydn

478.

God Is Calling Through the Whisper

Words: Mary Louise Bringle

Music: Wilbur Lee

Other versions of this song:

479.

O Zion, Haste

Words: Mary A. Thomson

Music: James Walch

Other versions of this song:

480.

Rescue the Perishing

Words: Fanny J. Crosby

Music: William H. Doane

Other versions of this song:

481.

Go to the World

Words: Sylvia Dunstan

Music: Ralph Vaughan Williams

482.

Here I Am, Lord

Words: Daniel L. Schutte

Music: Daniel L. Schutte; Mark Edwards

Other versions of this song:

483.

Hark, the Voice of Jesus Calling

Words: Daniel March

Music: Hubert P. Main

Other versions of this song:

484.

The Love of Jesus Calls Us

Words: Herbert O'Driscoll

Music: Arthur H. Mann

485.

The Master Has Come

Words: Sarah Doudney

Music: Unknown

Other versions of this song:

486.

Jesus Calls Us O'er the Tumult

Words: Cecil Frances Alexander

Music: Unknown

Other versions of this song:

488.

Come, All Christians, Be Committed

Words: Eva B. Lloyd

Music: Benjamin Briggs

489.

The Potter's Hand

Words: Darlene Zschech

Music: Darlene Zschech

490.

Take My Life, and Let It Be Consecrated

Words: Frances R. Havergal

Music: Henri A. C. Malan; Lowell Mason

Other versions of this song:

491.

Wherever He Leads I'll Go

Words: B.B. McKinney

Music: B.B. McKinney

493.

Have Thine Own Way, Lord

Words: Adelaide A. Pollard

Music: George C. Stebbins

Other versions of this song:

494.

Take My Life, Lead Me, Lord

Words: R. Maines Rawls

Music: R. Maines Rawls

495.

Step by Step

Words: David (Beaker) Strasser

Music: David (Beaker) Strasser

496.

Footsteps of Jesus

Words: Mary B. C. Slade

Music: Asa B. Everett

497.

I Have Decided to Follow Jesus

Words: S. Sundar Singh

Music: William J. Reynolds

Other versions of this song:

499.

I Surrender All

Words: Judson W. Van DeVenter

Music: Winfield S. Weeden

Other versions of this song:

500.

Just As I Am

Words: Charlotte Elliott

Music: William B. Bradbury

Other versions of this song:

501.

I Am Resolved

Words: Palmer Hartsough

Music: James H. Fillmore

502.

Lord, I Lay My Life Before You

Words: Jan McGuire

Music: Julius Röntgen

503.

Lord, Speak to Me, That I May Speak

Words: Frances R. Havergal

Music: Robert Schumann

Other versions of this song:

504.

I Am Thine, O Lord

Words: Fanny J. Crosby

Music: William H. Doane

Other versions of this song:

505.

Must Jesus Bear the Cross Alone

Words: Thomas Shepherd

Music: Unknown

Other versions of this song:

506.

When the Morning Stars Together

Words: Albert F. Bayly

Music: Unknown

Other versions of this song:

507.

Lord, I Want to Be a Christian

Words: American folk hymn

Music: Frederick J. Work

Other versions of this song:

508.

We, O God, Unite Our Voices

Words: Grady Nutt; Paul Simpson Duke

Music: Julius Röntgen

509.

Trust and Obey

Words: John H. Sammis

Music: Daniel B. Towner

Other versions of this song:

510.

Lord, Here Am I

Words: Fanny J. Crosby

Music: John Ness Beck

511.

Send Me, O Lord, Send Me

Words: Ross Coggins

Music: Elisha A. Hoffman; James Bigelow

512.

We Go in Peace

Words: Keith Christopher

Music: Keith Christopher

513.

Go Now in Peace

Words: Mary R. Bittner

Music: David N. Johnson; Andrew Daniels

514.

Christians, Let Us Go and Serve Him

Words: Jana Wolfe

Music: Unknown

515.

May the Love of the Lord

Words: Maria Poh Choo Ling

Music: Swee Hong Lim; Benjamin Briggs

516.

Day Is Done, but Love Unfailing

Words: James Quinn

Music: Luther O. Emerson