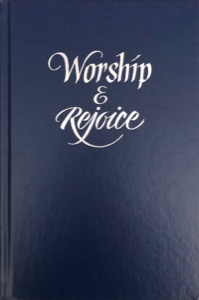 Worship and Rejoice, English.
Carol Stream, Illinous, USA. Hope Publishing Company.
2001. Only known edition. 749 songs.
Book © 2001 Hope Publishing Company.
Blue, red, or green cover with embossed silver lettering.
The primary focus of SingPraises.net is music published by The Church of Jesus Christ of Latter-day Saints. However, other hymnals and collections, including the one on this page, are indexed for reference.
---
Indexes
References
List of songs
Jump to:

The Church Praising

(Return to top)
1.

God Is Here!

Words: F. Pratt Green

Music: Cyril V. Taylor, 1907-1991

Other versions of this song:

2.

O Worship the King

Words: Robert Grant

Music: Johann M. Haydn, 1737-1806

Other versions of this song:

3.

God, We Praise You!

Words: Christopher Idle, 1938-

Music: C. Hubert H. Parry, 1848-1918

4.

Bless His Holy Name

Words: Andraé Crouch, 1945-

Music: Andraé Crouch, 1945-

5.

Halle, Halle, Hallelujah

Words: Hal H. Hopson, 1933-

Music: Hal H. Hopson, 1933-

6.

Let the Whole Creation Cry

Words: Stopford A. Brooke, 1832-1916

Music: Jakob Hintze, 1622-1702; J. S. Bach, 1685-1750

7.

When in Our Music God Is Glorified

Words: F. Pratt Green

Music: Charles V. Stanford, 1852-1924

Other versions of this song:

8.

New Songs of Celebration

Words: Erik Routley, 1917-1982

Music: Louis Bourgeois, ca. 1510-1561

9.

Come, Let Us Praise the Lord

Words: Timothy Dudley-Smith, 1926-

Music: John Darwall, 1731-1789

10.

Sing a New Song

Words: Daniel L. Schutte, 1947-

Music: Daniel L. Schutte, 1947-

11.

Stand Up and Bless the Lord

Words: James Montgomery

Music: Unknown

Other versions of this song:

12.

Be Exalted, O God

Words: Brent Chambers, 1948-

Music: Brent Chambers, 1948-

13.

Sing a New Song to the Lord

Words: Timothy Dudley-Smith, 1926-

Music: David G. Wilson, 1940-

14.

Now Thank We All Our God

Words: Martin Rinkhart

Music: Johann Crüger, 1598-1662; Felix Mendelssohn, 1809-1847

Other versions of this song:

15.

O, Sing to the Lord (Cantad al Señor)

Words: Brazilian folk song

Music: Jack Schrader, 1942-

Language: English, Spanish

Other versions of this song:

16.

The God of Abraham Praise

Words: Moses Maimonides; Daniel ben Judah; Thomas Olivers

Music: Thomas Olivers, 1725-1799; Meyer Lyon, 1751-1797

Other versions of this song:

17.

Praise the Lord! O Heavens, Adore Him

Words: Unknown

Music: Franz Joseph Haydn, 1732-1809

18.

The Name of the Lord

Words: Clinton Utterbach, 20th c.

Music: Clinton Utterbach, 20th c.

19.

Blessed Be the Lord God Almighty

Words: Bob Fitts, 1955-

Music: Bob Fitts, 1955-

20.

Like a Mighty River Flowing

Words: Michael Perry, 1942-1996

Music: Ralph Vaughan Williams, 1872-1958

21.

This Is My Father's World

Words: Maltbie D. Babcock

Music: Franklin L. Sheppard, 1852-1930

Other versions of this song:

22.

Let All Things Now Living

Words: Katherine K. Davis, 1892-1980

Music: Unknown

23.

All Creatures of Our God and King

Words: St. Francis of Assisi; William H. Draper (adapter)

Music: Ralph Vaughan Williams, 1872-1958

Other versions of this song:

24.

God, You Spin the Whirling Planets

Words: Jane Parker Huber, 1926-

Music: Ludwig van Beethoven, 1770-1827

25.

Let All Creation Bless the Lord

Words: Carl P. Daw, Jr., 1944-

Music: Heinrich Reimann, 1850-1906

26.

Many and Great

Words: Joseph R. Renville

Music: Jack Schrader, 1942-

Other versions of this song:

27.

God of Creation, All-Powerful

Words: Margaret Clarkson, 1915-

Music: Carlton R. Young, 1926-

28.

For Beauty of Meadows

Words: Walter H. Farquharson

Music: Unknown

Other versions of this song:

29.

God of the Sparrow

Words: Jaroslav J. Vajda

Music: Carl F. Schalk, 1929-

Other versions of this song:

30.

All Things Bright and Beautiful

Words: Cecil Frances Alexander

Music: Martin Shaw, 1875-1958

Other versions of this song:

31.

I Sing the Almighty Power of God

Words: Isaac Watts

Music: Unknown

Other versions of this song:

32.

Creating God, Your Fingers Trace

Words: Jeffery Rowthorn

Music: Robert A. Schumann, 1810-1856

Other versions of this song:

33.

Let's Sing unto the Lord

Words: Carlos Rosas

Music: Carlos Rosas, 20th c.; Raquel Mora Martínez, 1940-

Language: English, Spanish

Other versions of this song:

34.

Praise God from Whom All Blessings Flow

Words: Thomas Ken

Music: Louis Bourgeois, ca. 1510-1561

35.

Morning Has Broken

Words: Eleanor Farjeon

Music: David Evans, 1874-1948

Other versions of this song:

36.

Thank You, God, for Water, Soil, and Air

Words: Brian Wren, 1936-

Music: John Weaver, 1937-

37.

God in His Love for Us

Words: F. Pratt Green

Music: James P. Harding, 1850-1911

Other versions of this song:

38.

Touch the Earth Lightly

Words: Shirley Erena Murray

Music: Colin Gibson, 1933-

Other versions of this song:

39.

All You Works of God, Bless the Lord!

Words: Stephen P. Starke

Music: Doreen Potter, 1925-1980

Other versions of this song:

40.

For the Beauty of the Earth

Words: Folliott S. Pierpoint

Music: Conrad Kocher, 1786-1872; William H. Monk, 1823-1889

Other versions of this song:

41.

Tell Out, My Soul

Words: Timothy Dudley-Smith, 1926-

Music: Walter Greatorex, 1877-1949

42.

How Majestic Is Your Name

Words: Michael W. Smith

Music: Michael W. Smith, 1957-

Other versions of this song:

43.

Majesty

Words: Jack W. Hayford, 1934-

Music: Jack W. Hayford, 1934-; Eugene Thomas, 1941-

44.

Doxology

Words: Thomas Ken

Music: Jimmy Owens, 1930-

45.

Mighty Is Our God

Words: Don Moen, 1950-; Gerrit Gustafson, 1948-; Eugene Greco, 1960-

Music: Eugene Greco, 1960-; Gerrit Gustafson, 1948-; Don Moen, 1950-

46.

Praise the Lord Who Reigns Above

Words: Charles Wesley

Music: Unknown

Other versions of this song:

47.

We Exalt Thee

Words: Pete Sanchez, Jr. 1948-

Music: Pete Sanchez, Jr., 1948-

48.

Immortal, Invisible, God Only Wise

Words: Walter Chalmers Smith

Music: John Roberts, 1822-1877

Other versions of this song:

49.

Let All the World

Words: George Herbert

Music: Paul Liljestrand, 1931-

Other versions of this song:

50.

Great Is the Lord

Words: Michael W. Smith; Deborah D. Smith

Music: Michael W. Smith, 1957-; Deborah D. Smith, 1958-

Other versions of this song:

51.

How Great Thou Art

Words: Carl Boberg; Stuart K. Hine (adapter)

Music: Stuart K. Hine, 1899-1989

Other versions of this song:

52.

You Are My God

Words: Macon Delavan, 1932-1995

Music: Macon Delavan, 1932-1995

53.

I Stand in Awe

Words: Mark Altrogge, 1950-

Music: Mark Altrogge, 1950-

54.

Let There Be Praise

Words: Dick Tunney, 1956-; Melodie Tunney, 1960-

Music: Dick Tunney, 1956-; Melodie Tunney, 1960-

55.

Great God, Your Love Has Called Us Here

Words: Brian Wren, 1936-

Music: Erik Routley, 1917-1982

56.

Sing Praise to God Who Reigns Above

Words: Johann J. Schütz

Music: Heinrich Reimann, 1850-1906

Other versions of this song:

57.

Think About His Love

Words: Walt Harrah, 1948-

Music: Walt Harrah, 1948-

58.

God of Many Names

Words: Brian Wren, 1936-

Music: William P. Rowan, 1951-

59.

Joyful, Joyful, We Adore Thee

Words: Henry Van Dyke

Music: Ludwig van Beethoven, 1770-1827

Other versions of this song:

60.

I Will Sing of the Mercies

Words: Psalm 89:1

Music: James H. Fillmore, 1849-1936

Other versions of this song:

61.

There's a Wideness in God's Mercy

Words: Frederick W. Faber

Music: Lizzie S. Tourjée, 1858-1913

Other versions of this song:

62.

In the Lord Alone

Words: Walt Harrah, 1948-

Music: Walt Harrah, 1948-

63.

Give to Our God Immortal Praise

Words: Isaac Watts

Music: John Hatton, ca. 1710-1793

Other versions of this song:

64.

O God Beyond All Praising

Words: Michael A. Perry

Music: Gustav T. Holst, 1874-1934

Other versions of this song:

65.

God Moves in a Mysterious Way

Words: William Cowper

Music: Thomas Ravenscroft, 1592-1635

Other versions of this song:

66.

To God Be the Glory

Words: Fanny J. Crosby

Music: William H. Doane, 1832-1915

Other versions of this song:

67.

Come, We That Love the Lord

Words: Isaac Watts

Music: Unknown

68.

Come, Thou Fount of Every Blessing

Words: Robert Robinson

Music: Unknown

Other versions of this song:

69.

I Worship You, Almighty God

Song credits not available

70.

Lord, for the Years

Words: Timothy Dudley-Smith, 1926-

Music: Michael Baughen, 1930-; David Iliff, 1939-

71.

Praise to the Lord, the Almighty

Words: Joachim Neander

Music: Unknown

Other versions of this song:

72.

Great Is Thy Faithfulness

Words: Thomas O. Chisholm

Music: William M. Runyan, 1870-1957

Other versions of this song:

73.

The Lord My Shepherd Guards Me Well

Words: Carl P. Daw, Jr., 1944-

Music: Gordon Jacob, 1895-1984; James L. Bain, 1840-1925

74.

Eternal Father, Strong to Save

Words: William Whiting

Music: John B. Dykes, 1823-1876

Other versions of this song:

75.

By Gracious Powers

Words: Dietrich Bonhoeffer

Music: John B. Dykes, 1823-1876

Other versions of this song:

76.

We Are Singing, for the Lord Is Our Light

Words: Hal H. Hopson, 1933-

Music: Hal H. Hopson, 1933-

77.

I Greet Thee, Who My Sure Redeemer Art

Words: Elizabeth I. Smith, 1817-1898; John Calvin, 1509-1564

Music: Unknown

78.

God of the Ages, History's Maker

Words: Margaret Clarkson

Music: Unknown

Other versions of this song:

79.

I'll Praise My Maker While I've Breath

Words: Isaac Watts

Music: Matthaus Greiter, ca. 1500-1550; V. Earle Copes, 1921-

Other versions of this song:

80.

He's Got the Whole World in His Hands

Words: African-American spiritual

Music: Eugene Thomas, 1941-

Other versions of this song:

81.

We Gather Together

Words: Nederlandtsche Gedenckclanck, 1626; Adriaen Valerius

Music: Edward Kremser, 1838-1914

Other versions of this song:

82.

Praise, My Soul, the King of Heaven

Words: Henry F. Lyte

Music: John Goss, 1800-1880

Other versions of this song:

83.

Children of the Heavenly Father

Words: Caroline V. Sandell-Berg

Music: Unknown

Other versions of this song:

84.

O God, Our Help in Ages Past

Words: Isaac Watts

Music: William Croft, 1678-1727

Other versions of this song:

85.

I Love You, Lord

Words: Laurie Klein

Music: Laurie Klein, 1950-

Other versions of this song:

86.

The Lord's My Shepherd, I'll Not Want

Words: Francis Rous

Music: Jessie S. Irvine, 1836-1887; David Grant, 1833-1893

Other versions of this song:

87.

Come, Christians, Join to Sing

Words: Christian H. Bateman, 1813-1889

Music: David Evans, 1874-1948

88.

Lord, I Lift Your Name on High

Words: Rick Founds

Music: Rick Founds, 1954-

Other versions of this song:

89.

Rise, Shine, You People!

Words: Ronald A. Klug, 1939-

Music: Dale Wood, 1934-

90.

Our Great Savior

Words: J. Wilbur Chapman, 1859-1918

Music: Rowland H. Prichard, 1811-1887

91.

Christ, Whose Glory Fills the Skies

Words: Charles Wesley, 1707-1788

Music: William H. Havergal, 1793-1870

92.

All Hail King Jesus!

Words: Dave Moody

Music: Dave Moody, 1948-

Other versions of this song:

93.

Praise the One Who Breaks the Darkness

Words: Rusty Edwards, 1955-

Music: Unknown

94.

Shout to the Lord

Words: Darlene Zschech

Music: Darlene Zschech, 1965-

Other versions of this song:

95.

Praise Him! Praise Him!

Words: Fanny J. Crosby

Music: Chester G. Allen, 1838-1878

Other versions of this song:

96.

O for a Thousand Tongues to Sing

Words: Charles Wesley

Music: Carl G. Gläser, 1784-1829; Lowell Mason, 1792-1872

Other versions of this song:

97.

Meekness and Majesty

Words: Graham Kendrick, 1950-

Music: Graham Kendrick, 1950-

98.

Hallelujah! Praise the Lamb!

Words: Pam Thum, 1961-; Gary McSpadden, 1943-; Constant Change, 1964-

Music: Pam Thum, 1961-; Constant Change, 1964-; Gary McSpadden, 1943-

99.

You, Lord, Are Both Lamb and Shepherd

Words: Sylvia G. Dunstan

Music: Henry T. Smart, 1813-1879

Other versions of this song:

100.

All Hail the Power of Jesus' Name!

Words: Edward Perronet

Music: James Ellor, 1819-1899

101.

Name of All Majesty

Words: Timothy Dudley-Smith, 1926-

Music: Michael Baughen, 1930-; Noël Tredinnick, 1949-

102.

His Name Is Wonderful

Words: Audrey Mieir, 1916-1996

Music: Audrey Mieir, 1916-1996

Other versions of this song:

103.

Glory to the Lamb

Words: Larry Dempsey, 1946-1995

Music: Larry Dempsey, 1946-1995

104.

Hidden Christ, Alive for Ever

Words: Brian Wren

Music: C. Hubert H. Parry, 1848-1918

Other versions of this song:

105.

Beautiful Savior

Words: Stuart Townend, 20th c.

Music: Stuart Townend, 20th c.

106.

All Hail the Power of Jesus' Name!

Words: Edward Perronet

Music: Oliver Holden, 1765-1844

107.

O Light Whose Splendor Thrills

Words: Carl P. Daw, Jr. 1944-

Music: Clement Scholefield, 1839-1904

108.

There's Something About That Name

Words: William J. Gaither, 1936-; Gloria Gaither, 1942-

Music: William J. Gaither, 1936-

109.

O, How I Love Jesus

Words: Frederick Whitfield, 1829-1904

Music: Unknown

110.

We Come, O Christ, to You

Words: Margaret Clarkson, 1915-

Music: John Darwall, 1731-1789

111.

When Morning Gilds the Skies

Words: Edward Caswall, 1814-1878

Music: Joseph Barnby, 1838-1896

Other versions of this song:

112.

You Servants of God

Words: Charles Wesley, 1707-1788

Music: William Croft, 1678-1727

113.

Rejoice, Ye Pure in Heart

Words: Edward H. Plumptre

Music: Arthur H. Messiter, 1834-1916

Other versions of this song:

114.

O Come, Let Us Adore Him

Words: Anonymous; John F. Wade, 1711-1786; Frederick Oakeley, 1802-1880

Music: Unknown

115.

Praise the Name of Jesus

Words: Roy Hicks, Jr., 1943-

Music: Roy Hicks, Jr., 1943-

116.

Worthy Is the Lamb

Words: Don Wyrtzen, 1942-

Music: Don Wyrtzen, 1942-

117.

There Is a Redeemer

Words: Melody Green, 1946-

Music: Melody Green, 1946-

118.

Lord of the Dance

Words: Sydney Carter

Music: Sydney Carter, 1915-

Other versions of this song:

119.

Come into His Presence

Words: Anonymous

Music: Anonymous

120.

Sing Alleluia to the Lord

Words: Linda Stassen, 1951-

Music: Linda Stassen, 1951-; Dale Grotenhuis, 1931-

121.

Christ Is the World's Light

Words: Fred Pratt Green, 1903-2000

Music: Unknown

122.

He Is Exalted

Words: Twila Paris, 1958-

Music: Twila Paris, 1958-

123.

Fairest Lord Jesus

Words: Gesangbuch, Münster, 1677

Music: Unknown

Other versions of this song:

124.

Open Your Hearts

Words: Carolyn Fritsch, 20th c.

Music: Unknown

125.

In the Name of the Lord

Words: Sandi Patty, 1956-; Phill McHugh, 1951-; Gloria Gaither, 1942-

Music: Sandi Patty, 1956-; Robert F. Douglas, 1941-

126.

Thou Art Worthy

Words: Pauline Michael Mills, 1898-1992

Music: Pauline Michael Mills, 1898-1992; Jack Schrader, 1942-

127.

Come, Holy Spirit

Words: Mark Foreman, 20th c.

Music: Mark Foreman, 20th c.

128.

Spirit, Working in Creation

Words: John Richards, 1939-

Music: Julius Röntgen, 1855-1933

129.

Be Still, for the Spirit of the Lord

Words: David Evans, 20th c.

Music: David Evans, 20th c.

130.

God Sends Us the Spirit

Words: Tom Colvin, 1925-2000

Music: Tom Colvin, 1925-2000

131.

Surely the Presence

Words: Lanny Wolfe, 1942-

Music: Lanny Wolfe, 1942-

132.

Spirit of God, Descend upon My Heart

Words: George Croly

Music: Frederick C. Atkinson, 1841-1897

Other versions of this song:

133.

There's a Spirit in the Air

Words: Brian Wren

Music: John W. Wilson, 1905-1992

Other versions of this song:

134.

Sweet, Sweet Spirit

Words: Doris Akers, 1922-1995

Music: Doris Akers, 1922-1995

135.

Loving Spirit

Words: Shirley Erena Murray, 1931-

Music: David Gregof Corner, 1585-1648; William Smith Rockstro, 1823-1895

136.

Holy, Holy, Holy! Lord God Almighty!

Words: Reginald Heber

Music: John B. Dykes, 1823-1876

Other versions of this song:

137.

Worthy of Worship

Words: Terry W. York, 1949-

Music: Mark Blankenship, 1943-

138.

Holy God, We Praise Your Name

Words: Ignaz Franz

Music: Unknown

Other versions of this song:

139.

God Is One, Unique and Holy

Words: Brian Wren, 1936-

Music: Peter Cutts, 1937-

140.

Praise and Thanksgiving Be to God

Words: H. Francis Yardley, 1911-1990

Music: David Evans, 1874-1948

141.

Sing of a God in Majestic Divinity

Words: Herbert O'Driscoll, 1928-

Music: Unknown

142.

Sing Praise to the Father

Words: Margaret Clarkson, 1915-

Music: William H. Doane, 1832-1915

143.

Father, I Adore You

Words: Terrye Coelho Strom

Music: Terrye Coelho, 1952-

Other versions of this song:

144.

O Splendor of God's Glory Bright

Words: Ambrose of Milan, 4th C.

Music: Michael Praetorius, 1571-1621

145.

Glory Be to God, Creator

Words: Richard K. Carlson, 1956-

Music: Richard K. Carlson, 1956-

146.

Glorify Thy Name

Words: Donna Adkins, 1940-

Music: Donna Adkins, 1940-

147.

Praise God From Whom All Blessings Flow

Words: Brian Wren

Music: Hal H. Hopson, 1933-

Other versions of this song:

148.

Come, Thou Almighty King

Words: Anonymous

Music: Felice de Giardini, 1716-1796

Other versions of this song:

149.

God the Spirit, Guide and Guardian

Words: Carl P. Daw, Jr., 1944-

Music: Rowland H. Prichard, 1811-1887; Ralph Vaughan Williams, 1872-1958

150.

My Lord of Light

Words: Christopher Idle, 1938-

Music: Alice Parker, 1925-

151.

Holy Is the Lord

Words: Unknown

Music: Franz Schubert, 1797-1828

Other versions of this song:

The Church Year

(Return to top)
152.

Prepare the Way, O Zion

Words: Frans Mikael Franzen, 1772-1847; Charles P. Price, 1920-1999

Music: Unknown

153.

Come, Thou Long-Expected Jesus

Words: Charles Wesley

Music: Rowland H. Prichard, 1811-1887; Ralph Vaughan Williams, 1872-1958

Other versions of this song:

154.

O Come, O Come, Emmanuel

Words: Latin, 9th century

Music: Thomas Helmore, 1811-1890

Other versions of this song:

155.

Comfort, Comfort Now My People

Words: Isaiah 40:1–5; Johannes G. Olearius

Music: Louis Bourgeois, ca. 1510-1561

Other versions of this song:

156.

On Jordan's Bank the Baptist's Cry

Words: Charles Coffin

Music: Michael Praetorius, 1571-1621; George R. Woodward, 1848-1934

Other versions of this song:

157.

Come Now, O Prince of Peace

Words: Geonyong Lee, 1947-; Marian Pope, 20th c.

Music: Geonyong Lee, 1947-

Language: English, Romanized Korean

158.

Blessed Be the God of Israel

Words: Michael A. Perry

Music: Hal H. Hopson, 1933-

Other versions of this song:

159.

The King of Glory Comes

Words: Willard F. Jabusch, 1930-

Music: John Ferguson, 1941-

160.

Awake! Awake, and Greet the New Morn

Words: Marty Haugen, 1950-

Music: Marty Haugen, 1950-

161.

People, Look East

Words: Eleanor Farjeon

Music: Martin Shaw, 1875-1958

Other versions of this song:

162.

like a child

Words: Daniel Charles Damon

Music: Daniel Charles Damon, 1955-

Other versions of this song:

163.

All Earth Is Hopeful

Words: Alberto Taulé

Music: Alberto Taulé, 1932-; Skinner Chávez-Melo, 1944-1992

Language: English, Spanish

Other versions of this song:

164.

Wake, Awake, for Night Is Flying

Words: Philipp Nicolai

Music: Philipp Nicolai, 1556-1608; J. S. Bach, 1685-1750

Other versions of this song:

165.

When God Is a Child

Words: Brian Wren, 1936-

Music: John Carter, 1930-

166.

Wait for the Lord

Words: Taizé Community

Music: Taizé Community

Other versions of this song:

167.

Long Ago, Prophets Knew

Words: Fred Pratt Green, 1903-2000

Music: Gustav T. Holst, 1874-1934

168.

Savior of the Nations, Come

Words: Calvin Seerveld, 1930-; Ambrose of Milam, 4th c.; Martin Luther, 1483-1546

Music: Seth Calvisius, 1556-1615

169.

The Angel Gabriel from Heaven Came

Words: Sabine Baring-Gould, 1834-1924

Music: Edgar Pettman, 1865-1943; John Wickham, 20th c.

170.

My Soul Proclaims with Wonder

Words: Carl P. Daw, Jr. 1944-

Music: J. Harold Moyer, 1927-

171.

To a Maid Whose Name Was Mary

Words: Gracia Grindal, 1943-

Music: Rusty Edwards, 1955-

172.

For Ages Women Hoped and Prayed

Words: Jane Parker Huber, 1926-

Music: Arthur S. Sullivan, 1842-1900

173.

Magnificat (Sing Out, My Soul)

Words: Taizé Community

Music: Jacques Berthier, 1923-1994

174.

Prepare the Way of the Lord

Words: Unknown

Music: Jacques Berthier, 1923-1994; Taizé Community

175.

We Light the Advent Candles

Words: Gracia Grindal, 1943-

Music: Unknown

176.

Lift Up Your Heads, O Mighty Gates

Words: Georg Weissel

Music: Unknown

Other versions of this song:

177.

Jesus, Name Above All Names

Words: Naida Hearn

Music: Naida Hearn, 1944-

Other versions of this song:

178.

Emmanuel, Emmanuel

Words: Bob McGee, 1944-

Music: Bob McGee, 1944-

179.

Joy to the World!

Words: Isaac Watts

Music: George Frideric Handel, 1685-1759; Lowell Mason, 1792-1872

Other versions of this song:

180.

O Little Town of Bethlehem

Words: Phillips Brooks

Music: Lewis H. Redner, 1831-1908

Other versions of this song:

181.

Of the Father's Love Begotten

Words: Aurelius Prudentius

Music: Unknown

Other versions of this song:

182.

O Come, All Ye Faithful

Words: Latin hymn, 18th century; John F. Wade

Music: Unknown

Other versions of this song:

183.

Once in Royal David's City

Words: Cecil Frances Alexander

Music: Henry J. Gauntlett, 1805-1876

Other versions of this song:

184.

What Child Is This

Words: William Chatterton Dix

Music: Unknown

Other versions of this song:

185.

Hark! the Herald Angels Sing

Words: Charles Wesley

Music: Felix Mendelssohn, 1809-1847; William H. Cummings, 1831-1915

Other versions of this song:

186.

Silent Night! Holy Night!

Words: Joseph Mohr

Music: Franz Gruber, 1787-1863

Other versions of this song:

187.

O Holy Night

Words: Placide Cappeau

Music: Adolphe C. Adam, 1803-1856; Jack Schrader, 1942-

Other versions of this song:

188.

Angels We Have Heard on High

Words: French carol

Music: Unknown

Other versions of this song:

189.

Angels, from the Realms of Glory

Words: James Montgomery

Music: Henry T. Smart, 1813-1879

Other versions of this song:

190.

Lo, How a Rose E'er Blooming

Words: German carol, 16th century

Music: Michael Praetorius, 1571-1621

Other versions of this song:

191.

It Came upon the Midnight Clear

Words: Edmund H. Sears

Music: Richard S. Willis, 1819-1900

Other versions of this song:

192.

Mary, Did You Know?

Words: Mark Lowry

Music: Buddy Greene, 20th c.; Jack Schrader, 1942-

Other versions of this song:

193.

Sing We Now of Christmas

Words: French carol

Music: Unknown

Other versions of this song:

194.

Born in the Night, Mary's Child

Words: Geoffrey Ainger, 1925-

Music: Geoffrey Ainger, 1925-; Richard D. Wetzel, 1935-

195.

Gloria, Gloria, Gloria

Words: Unknown

Music: Pablo Sosa, 1933-

Language: English, Spanish

196.

In the Bleak Midwinter

Words: Christina G. Rossetti

Music: Gustav T. Holst, 1874-1934

Other versions of this song:

197.

Come and Hear the Joyful Singing

Words: Michael Perry, 1942-1996

Music: Hal H. Hopson, 1933-

198.

Good Christian Friends, Rejoice

Words: Heinrich Seuse; John Mason Neale (adapter)

Music: Unknown

Other versions of this song:

199.

Carol at the Manger

Words: Marty Haugen, 1950-

Music: Marty Haugen, 1950-

200.

While by the Sheep

Words: Hugo Jüngst

Music: Hugo Jüngst, 1853-1923

Other versions of this song:

201.

He Is Born

Words: Unknown

Music: Donald P. Hustad, 1918-

202.

Break Forth, O Beauteous Heavenly Light

Words: Johann Rist

Music: Johann Schop, 1590-1664; J. S. Bach, 1685-1750

Other versions of this song:

203.

Away in a Manger

Words: Martin Luther; Little Children's Book for Schools and Families, 1885

Music: James R. Murray, 1841-1905

204.

Down to Earth, as a Dove

Words: Fred Kaan, 1929-

Music: Gustav T. Holst, 1874-1934

205.

Away in a Manger (Kirkpatrick)

Words: Martin Luther; Little Children's Book for Schools and Families, 1885

Music: William J. Kirkpatrick, 1838-1921

206.

A Stable Lamp Is Lighted

Words: Richard Wilbur, 1921-

Music: David Hurd, 1950-

207.

Oh, Sleep Now, Holy Baby

Words: John Donald Robb, 1892-1989

Music: John Donald Robb, 1891-1989

Language: English, Spanish

208.

Oh, How Joyfully

Words: Brian Wren, 1936-

Music: Unknown

209.

Rise Up, Shepherd, and Follow

Words: Unknown

Music: Jack Schrader, 1942-

210.

Love Came Down at Christmas

Words: Christina Rossetti, 1830-1894

Music: Maurice C. Whitney, 1909-1984

211.

That Boy-Child of Mary

Words: Tom Colvin, 1925-2000

Music: Tom Colvin, 1925-2000

212.

Raise a Song Of Gladness (Jubilate Deo)

Words: Taizé Community

Music: Jacques Berthier, 1923-1994

Other versions of this song:

213.

'Twas in the Moon of Wintertime

Words: Jesse Edgar Middleton, 1872-1960; Jean de Brébeuf, 1593-1649

Music: Unknown

214.

Still, Still, Still

Words: Austrian carol

Music: Walter Ehret, 1918-

Other versions of this song:

215.

Were You There on That Christmas Night

Words: Natalie Sleeth, 1930-1992

Music: Natalie Sleeth, 1930-1992

216.

Adoramus Te (We Adore You)

Words: Taizé Community

Music: Taizé Community

217.

No Obvious Angels

Words: Shirley Erena Murray

Music: Carlton R. Young, 1926-

Other versions of this song:

218.

Go, Tell It on the Mountain

Words: Southern folk song

Music: Unknown

Other versions of this song:

219.

Jesus, Oh, What a Wonderful Child

Words: Unknown

Music: Jeffrey Radford, 1953-

220.

Mary Had a Baby

Song credits not available

221.

Infant Holy, Infant Lowly

Words: Polish carol; Piotrowi Skardze

Music: A.E. Rusbridge, 1917-1969

Other versions of this song:

222.

On Christmas Night All Christians Sing

Words: Unknown

Music: Ralph Vaughan Williams, 1872-1958

223.

Star-Child

Words: Shirley Erena Murray

Music: Carlton R. Young, 1926-

Other versions of this song:

224.

The Birthday of a King

Words: William Harold Neidlinger, 1900-

Music: William Harold Neidlinger, 1900-; Robert F. Douglas, 1941-

225.

I Wonder as I Wander

Words: Appalachian folk hymn; John Jacob Niles

Music: John Jacob Niles, 1892-1980; Donald P. Hustad, 1918-

Other versions of this song:

226.

God's Love Made Visible!

Words: Iola Brubeck

Music: Dave Brubeck, 1920-

Other versions of this song:

227.

See Him Lying on a Bed of Straw

Words: Michael Perry, 1942-1996

Music: Michael Perry, 1942-1996; Stephen Coates, 1952-

228.

While Shepherds Watched Their Flocks

Words: Nahum Tate

Music: George Frideric Handel, 1685-1759

Other versions of this song:

229.

The First Noel

Words: English carol; Christmas Carols, W. Sandys, 1833

Music: John Stainer, 1840-1901

Other versions of this song:

230.

O Morning Star, How Fair and Bright!

Words: Catherine Winkworth, 1827-1878; Philipp Nicolai, 1556-1608

Music: Philipp Nicolai, 1556-1608; J. S. Bach, 1685-1750

231.

Arise, Your Light Is Come!

Words: Ruth Duck

Music: William H. Walter, 1825-1893

Other versions of this song:

232.

Let All Mortal Flesh Keep Silence

Words: Liturgy of St. James; Gerard Moultrie

Music: Ralph Vaughan Williams, 1872-1958

Other versions of this song:

233.

We Three Kings of Orient Are

Words: John Henry Hopkins Jr.

Music: John H. Hopkins, Jr., 1820-1891

Other versions of this song:

234.

Wise Men, They Came to Look for Wisdom

Words: Christopher Idle, 1938-

Music: Georg Neumark, 1621-1681

235.

Brightest and Best of the Stars

Words: Reginald Heber

Music: James P. Harding, 1850-1911

Other versions of this song:

236.

As with Gladness

Words: William Chatterton Dix

Music: Conrad Kocher, 1786-1872

Other versions of this song:

237.

The Hands That First Held Mary's Child

Words: Thomas H. Troeger, 1945-

Music: Ralph Vaughan Williams, 1872-1958

238.

From a Distant Home

Words: Puerto Rican carol

Music: Walter Ehret, 1918-

Language: English, Spanish

Other versions of this song:

239.

When John Baptized by Jordan's River

Words: Timothy Dudley-Smith, 1926-

Music: Louis Bourgeois, ca. 1510-1561; Jack Schrader, 1942-

240.

Gloria, Gloria

Words: Taizé Community

Music: Jacques Berthier, 1923-1994

241.

When Jesus Came to Jordan

Words: F. Pratt Green

Music: Unknown

Other versions of this song:

242.

O Sing a Song of Bethlehem

Words: Louis F. Benson

Music: Ralph Vaughan Williams, 1872-1958

Other versions of this song:

243.

Songs of Thankfulness and Praise

Words: Christopher Wordsworth, 1807-1885

Music: George J. Elvey, 1816-1893

244.

O Love, How Deep, How Broad

Words: Benjamin Webb, 1819-1885

Music: Michael Praetorius, 1571-1621; George R. Woodward, 1848-1934

245.

We Have Come at Christ's Own Bidding

Words: Carl P. Daw, Jr., 1944-

Music: Jack Schrader, 1942-

246.

Jesus on the Mountain Peak

Words: Brian Wren, 1936-

Music: Cyril V. Taylor, 1907-1991

247.

Sing of God Made Manifest

Words: Carl P. Daw Jr.

Music: J. S. Bach, 1685-1750; Jakob Hintze, 1622-1702

Other versions of this song:

248.

I Want to Walk As a Child of the Light

Words: Kathleen Thomerson, 1934-

Music: Kathleen Thomerson, 1934-

249.

Amen, Amen

Words: Unknown

Music: Nelsie T. Johnson, 1912-

250.

Throughout These Lenten Days and Nights

Words: James Gertmenian, 1947-

Music: William H. Havergal, 1793-1870

251.

I Come to the Cross

Words: Bill Batstone, 20th c.; Bob Somma, 20th c.

Music: Bill Batstone, 20th c.; Bob Somma, 20th c.

252.

Lord, Who Throughout These Forty Days

Words: Claudia F. Hernaman, 1838-1898

Music: Annabel Morris Buchanan, 1889-1983

253.

Lead Me to Calvary

Words: Jennie Evelyn Hussey

Music: William J. Kirkpatrick, 1838-1921

Other versions of this song:

254.

Jesus Walked This Lonesome Valley

Words: African-American spiritual

Music: Unknown

Other versions of this song:

255.

Beneath the Cross of Jesus

Words: Elizabeth C. Clephane

Music: Frederick C. Maker, 1844-1927

Other versions of this song:

256.

There Is a Fountain Filled with Blood

Words: William Cowper

Music: Lowell Mason, 1792-1872

Other versions of this song:

257.

What Wondrous Love Is This

Words: Appalachian folk hymn; Alexander Means

Music: Unknown

Other versions of this song:

258.

At the Cross

Words: Isaac Watts

Music: Ralph E. Hudson, 1843-1901; John H. Hewitt, 1801-1890

259.

Amazing Love

Words: Graham Kendrick, 1950-

Music: Graham Kendrick, 1950-

260.

The Old Rugged Cross

Words: George Bennard

Music: George Bennard, 1873-1958

Other versions of this song:

261.

When I Survey the Wondrous Cross

Words: Isaac Watts

Music: Lowell Mason, 1792-1872

Other versions of this song:

262.

Ah, Holy Jesus

Words: Johann Heermann

Music: Johann Crüger, 1598-1662

Other versions of this song:

263.

Alas! and Did My Savior Bleed

Words: Isaac Watts

Music: Hugh Wilson, 1764-1824; Robert Smith, 1780-1829

264.

In the Cross of Christ I Glory

Words: John Bowring

Music: Ithamar Conkey, 1815-1867

Other versions of this song:

265.

All Glory, Laud and Honor

Words: John M. Neale, 1818-1866; Theodulph of Orleans, ca. 760-821

Music: Melchior Teschner, 1584-1635

266.
267.

Hosanna, Loud Hosanna

Words: Jennette Threlfall, 1821-1880

Music: Unknown

268.

Ride On, Ride On in Majesty!

Words: Henry H. Milman

Music: Unknown

Other versions of this song:

269.

Sanna, Sannanina (Hosanna)

Words: Unknown

Music: Geoff Weaver, 1943-

270.

O How He Loves You and Me

Words: Kurt F. Kaiser

Music: Kurt Kaiser, 1934-

Other versions of this song:

271.

Lift Up Your Heads

Words: Steve Fry

Music: Steve Fry, 1954-

Other versions of this song:

272.

Go to Dark Gethsemane

Words: James Montgomery

Music: Richard Redhead, 1820-1901

Other versions of this song:

273.

Jesu, Jesu, Fill Us with Your Love

Words: Tom Colvin

Music: Tom Colvin, 1925-2000; Charles H. Webb, 1933-

Other versions of this song:

274.

An Upper Room with Evening Lamps

Words: Timothy Dudley-Smith

Music: William H. Monk, 1823-1889

Other versions of this song:

275.

An Upper Room Did Our Lord Prepare

Words: F. Pratt Green

Music: John Weaver, 1937-

Other versions of this song:

276.

Christ, Let Us Come with You

Words: Shirley Erena Murray, 1931-

Music: Colin Gibson, 1933-

277.

My Savior's Love

Words: Charles H. Gabriel

Music: Charles H. Gabriel, 1856-1932

Other versions of this song:

278.

To Mock Your Reign

Words: Fred Pratt Green, 1903-2000

Music: Ralph Vaughan Williams, 1872-1958

279.

A Purple Robe

Words: Timothy Dudley-Smith

Music: David G. Wilson, 1940-; Noël Tredinnick, 1949-

Other versions of this song:

280.

He Never Said a Mumbalin' Word

Song credits not available

281.

Lamb of God

Words: Twila Paris, 1958-

Music: Twila Paris, 1958-

282.

Behold the Lamb of God

Words: John L. Bell, 1949-

Music: John L. Bell, 1949-

283.

Were You There

Words: African-American spiritual

Music: Unknown

Other versions of this song:

284.

O Sacred Head, Now Wounded

Words: Arnulf of Leuven; Paul Gerhardt

Music: Hans Leo Hassler, 1564-1612; J. S. Bach, 1685-1750

Other versions of this song:

285.

Jesus, Remember Me

Words: Luke 23:42; Taizé Community

Music: Jacques Berthier, 1923-1994

Other versions of this song:

286.

Stay with Me

Words: Taizé Community

Music: Jacques Berthier, 1923-1994

287.

Lift High the Cross

Words: George William Kitchin; Michael Robert Newbolt

Music: Sydney H. Nicholson, 1875-1947

Other versions of this song:

288.

Christ the Lord Is Risen Today

Words: Charles Wesley

Music: Unknown

Other versions of this song:

289.

Alleluia, Alleluia! Hearts to Heaven

Words: Christopher Wordsworth

Music: Ludwig van Beethoven, 1770-1827; Edward Hodges, 1796-1867

Other versions of this song:

290.

The Strife Is O'er

Words: Francis Pott, 1832-1909

Music: Giovanni Pierluigi da Palestrina, 1525-1594; William H. Monk, 1823-1889

Other versions of this song:

291.

Alleluia No. 1

Words: Donald Fishel, 1950-

Music: Donald Fishel, 1950-

292.

Because You Live, O Christ

Words: Shirley Erena Murray, 1931-

Music: Alice Parker, 1925-

293.

Christ Is Risen! Shout Hosanna!

Words: Brian Wren, 1936-

Music: A. E. Rusbridge, 1917-1969

294.

Christ Arose!

Words: Robert Lowry

Music: Robert Lowry, 1826-1899

Other versions of this song:

295.

Jesus Christ Is Risen Today

Words: Latin hymn

Music: Robert Williams, 1781-1821

Other versions of this song:

296.

Goodness Is Stronger Than Evil

Words: Unknown

Music: John L. Bell, 1949-

297.

His Battle Ended There

Words: Tom Colvin, 1925-2000

Music: Tom Colvin, 1925-2000

298.

The Day of Resurrection!

Words: John of Damascus

Music: Henry T. Smart, 1813-1879

Other versions of this song:

299.

That Easter Day with Joy Was Bright

Words: John M. Neale, 1818-1866

Music: Michael Praetorius, 1571-1621; George R. Woodward, 1848-1934

300.

In the Garden

Words: C. Austin Miles

Music: C. Austin Miles, 1868-1946

Other versions of this song:

301.

Hallelujah! What a Savior!

Words: Philip P. Bliss, 1838-1876

Music: Philip P. Bliss, 1838-1876

302.
303.

Jubilate Deo

Words: Taizé Community

Music: Jacques Berthier, 1923-1994; Michael Praetorius, 1571-1621

304.

Shout for Joy, Loud and Long

Words: David Mowbray, 1938-

Music: Gustav T. Holst, 1874-1934

305.

He Is Lord

Words: Anonymous

Music: Anonymous

306.

Alleluia! Jesus Is Risen!

Words: Herbert F. Brokering

Music: David N. Johnson, 1922-1987

Other versions of this song:

307.

Good Christians All, Rejoice

Words: Cyril A. Alington

Music: Melchior Vulpius, 1560-1615

Other versions of this song:

308.

This Joyful Eastertide

Words: George R. Woodward, 1848-1934

Music: Unknown

309.

Christ the Lord Is Risen!

Words: Tom Colvin, 1925-2000

Music: Tom Colvin, 1925-2000; Kevin R. Hackett, 1956-

310.

Thine Is the Glory

Words: Edmond L. Budry

Music: George Frideric Handel, 1685-1759

Other versions of this song:

311.

Now the Green Blade Rises

Words: John M. C. Crum

Music: Unknown

Other versions of this song:

312.

Christ Is Alive!

Words: Brian Wren

Music: Unknown

Other versions of this song:

313.

O Sons and Daughters, Let Us Sing!

Words: Jean Tisserand

Music: Unknown

Other versions of this song:

314.

Easter Song

Words: Anne Herring, 1945-

Music: Anne Herring, 1945-

315.

This Is the Feast of Victory

Words: John W. Arthur, 1922-1980

Music: Richard Hillert, 1923-

316.

Alleluia

Words: Jerry Sinclair

Music: Jerry Sinclair, 1943-1993

Other versions of this song:

317.

Crown Him with Many Crowns

Words: Matthew Bridges; Godfrey Thring

Music: George J. Elvey, 1816-1893

Other versions of this song:

318.

Jesus Comes with Clouds Descending

Words: Charles Wesley, 1707-1788

Music: Henry T. Smart, 1813-1879

319.

Shine, Jesus, Shine

Words: Graham Kendrick

Music: Graham Kendrick, 1950-

Other versions of this song:

320.

Alleluia, Sing to Jesus!

Words: William Chatterton Dix

Music: Rowland H. Prichard, 1811-1887; Ralph Vaughan Williams, 1872-1958

Other versions of this song:

321.

At the Name of Jesus

Words: Caroline Maria Noel, 1817-1877

Music: Ralph Vaughan Williams, 1872-1958

322.

A Hymn of Glory Let Us Sing!

Words: The Venerable Bede

Music: Ralph Vaughan Williams, 1872-1958

Other versions of this song:

323.

Hail the Day That Sees Him Rise

Words: Charles Wesley

Music: Robert Williams, 1781-1821; John Roberts, 1822-1877

Other versions of this song:

324.

Christ High-Ascended

Words: Timothy Dudley-Smith, 1926-

Music: Unknown

325.

Come, Holy Spirit, Our Souls Inspire

Words: Rabanus Maurus

Music: Healey Willan, 1880-1968

Other versions of this song:

326.

Spirit, Spirit of Gentleness

Words: James K. Manley, 1940-

Music: James K. Manley, 1940-

327.

Like the Murmur of the Dove's Song

Words: Carl P. Daw Jr.

Music: Peter Cutts, 1937-

Other versions of this song:

328.

O Breath of Life

Words: Elizabeth Ann P. Head

Music: Mary J. Hammond, 1878-1964

Other versions of this song:

329.

Come, O Spirit, Dwell Among Us

Words: Janie Alford, 1887-1986

Music: Hal H. Hopson, 1933-

330.

Come Down, O Love Divine

Words: Bianco da Seina

Music: Ralph Vaughan Williams, 1872-1958

Other versions of this song:

331.

Filled with the Spirit's Power

Words: J. R. Peacey, 1896-1971

Music: Cyril V. Taylor, 1907-1991

332.

Let Every Christian Pray

Words: Fred Pratt Green, 1903-2000

Music: Joseph Barnby, 1838-1896

333.

Wind Who Makes All Winds That Blow

Words: Thomas H. Troeger

Music: Joseph Parry, 1841-1903

Other versions of this song:

334.

On Pentecost They Gathered

Words: Jane Parker Huber

Music: Felix Mendelssohn, 1809-1847

Other versions of this song:

335.

Christ the Eternal Lord

Words: Timothy Dudley-Smith, 1926-

Music: George J. Elvey, 1816-1893

336.

Christ Triumphant, Ever Reigning

Words: Michael Saward, 1932-

Music: John Barnard, 1948-

337.

We Will Glorify

Words: Twila Paris

Music: Twila Paris, 1958-

Other versions of this song:

338.

King of Kings

Words: Naomi Batya, 1961-; Sophie Conty, 1961-

Music: Sophie Conty, 1961-; Naomi Batya, 1961-

339.

The Head That Once Was Crowned

Words: Thomas Kelly

Music: Jeremiah Clarke, ca. 1670-1707

Other versions of this song:

340.

Crown Him King of Kings

Song credits not available

341.

Jesus Shall Reign

Words: Isaac Watts

Music: John Hatton, ca. 1710-1793

Other versions of this song:

342.

Rejoice, the Lord Is King!

Words: Charles Wesley

Music: John Darwall, 1731-1789

Other versions of this song:

The Church Redeemed

(Return to top)
343.

The Potter's Hand

Words: Darlene Zschech, 1965-

Music: Darlene Zschech, 1965-

344.

I Have Decided to Follow Jesus

Words: S. Sundar Singh

Music: Unknown

Other versions of this song:

345.

Jesus Calls Us O'er the Tumult

Words: Cecil Frances Alexander

Music: William H. Jude, 1851-1922

Other versions of this song:

346.

O Come to Me, the Master Said

Words: Timothy Dudley-Smith, 1926-

Music: Ralph Vaughan Williams, 1872-1958

347.

Lord, You Have Come to the Lakeshore

Words: Cesáreo Gabaráin

Music: Cesareo Gabaraín, 1936-1991; Skinner Chávez-Melo, 1944-1992

Language: English, Spanish

Other versions of this song:

348.

Softly and Tenderly

Words: Will L. Thompson

Music: Will L. Thompson, 1847-1909

Other versions of this song:

349.

Seek Ye First

Words: Karen Lafferty

Music: Karen Lafferty, 1948-

Other versions of this song:

350.

The Summons

Words: John L. Bell; Iona Community

Music: John L. Bell, 1949-

Other versions of this song:

351.

Take Up Your Cross, the Savior Said

Words: Charles W. Everest, 1814-1877

Music: Unknown

352.

Spirit Song

Words: John Wimber, 1934-1997

Music: John Wimber, 1934-1997

353.

Grace Greater than Our Sin

Words: Julia H. Johnston, 1849-1919

Music: Daniel B. Towner, 1850-1919

354.

Just As I Am

Words: Charlotte Elliott

Music: William B. Bradbury, 1816-1868

Other versions of this song:

355.

This Is a Day of New Beginnings

Words: Brian Wren

Music: Carlton R. Young, 1926-

Other versions of this song:

356.

I Will Sing of My Redeemer

Words: Philip Paul Bliss

Music: Rowland H. Prichard, 1811-1887

Other versions of this song:

357.

Knowing You

Words: Graham Kendrick

Music: Graham Kendrick, 1950-

Other versions of this song:

358.

Love Divine, All Loves Excelling

Words: Charles Wesley

Music: John Zundel, 1815-1882

Other versions of this song:

359.

Give Thanks

Words: Henry Smith

Music: Henry Smith, 1952-

Other versions of this song:

360.

What the Lord Has Done in Me

Words: Reuben Morgan, 1975-

Music: Reuben Morgan, 1975-

361.

Jesus, Your Name

Words: Claire Cloninger, 1942-

Music: Morris Chapman, 1938-

362.

Wonderful Grace of Jesus

Words: Haldor Lillenas, 1885-1959

Music: Haldor Lillenas, 1885-1959

363.

My Tribute

Words: Andraé Crouch, 1945-

Music: Andraé Crouch, 1945-

364.

Woman in the Night

Words: Brian Wren, 1936-

Music: Alfred V. Fedak, 1953-

365.

Thank You, Lord

Song credits not available

366.

And Can It Be

Words: Charles Wesley

Music: Thomas Campbell, 1777-1844

Other versions of this song:

367.

Now Let Us Learn of Christ

Words: Christopher Idle, 1938-

Music: David Peacock, 1949-

368.

O Happy Day

Words: Philip Doddridge

Music: Edward F. Rimbault, 1816-1876

Other versions of this song:

369.

Christ Is God's Never Changing 'Yes!'

Words: Alan Gaunt, 1935-

Music: Doreen Potter, 1925-1980

370.

Healing Grace

Words: John Chisum, 1958-; Gary Sadler, 1954-

Music: John Chisum, 1958-; Gary Sadler, 1954-

371.

Our Father, We Have Wandered

Words: Kevin Nichols, 1929-

Music: Hans Leo Hassler, 1564-1612; J. S. Bach, 1685-1750

372.

I Then Shall Live

Words: Gloria Gaither, 1942-

Music: Jean Sibelius, 1865-1957

373.

Change My Heart, O God

Words: Eddie Espinosa, 1953-

Music: Eddie Espinosa, 1953-

374.

Refiner's Fire

Words: Brian Doerksen, 20th c.

Music: Brian Doerksen, 20th c.

375.

Lord, Have Mercy

Words: John Michael Talbot, 20th c.

Music: John Michael Talbot, 20th c.

376.

How Long, O Lord

Words: Psalm 13; Barbara Woollett

Music: Christopher Norton, 1953-

Other versions of this song:

377.

Kyrie Eleison (Oré Poriajú Verekó)

Words: Unknown

Music: Carlton R. Young, 1926-

Language: English, Romanized Greek, Guarani

378.

Create in Me a Clean Heart, O God

Words: John Carter, 1930-

Music: John Carter, 1930-

379.

Kyrie

Song credits not available

Language: English, Romanized Greek

380.

Cast Thy Burden upon the Lord

Words: Julius Schubring

Music: Felix Mendelssohn, 1809-1847

Other versions of this song:

381.

Restore in Us, O God

Words: Carl P. Daw Jr.

Music: William Crotch, 1775-1847

Other versions of this song:

382.

Forgive Our Sins as We Forgive

Words: Rosamond E. Herklots

Music: Unknown

Other versions of this song:

383.

If My People's Hearts Are Humbled

Words: Claire Cloninger, 1942-

Music: Jack Schrader, 1942-

384.

Rock of Ages

Words: Augustus M. Toplady

Music: Thomas Hastings, 1784-1872

Other versions of this song:

385.

Search Me, O God

Words: J. Edwin Orr, 1912-1987

Music: Edward J. Hopkins, 1818-1901

386.

Lord Jesus, Think on Me

Words: Synesius of Cyrene, ca. 375-430; Allen W. Chatfield, 1808-1896

Music: Unknown

387.
388.

O God in Whom All Life Begins

Words: Carl P. Daw Jr.

Music: Arthur S. Sullivan, 1842-1900

Other versions of this song:

389.

Put Peace into Each Other's Hands

Words: Fred Kaan

Music: Unknown

Other versions of this song:

390.

We're Marching to Zion

Words: Isaac Watts

Music: Robert Lowry, 1826-1899

391.

Will You Let Me Be Your Servant

Words: Richard Gillard, 1953-

Music: Richard Gillard, 1953-

392.

Fear Not, Rejoice and Be Glad

Words: Priscilla Wright, 1928-

Music: Priscilla Wright, 1928-; Dale Grotenhuis, 1931-

393.

Blest Be the Tie That Binds

Words: John Fawcett

Music: Johann G. Nägeli, 1773-1836; Lowell Mason, 1792-1872

Other versions of this song:

394.

God of All Time

Words: Shirley Erena Murray

Music: John B. Dykes, 1823-1876

Other versions of this song:

395.

The Bond of Love

Words: Otis Skillings, 1935-

Music: Otis Skillings, 1935-

396.

Where the Spirit of the Lord Is

Words: Stephen R. Adams, 1943-

Music: Stephen R. Adams, 1943-

397.

The Gift of Love

Words: Hal H. Hopson

Music: Hal H. Hopson, 1933-

Other versions of this song:

398.

O the Deep, Deep Love of Jesus

Words: Samuel Trevor Francis

Music: Thomas J. Williams, 1869-1944

Other versions of this song:

399.

Ubi Caritas et Amor (Where True Charity and Love Abide)

Words: Tenth-century text; Taizé Community

Music: Jacques Berthier, 1923-1994

Other versions of this song:

400.

Not for Tongues of Heaven's Angels

Words: Timothy Dudley-Smith

Music: Peter Cutts, 1937-

Other versions of this song:

401.

Of All the Spirit's Gifts to Me

Words: F. Pratt Green

Music: Austin C. Lovelace, 1919-

Other versions of this song:

402.

He Came Down

Words: Unknown

Music: Jane Holstein, 1958-

403.

Come, My Way, My Truth, My Life

Words: George Herbert, 1593-1633

Music: Ralph Vaughan Williams, 1872-1958

404.

Hope of the World

Words: Georgia Harkness

Music: V. Earle Copes, 1921-

Other versions of this song:

405.

My Hope Is Built on Nothing Less

Words: Edward Mote

Music: William B. Bradbury, 1816-1868

Other versions of this song:

406.

My Faith Has Found a Resting Place

Words: Lidie H. Edmunds, 19th c.

Music: William J. Kirkpatrick, 1838-1921

407.

I Know Whom I Have Believed

Words: Daniel W. Whittle

Music: James McGranahan, 1840-1907

Other versions of this song:

408.

I Am Thine, O Lord

Words: Fanny J. Crosby

Music: William H. Doane, 1832-1915

Other versions of this song:

409.

God of Our Life

Words: Hugh T. Kerr

Music: Charles H. Purday, 1799-1885; John Weaver, 1937-

Other versions of this song:

410.

Firm Foundation

Words: Nancy Gordon, 1955-; Jamie Harville, 1960-

Music: Nancy Gordon, 1955-; Jamie Harville, 1960-

411.

How Firm a Foundation

Words: Selection of Hymns, John Rippon, 1787; Robert Keen

Music: Unknown

Other versions of this song:

412.

He Comes to Us As One Unknown

Words: Timothy Dudley-Smith, 1926-

Music: C. Hubert H. Parry, 1848-1918

413.

When Our Confidence Is Shaken

Words: Fred Pratt Green, 1903-2000

Music: John Hughes, 1873-1932

414.

I Know That My Redeemer Lives!

Words: Samuel Medley

Music: John Hatton, ca. 1710-1793

Other versions of this song:

415.

When We Are Living

Words: Anon.; Roberto Escamilla

Music: Hal H. Hopson, 1933-

Language: English, Spanish

Other versions of this song:

416.

God! When Human Bonds Are Broken

Words: Fred Kaan

Music: William H. Monk, 1823-1889

Other versions of this song:

417.

Not with Naked Eye

Words: Daniel Charles Damon, 1955-

Music: Daniel Charles Damon, 1955-

418.

Eternal Light, Shine in My Heart

Words: Christopher Idle, 1938-; Alcuin, 8th c.

Music: Jane Marshall, 1924-

419.

My Faith Looks Up to Thee

Words: Ray Palmer

Music: Lowell Mason, 1792-1872

Other versions of this song:

420.

Jesus, the Very Thought of Thee

Words: Bernard of Clairvaux

Music: John B. Dykes, 1823-1876

Other versions of this song:

421.

Nothing Can Trouble (Nada te Turbe)

Words: St. Teresa of Ávila; Taizé Community

Music: Jacques Berthier, 1923-1994

Language: Spanish, English

Other versions of this song:

422.

Amazing Grace!

Words: John Newton

Music: Edwin O. Excell, 1851-1921

Other versions of this song:

423.

Surely It Is God Who Saves Me

Words: Carl P. Daw, Jr. 1944-

Music: Unknown

424.

How Can I Keep from Singing?

Words: Pauline T.

Music: Robert Lowry, 1826-1899

Other versions of this song:

425.

Christ Beside Me

Words: James Quinn, S.J., 1919-

Music: Jack Schrader, 1942-

426.

Blessed Assurance

Words: Fanny J. Crosby

Music: Phoebe P. Knapp, 1839-1908

Other versions of this song:

427.

You Are My All in All

Words: Dennis L. Jernigan, 1959-

Music: Dennis L. Jernigan, 1959-

428.

When Peace Like a River

Words: Horatio Spafford

Music: Philip P. Bliss, 1838-1876

Other versions of this song:

429.

If You Will Trust in God to Guide You

Words: Catherine Winkworth, 1827-1878; Jaroslav J. Vajda, 1919-; Georg Neumark, 1621-1681

Music: Georg Neumark, 1627-1681

430.

Be Not Afraid

Words: Bob, Dufford, SJ, 1943-

Music: Bob Dufford, SJ, 1943-; Theophane Hytrek, 1915-1992

431.

Jesus, Priceless Treasure

Words: Johann Franck; Catherine Winkworth

Music: Johann Crüger, 1598-1662; J.S. Bach, 1685-1750

Other versions of this song:

432.

As Water to the Thirsty

Words: Timothy Dudley-Smith, 1926-

Music: T. Brian Coleman, 1920-

433.

O Christ the Same

Words: Timothy Dudley-Smith, 1926-

Music: John Barnard, 1948-

434.

If Christ Had Not Been Raised from Death

Words: Christopher Idle, 1938-

Music: Ralph Vaughan Williams, 1872-1958

435.

Like a River Glorious

Words: Frances R. Havergal, 1836-1879

Music: James Mountain, 1844-1933

436.

Grace Alone

Words: Jeff Nelson, 20th c.; Scott Wesley Brown, 1952-

Music: Scott Wesley Brown, 1952-; Jeff Nelson, 20th c.

437.

Jesus Loves Me

Words: Anna Warner

Music: William B. Bradbury, 1816-1868

Other versions of this song:

438.

On Eagle's Wings

Words: Michael Joncas

Music: Michael Joncas, 1951-

Other versions of this song:

439.

Jesus, Lover of My Soul

Words: Charles Wesley

Music: Joseph Parry, 1841-1903

Other versions of this song:

440.

Savior, Like a Shepherd Lead Us

Words: Hymns for the Young; Dorothy Ann Thrupp

Music: William B. Bradbury, 1816-1868

Other versions of this song:

441.

Trust in the Lord

Words: Roland Tabell, 1934-

Music: Roland Tabell, 1934-

442.

'Tis So Sweet to Trust in Jesus

Words: Louisa M. R. Stead

Music: William J. Kirkpatrick, 1838-1921

Other versions of this song:

443.

Trust and Obey

Words: John H. Sammis

Music: Daniel B. Towner, 1850-1919

Other versions of this song:

444.
445.

In the Day of Need

Words: Christohper Idle, 1938-

Music: Norman Warren, 1934-

446.

O Love That Will Not Let Me Go

Words: George Matheson

Music: Albert L. Peace, 1844-1912

Other versions of this song:

447.

Because He Lives

Words: William J. Gaither; Gloria Gaither

Music: William J. Gaither, 1936-

Other versions of this song:

448.

In the Lord I'll Be Ever Thankful

Words: Taizé Community

Music: Jacques Berthier, 1923-1994

449.

Day by Day

Words: Caroline V. Sandell-Berg

Music: Oscar Ahnfelt, 1813-1882

Other versions of this song:

450.

Be Still and Know

Words: Anonymous

Music: Anonymous; Jack Schrader, 1942-

451.

Be Still, My Soul

Words: Katharina von Schlegel

Music: Jean Sibelius, 1865-1957

Other versions of this song:

452.

Through It All

Words: Andraé Crouch, 1945-

Music: Andraé Crouch, 1945-

453.

Christ Be My Leader

Words: Timothy Dudley-Smith, 1926-

Music: Carlton R. Young, 1926-

454.

He Came Singing Love

Words: Colin Gibson

Music: Colin Gibson, 1933-

Other versions of this song:

455.

Take Thou Our Minds, Dear Lord

Words: William H. Foulkes

Music: Calvin Weiss Laufer, 1874-1938

Other versions of this song:

456.

Thy Holy Wings

Words: Gracia Grindal, 1943 -; Carolina Sandell Berg, 1832-1903

Music: Jane Holstein, 1958-

457.

Lord, I Want to Be a Christian

Words: American folk hymn

Music: Unknown

Other versions of this song:

458.

O Jesus, I Have Promised

Words: John E. Bode

Music: Arthur H. Mann, 1850-1929

Other versions of this song:

459.

Come, All Christians, Be Committed

Words: Eva B. Lloyd, 1912-

Music: B. F. White, 1800-1879 ,; James H. Wood, 1921-

460.

All for Jesus!

Words: William J. Sparrow Simpson

Music: John Stainer, 1840-1901

Other versions of this song: