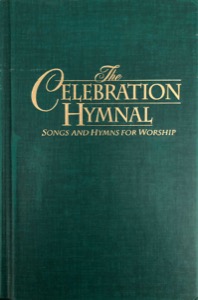 The Celebration Hymnal: Songs and Hymns for Worship
The Celebration Hymnal, English.
USA. Word Music; Integrity Music.
1997. Only known edition. 691 songs.
Various colors with embossed gold lettering.
The primary focus of SingPraises.net is music published by The Church of Jesus Christ of Latter-day Saints. However, other hymnals and collections, including the one on this page, are indexed for reference.
---
Indexes
References
List of songs
Jump to:

Songs and Hymns for Worship

(Return to top)
1.

Praise, My Soul, the King of Heaven

Words: Henry F. Lyte

Music: Mark Andrews

2.

Holy God, We Praise Thy Name

Words: Ignaz Franz

Music: Unknown

Other versions of this song:

3.

Holy, Holy, Holy! Lord God Almighty

Words: Reginald Heber

Music: John B. Dykes; Camp Kirkland

Other versions of this song:

4.

Praise the Savior

Words: Thomas Kelly

Music: Unknown

5.

I Sing Praises

Words: Terry MacAlmon

Music: Terry MacAlmon

6.

There Is No Name So Sweet on Earth

Words: George W. Bethune

Music: William B. Bradbury

8.

Come, Thou Almighty King

Words: Anonymous

Music: Felice de Giardini

Other versions of this song:

9.

Glorify Thy Name

Words: Donna Adkins

Music: Donna Adkins

10.

Majesty

Words: Jack W. Hayford

Music: Jack W. Hayford; Eugene Thomas

11.

Come, Thou Fount of Every Blessing

Words: Robert Robinson

Music: Carl Seal

Other versions of this song:

12.

Praise Him! Praise Him!

Words: Fanny J. Crosby

Music: Chester G. Allen

Other versions of this song:

13.

Sing Hallelujah, Praise the Lord!

Words: John Swertner

Music: John Christian Bechler

Other versions of this song:

15.

No Other Name

Words: Robert Gay

Music: Robert Gay

16.

All Hail the Power of Jesus' Name

Words: Edward Perronet

Music: James Ellor; Camp Kirkland

17.

Our Great Savior

Words: J. Wilbur Chapman

Music: Rowland H. Prichard; Robert Harkness; Ken Barker

18.

Let's Just Praise the Lord

Words: Gloria Gaither; William J. Gaither

Music: William J. Gaither

20.

Let There Be Glory and Honor and Praises

Words: Elizabeth Greenelsh; James Greenelsh

Music: Elizabeth Greenelsh; James Greenelsh

21.

O for a Thousand Tongues to Sing

Words: Charles Wesley

Music: Carl Gläzer; Lowell Mason; Tom Fettke

22.

Praise the Name of Jesus

Words: Roy Hicks, Jr.

Music: Roy Hicks, Jr.

23.

The God of Abraham Praise

Words: Moses Maimonides; Daniel ben Judah; Thomas Olivers

Music: Meyer Lyon

Other versions of this song:

28.

At the Name of Jesus

Words: Cindy Berry

Music: Cindy Berry

29.

Begin, My Tongue, Some Heavenly Theme

Words: Isaac Watts

Music: William Croft

Other versions of this song:

31.

I Exalt Thee

Words: Pete Sanchez, Jr.

Music: Pete Sanchez, Jr.

32.

Be Exalted, O God

Words: Brent Chambers

Music: Brent Chambers

33.

Immortal, Invisible, God Only Wise

Words: Walter Chalmers Smith

Music: Unknown

Other versions of this song:

34.

He Is Lord

Words: Unknown

Music: Tom Fettke

35.

Hallelujah! Our God Reigns

Words: Dale Garratt

Music: Dale Garratt

36.

He Is Exalted

Words: Twila Paris

Music: Twila Paris

37.

You Are Crowned with Many Crowns

Words: John Sellers

Music: John Sellers

38.

Ye Servants of God

Words: Charles Wesley

Music: William Croft

Other versions of this song:

39.

Hallelujah Chorus

Words: George Frideric Handel; Charles Jennens

Music: George Frederick Handel

Other versions of this song:

40.

You Are My God

Words: Macon Delavan

Music: Macon Delavan

41.

Lift High the Lord, Our Banner

Words: Macon Delavan

Music: Macon Delavan

43.

All Hail the Power of Jesus' Name

Words: Edward Perronet

Music: Oliver Holden

44.

Crown Him King of Kings

Words: Sharon Damazio

Music: Sharon Damazio

45.

Crown Him with Many Crowns

Words: Matthew Bridges

Music: George J. Elvey; William David Young

Other versions of this song:

46.

Sing unto the Lord

Words: Leon Patillo

Music: Leon Patillo

47.

Jesus, Lord to Me

Words: Greg Nelson; Gary McSpadden

Music: Greg Nelson; Gary McSpadden

48.

Mighty Is Our God

Words: Eugene Greco; Gerrit Gustafson; Don Moen

Music: Eugene Greco; Gerrit Gustafson; Don Moen

52.

Blessed Be the Name

Words: Charles Wesley

Music: Anonymous; Ralph E. Hudson; William J. Kirkpatrick

54.

My Tribute

Words: Andraé Crouch

Music: Andraé Crouch

55.

Bless His Holy Name

Words: Andraé Crouch

Music: Andraé Crouch

56.

To God Be the Glory

Words: Fanny J. Crosby

Music: William H. Doane; Doug Holck

57.

Sing unto the Lord

Words: Becky Fender

Music: Becky Fender

58.

Bless the Lord, O My Soul

Song credits not available

59.

Our God Is Lifted Up

Words: Tim Smith

Music: Tim Smith

60.

Bless God

Words: Carman; John Rosasco

Music: Carman; John Rosasco

62.

Blessed Be the Lord God Almighty

Words: Bob Fitts

Music: Bob Fitts

Other versions of this song:

63.

All Creatures of Our God and King

Words: St. Francis of Assisi; William H. Draper (adapter)

Music: Ralph Vaughan Williams; Ken Barker; Ken Barker

Other versions of this song:

64.

Blessed Be the Name of the Lord

Words: Don Moen

Music: Don Moen

65.

Stand Up and Bless the Lord

Words: James Montgomery

Music: Aaron Williams

Other versions of this song:

66.

I Will Celebrate

Words: Linda Duvall

Music: Linda Duvall

67.

I Will Bless the Lord

Words: Frank Hernandez

Music: Frank Hernandez

68.

We Praise Thee, O God, Our Redeemer

Words: Julia Cady Cory

Music: Edward Kremser; Bruce Greer

Other versions of this song:

69.

Holy, Holy

Words: Jimmy Owens

Music: Jimmy Owens

Other versions of this song:

70.

A Perfect Heart

Words: Dony McGuire; Reba Rambo

Music: Dony McGuire; Reba Rambo

74.

Holy Is He

Words: Claire Cloninger

Music: David T. Clydesdale

75.

Holy Is the Lord

Words: Unknown

Music: Franz Schubert

Other versions of this song:

76.

Jesus Is the Sweetest Name I Know

Words: Lela Long

Music: Lela Long

78.

I Love You, Lord

Words: Laurie Klein

Music: Laurie Klein

79.

My Jesus, I Love Thee

Words: William R. Featherstone

Music: Adoniram Gordon; William David Young

Other versions of this song:

80.

I Stand in Awe

Words: Mark Altrogge

Music: Mark Altrogge

81.

Abba Father

Words: Steve Fry

Music: Steve Fry; David Allen

Other versions of this song:

82.

Praise the Lord! Ye Heavens, Adore Him

Words: Psalm 148; John Kempthorne

Music: Franz Joseph Haydn

Other versions of this song:

83.

There's Something About That Name

Words: Gloria Gaither; Wililam J. Gaither

Music: William J. Gaither

84.

Jesus, What a Wonder You Are

Words: Dave Bolton

Music: Dave Bolton

86.

Jesus, Name Above All Names

Words: Naida Hearn

Music: Naida Hearn

87.

Fairest Lord Jesus

Words: Gesangbuch, Münster, 1677

Music: Richard S. Willis

Other versions of this song:

88.

More Precious than Silver

Words: Lynn De Shazo

Music: Lynn De Shazo

89.

Jesus, the Very Thought of Thee

Words: Bernard of Clairvaux

Music: John B. Dykes

Other versions of this song:

90.

Joyful, Joyful, We Adore Thee

Words: Henry Van Dyke

Music: Edward Hodges; Ludwig van Beethoven; Dan Burgess

91.

In Moments like These

Words: David Graham

Music: David Graham

92.

O How I Love Jesus

Words: Frederick Whitfield

Music: Unknown

93.

God, Our Father, We Adore Thee

Words: Joel H. Johnson

Music: John Zundel

Other versions of this song:

96.

To Thee We Ascribe Glory

Words: Kirk Dearman

Music: Kirk Dearman

97.

Sing Praise to God Who Reigns Above

Words: Johann J. Schütz

Music: Unknown

Other versions of this song:

99.

Thou Art Worthy, Great Jehovah

Words: Karen Eagen

Music: Karen Eagen

100.

Thou Art Worthy

Words: Pauline M. Mills

Music: Pauline M. Mills

101.

All People That on Earth Do Dwell

Words: William Kethe

Music: Louis Bourgeois

Other versions of this song:

103.

All Hail King Jesus

Words: Dave Moody

Music: Dave Moody

Other versions of this song:

104.

O Worship the King

Words: Robert Grant

Music: Johann M. Haydn; Don Marsh

Other versions of this song:

105.

We Will Glorify

Words: Twila Paris

Music: Twila Paris; David Allen

106.

Worthy, You Are Worthy

Words: Don Moen

Music: Don Moen

107.

Lord, I Lift Your Name on High

Words: Rick Founds

Music: Rick Founds

109.

Lamb of Glory

Words: Greg Nelson; Phill McHugh

Music: Phill McHugh; Greg Nelson

110.

Hallelujah! Praise the Lamb

Words: Pam Thum; Dawn Thomas; Gary McSpadden

Music: Pam Thum; Dawn Thomas; Gary McSpadden

111.

Glory to the Lamb

Words: Larry Dempsey

Music: Larry Dempsey; Ken Barker

112.

Give to Our God Immortal Praise

Words: Isaac Watts

Music: Ralph Vaughan Williams

116.

Name of All Majesty

Words: Timothy Dudley-Smith

Music: Michael Baughen; Noel Tredinnick

117.

His Name Is Life

Words: Carman; William J. Gaither; Gloria Gaither

Music: William J. Gaither; Gloria Gaither; Carman

118.

His Name Is Wonderful

Words: Audrey Mieir

Music: Audrey Mieir

119.

Jesus, Your Name

Words: Morris Chapman; Claire Cloninger

Music: Claire Cloninger; Morris Chapman

121.

How Majestic Is Your Name

Words: Michael W. Smith

Music: Michael W. Smith

122.

Glorious Is Thy Name

Words: B. B. McKinney

Music: B. B. McKinney

123.

How Sweet the Name of Jesus Sounds

Words: John Newton

Music: Alexander R. Reinagle

124.

O Magnify the Lord

Words: Dick Tunney; Melodie Tunney

Music: Melodie Tunney; Dick Tunney

125.

How Excellent Is Thy Name

Words: Paul Smith; Melodie Tunney

Music: Dick Tunney

126.

Holy Lord

Words: Gerald S. Henderson

Music: Gerald S. Henderson

128.

I Sing the Mighty Power of God

Words: Isaac Watts

Music: Unknown

Other versions of this song:

129.

Great and Mighty

Words: Marlene Bigley

Music: Marlene Bigley

130.

His Glorious Name

Words: Unknown

Music: Jean Sibelius

131.
132.

Join All the Glorious Names

Words: Isaac Watts

Music: John Darwall

Other versions of this song:

133.

We Declare Your Majesty

Words: Malcolm du Plessis

Music: Malcolm du Plessis

138.

Holy Ground

Words: Geron Davis

Music: Geron Davis

139.

Great Is Thy Faithfulness

Words: Thomas O. Chisholm

Music: William M. Runyan

Other versions of this song:

140.

Great Is the Lord

Words: Michael W. Smith; Deborah D. Smith

Music: Michael W. Smith; Deborah D. Smith

Other versions of this song:

141.

Father God

Words: Jack W. Hayford

Music: Jack W. Hayford

142.

Holy, Holy, Holy Is the Lord of Hosts

Words: Nolene Prince

Music: Nolene Prince

Other versions of this song:

143.

This Is My Father's World

Words: Maltbie D. Babcock

Music: Franklin L. Sheppard

Other versions of this song:

144.

Great Are You, O Lord

Words: Gerald S. Henderson

Music: Gerald S. Henderson

Other versions of this song:

146.

I Worship You, Almighty God

Words: Sondra Corbett

Music: Sondra Corbett

147.

How Great Thou Art

Words: Carl Boberg; Stuart K. Hine (adapter)

Music: Stuart K. Hine; Eugene Thomas

Other versions of this song:

148.

Isaiah 6:3

Words: Mary A. Lathbury

Music: William F. Sherwin

149.

Ah, Lord God

Words: Kay Chance

Music: Kay Chance

Other versions of this song:

150.

Awesome Power

Words: John G. Elliott

Music: John G. Elliott

151.

A Mighty Fortress Is Our God

Words: Martin Luther

Music: Martin Luther; Bruce Greer

Other versions of this song:

152.

The Majesty and Glory of Your Name

Words: Linda Lee Johnson

Music: Tom Fettke

Other versions of this song:

153.

Worthy of Worship

Words: Terry W. York

Music: Mark Blankenship

154.

We Bow Down

Words: Twila Paris

Music: Twila Paris

155.

Praise Ye the Triune God

Words: Elizabeth R. Charles

Music: Friedrich F. Flemming

157.

The Love of God

Words: Frederick M. Lehman; Meir Ben Isaac Nehorai

Music: Frederick M. Lehman

158.

Think About His Love

Words: Walt Harrah

Music: Walt Harrah

159.

Great Are You, Lord

Words: Vikki Cook; Steve Cook

Music: Steve Cook; Vikki Cook

160.

Antiphonal Praise

Words: Steve Green

Music: Steve Green

161.

I Will Sing of the Mercies

Words: Unknown

Music: James H. Fillmore; Lee Herrington

166.

Praise God from Whom All Blessings Flow

Words: Thomas Ken

Music: Ralph Vaughan Williams

Other versions of this song:

167.

It Is a Good Thing to Give Thanks

Words: Judy Horner Montemayor

Music: Judy Horner Montemayor

169.

Rejoice, Ye Pure in Heart

Words: Edward H. Plumptre

Music: Arthur H. Messiter

Other versions of this song:

170.

Give Thanks

Words: Henry Smith

Music: Henry Smith

Other versions of this song:

171.

Come Into His Presence

Words: Lynn Baird

Music: Lynn Baird

172.

All the Glory Belongs to Jesus

Words: Gloria Gaither

Music: William J. Gaither

Other versions of this song:

173.

I'm Forever Grateful

Words: Mark Altrogge

Music: Mark Altrogge

174.

I Will Bless Thee, O Lord

Words: Esther Watanabe

Music: Esther Watanabe

175.

O Lord, Our Lord

Words: Phill McHugh; Tom Fettke

Music: Jean Sibelius

179.

Awesome God

Words: Rich Mullins

Music: Rich Mullins

181.

Everything Was Made by God

Words: Tina English

Music: Tina English

182.

For the Beauty of the Earth (Family Worship Setting)

Words: Folliott S. Pierpoint

Music: Conrad Kocher; William H. Monk

Other versions of this song:

183.

Everything Was Made by God (Reprise)

Words: Tina English

Music: Tina English

184.

Thy Word

Words: Amy Grant

Music: Michael W. Smith

185.

Jesus Loves Me

Words: Anna Warner

Music: William B. Bradbury

Other versions of this song:

186.

Lord, Be Glorified

Words: Bob Kilpatrick

Music: Bob Kilpatrick

Other versions of this song:

188.

Praise Him, All Ye Little Children

Words: Anonymous

Music: Carey Bonner

189.

Alleluia

Words: Jerry Sinclair

Music: Jerry Sinclair

Other versions of this song:

190.

Praise Him, All Ye Little Children (Reprise I)

Words: Anonymous

Music: Carey Bonner

191.

Father, I Adore You

Words: Terrye Coelho

Music: Terrye Coelho

192.

Praise Him, All Ye Little Children (Reprise II)

Words: Anonymous

Music: Carey Bonner

193.

God Is So Good

Song credits not available

194.

We Worship and Adore You

Words: Anonymous

Music: Anonymous

195.

Bless the Name of Jesus

Words: Carman

Music: Carman

196.

O Come, Let Us Adore Him

Song credits not available

198.

Sing Hallelujah (to the Lord)

Words: Linda Stassen-Benjamin

Music: Linda Stassen-Benjamin

199.

King of Kings

Words: Naomi Batya; Sophie Conty

Music: Unknown

200.

Hallowed Be Thy Name

Words: Robert Lawson; Babbie Mason

Music: Babbie Mason; Robert Lawson

201.

He Is the King of Kings

Words: Virgil Meares

Music: Virgil Meares; Joseph Linn

207.

We Have Come to Join in Worship

Words: George Atkins; Ken Bible

Music: William Moore

208.

Let the Redeemed

Words: Ward L. Ellis

Music: Ward L. Ellis

209.

This Is the Day

Words: Les Garrett

Music: Les Garrett

Other versions of this song:

210.

Praise to the Lord, the Almighty

Words: Joachim Neander

Music: Susan Caudill

Other versions of this song:

211.

Let There Be Praise

Words: Dick Tunney; Melodie Tunney

Music: Dick Tunney; Melodie Tunney

213.

We Bring the Sacrifice of Praise

Words: Kirk Dearman

Music: Kirk Dearman

214.

He Has Made Me Glad (I Will Enter His Gates)

Words: Leona Von Brethorst

Music: Leona Von Brethorst

215.

When Morning Gilds the Skies

Words: Edward Caswall

Music: Joseph Barnby

Other versions of this song:

216.
217.

Holy Ground

Words: Christopher Beatty

Music: Christopher Beatty

218.

Come into the Holy of Holies

Words: John Sellers

Music: John Sellers

219.

Surely the Presence (of the Lord Is in This Place)

Words: Lanny Wolfe

Music: Lanny Wolfe

220.

He Is Here

Words: Kirk Talley

Music: Kirk Talley

221.

All Praise to Our Redeeming Lord

Words: Charles Wesley

Music: Carl G. Gläser; Lowell Mason

Other versions of this song:

222.

Lord, We Praise You

Words: Otis Skillings

Music: Otis Skillings

224.

We Have Come into His House

Words: Bruce Ballinger

Music: Bruce Ballinger

225.

Come, Christians, Join to Sing

Words: Christian H. Bateman

Music: David Evans; Lee Herrington

226.

Oh, the Glory of Your Presence

Words: Steve Fry

Music: Steve Fry

227.

Come, Let Us Worship and Bow Down

Words: Dave Doherty

Music: Dave Doherty

228.

I Will Come and Bow Down

Words: Martin Nystrom

Music: Martin Nystrom

229.

Cast Thy Burden upon the Lord

Words: Julius Schubring

Music: Felix Mendelssohn

Other versions of this song:

230.

Christ, We Do All Adore Thee

Words: Theodore Baker

Music: Theodore Dubois

231.

Let the Peace of Christ Rule in Your Heart

Words: Denny Cagle

Music: Denny Cagle

232.

God Be with You

Words: Jeremiah E. Rankin

Music: William G. Tomer

Other versions of this song:

233.

Grace, Love and Fellowship

Words: John Newton

Music: Tom Fettke

Other versions of this song:

234.

Now unto Him

Words: David Morris

Music: David Morris; Tom Fettke

235.

Take the Name of Jesus with You

Words: Lydia O. Baxter

Music: William H. Doane

Other versions of this song:

236.

The Lord Bless You and Keep You

Words: Peter C. Lutkin

Music: Peter C. Lutkin

Other versions of this song:

237.

Lord, Dismiss Us with Thy Blessing

Words: John Fawcett; Walter Shirley

Music: Unknown

Other versions of this song:

The Life of Christ

(Return to top)
240.

Of the Father's Love Begotten

Words: Aurelius Prudentius

Music: C. Winfred Douglas

Other versions of this song:

241.

Arise, Shine

Words: Jay Robinson; Steven Urspringer

Music: Steven Urspringer; Jay Robinson

243.

Emmanuel

Words: Bob McGee

Music: Bob McGee

244.

Come, Thou Long-Expected Jesus

Words: Charles Wesley

Music: Rowland H. Prichard; Robert Harkness

Other versions of this song:

245.

O Come, O Come, Emmanuel

Words: Latin, 9th century

Music: Thomas Helmore

Other versions of this song:

247.

Let's Worship and Adore Him

Words: Unknown

Music: Tom Fettke

248.

I Extol You

Words: Jennifer Randolph

Music: Jennifer Randolph

249.

O Come, All Ye Faithful

Words: Latin hymn, 18th century; John F. Wade

Music: John Francis Wade; Tom Fettke

Other versions of this song:

250.

O Little Town of Bethlehem

Words: Phillips Brooks

Music: Lewis H. Redner

Other versions of this song:

251.

It Came Upon the Midnight Clear

Words: Edmund H. Sears

Music: Richard S. Willis

Other versions of this song:

253.

Silent Night! Holy Night!

Words: Joseph Mohr

Music: Franz Grüber

Other versions of this song:

254.

Isn't He?

Words: John Wimber

Music: John Wimber

255.

Lo! How a Rose E'er Blooming

Words: German carol, 16th century

Music: Michael Praetorius

Other versions of this song:

256.

Love Has Come!

Words: Ken Bible

Music: Saboly, 17th c.; Tom Fettke

258.

Go, Tell It on the Mountain

Words: African-American spiritual

Music: Eugene Thomas

Other versions of this song:

259.

Angels, From the Realms of Glory

Words: James Montgomery

Music: Henry T. Smart

Other versions of this song:

260.

Worthy, You Are Worthy (Christmas Setting)

Words: Don Moen

Music: Don Moen

261.

Away in a Manger

Words: Martin Luther; Little Children's Book for Schools and Families, 1885

Music: William J. Kirkpatrick

262.

Away in a Manger

Words: Martin Luther; Little Children's Book for Schools and Families, 1885

Music: James R. Murray

263.

What Can I Give Him

Words: Christina Rossetti

Music: Don Cason

264.

Break Forth, O Beauteous Heavenly Light

Words: Johann Rist

Music: Johann Schop; J. S. Bach

Other versions of this song:

265.

The First Noel

Words: English carol; Christmas Carols, W. Sandys, 1833

Music: John Stainer

Other versions of this song:

266.

That Beautiful Name

Words: Jean Perry

Music: Mabel Johnston Camo

267.

I Heard the Bells on Christmas Day

Words: Henry Wadsworth Longfellow

Music: Jean Baptiste Calkin

Other versions of this song:

269.

How Great Our Joy!

Words: Hugo Jüngst

Music: Hugo Jungst

Other versions of this song:

270.

Joy to the World!

Words: Isaac Watts

Music: George Frederick Handel; Lowell Mason

Other versions of this song:

271.

Joyful, Joyful, We Adore You

Words: Henry Van Dyke

Music: Ludwig van Beethoven; Edward Hodges; Eugene Thomas

272.

While Shepherds Watched Their Flocks

Words: Nahum Tate

Music: George Frederick Handel

Other versions of this song:

273.

Good Christian Men, Rejoice

Words: Heinrich Seuse; John Mason Neale (adapter)

Music: John Stainer

Other versions of this song:

274.

O Hearken Ye

Words: Wihla Hutson

Music: Alfred Burt

275.

Sing We Now of Christmas

Words: French carol

Music: Tom Fettke

Other versions of this song:

277.

Hark! the Herald Angels Sing

Words: Charles Wesley

Music: Felix Mendelssohn; William H. Cummings

Other versions of this song:

278.

Angels We Have Heard on High

Words: French carol

Music: Ken Barker

Other versions of this song:

279.

Infant Holy, Infant Lowly

Words: Polish carol; Piotrowi Skardze

Music: Unknown

Other versions of this song:

280.

One Small Child

Words: David Meece

Music: David Meece

281.

What Child Is This?

Words: William Chatterton Dix

Music: Unknown

Other versions of this song:

282.

O Thou Joyful, O Thou Wonderful

Words: Johannes Daniel Falk; Johann C. Heinrich Holzschuher

Music: Unknown

Other versions of this song:

284.

The Birthday of a King

Words: William Harold Neidlinger

Music: William Harold Neidlinger; Robert F. Douglas

285.

O Holy Night!

Words: Placide Cappeau

Music: Adolphe Adam

Other versions of this song:

286.

Once in Royal David's City

Words: Cecil Frances Alexander

Music: Henry J. Gauntlett

Other versions of this song:

287.

A Communion Hymn for Christmas

Words: Margaret Clarkson

Music: Tom Fettke

288.

We Three Kings

Words: John Henry Hopkins Jr.

Music: John H. Hopkins, Jr.

Other versions of this song:

289.

Adoration

Words: John S. B. Monsell; Ken Bible

Music: Tom Fettke

290.

As with Gladness Men of Old

Words: William Chatterton Dix

Music: Conrad Kocher

Other versions of this song:

291.

O Sing a Song of Bethlehem

Words: Louis F. Benson

Music: Ralph Vaughan Williams

Other versions of this song:

292.

Thou Didst Leave Thy Throne

Words: Emily E. S. Elliott

Music: Timothy R. Matthews

Other versions of this song:

293.

Praise the One Who Breaks the Darkness

Words: Rusty Edwards

Music: Unknown

294.
295.

Tell Me the Story of Jesus

Words: Fanny J. Crosby

Music: John R. Sweney

Other versions of this song:

296.
297.

Hosanna, Loud Hosanna

Words: Jenette Threlfall

Music: Unknown

299.

In the Name of the Lord

Words: Sandi Patty; Phill McHugh; Gloria Gaither

Music: Sandi Patty; Phill McHugh; Gloria Gaither

300.

All Glory, Laud and Honor

Words: Theodulph of Orleans

Music: Melchior Teschner

Other versions of this song:

301.

We Will Glorify (Palm Sunday Setting)

Words: Twila Paris

Music: Twila Paris

302.

Lamb of God

Words: Twila Paris

Music: Twila Paris

303.

Worthy Is the Lamb

Words: Don Wyrtzen

Music: Don Wyrtzen

304.

Behold the Lamb

Words: Dottie Rambo

Music: Dottie Rambo

305.

Jesus Paid It All

Words: Elvina M. Hall

Music: John T. Grape

Other versions of this song:

306.

Alas! And Did My Savior Bleed?

Words: Isaac Watts

Music: Hugh Wilson

308.

There Is a Redeemer

Words: Unknown

Music: Melody Green

309.

I Will Sing of My Redeemer

Words: Philip Paul Bliss

Music: Robert Harkness; Rowland H. Prichard; Gary Rhodes

310.

Lead Me to Calvary

Words: Jennie Evelyn Hussey

Music: William J. Kirkpatrick; Tom Fettke

Other versions of this song:

311.

Hallelujah, What a Savior!

Words: Philip P. Bliss

Music: Philip P. Bliss

312.

Calvary Covers It All

Words: Mrs. Walter G. Taylor

Music: Mrs. Walter G. Taylor

313.

Worthy the Lamb that Was Slain

Words: Don Moen

Music: Don Moen

314.

What Wondrous Love Is This

Words: Appalachian folk hymn; Alexander Means

Music: Unknown

Other versions of this song:

315.

Were You There

Words: African-American spiritual

Music: Unknown

Other versions of this song:

316.

O Sacred Head, Now Wounded

Words: Arnulf of Leuven; Paul Gerhardt

Music: Hans Leo Hassler; J. S. Bach

Other versions of this song:

317.

O Mighty Cross

Words: David Baroni; John Chisum

Music: David Baroni; John Chisum; Tom Fettke

318.

I Believe in a Hill Called Mount Calvary

Words: Dale Oldham; Gloria Gaither; William J. Gaither

Music: William J. Gaither

319.

Near the Cross

Words: Fanny J. Crosby

Music: William H. Doane

Other versions of this song:

320.

Beneath the Cross of Jesus

Words: Elizabeth C. Clephane

Music: Frederick C. Maker

Other versions of this song:

321.

When I Survey the Wondrous Cross

Words: Isaac Watts

Music: Michael James

323.

At the Cross

Words: Isaac Watts

Music: Ralph E. Hudson

324.

When I Survey the Wondrous Cross

Words: Isaac Watts

Music: Lowell Mason; Tom Fettke

325.

Why Should He Love Me So?

Words: Robert Harkness

Music: Robert Harkness

326.

Blessed Redeemer

Words: Avis B. Christiansen

Music: HArry Dixon Loes

327.

The Old Rugged Cross

Words: George Bennard

Music: George Bennard

Other versions of this song:

328.

In the Cross of Christ I Glory

Words: John Bowring

Music: Ithamar Conkey

Other versions of this song:

329.

There Is Power in the Blood

Words: Lewis E. Jones

Music: Lewis E. Jones

Other versions of this song:

330.

Are You Washed in the Blood?

Words: Elisha A. Hoffman

Music: Elisha A. Hoffman

Other versions of this song:

332.

I Know a Fount

Words: Oliver Cook

Music: Oliver Cook

333.

O the Blood of Jesus

Words: Brenda Barker

Music: Ken Barker

334.

The Blood Will Never Lose Its Power

Words: Andraé Crouch

Music: Andraé Crouch

335.

Cross of Jesus, Cross of Sorrow

Words: William J. Sparrow-Simpson

Music: John Stainer

336.

There Is a Fountain

Words: William Cowper

Music: Lowell Mason

Other versions of this song:

337.

Nothing but the Blood

Words: Robert Lowry

Music: Robert Lowry; Ken Barker

338.

Wonderful Grace of Jesus

Words: Haldor Lillenas

Music: Haldor Lillenas

339.

By His Grace

Words: Steve Fry

Music: Steve Fry

340.

Turn Your Eyes upon Jesus

Words: Helen H. Lemmel

Music: Helen H. Lemmel

341.

Jesus, My Jesus

Words: Carol Cymbala

Music: Carol Cymbala

342.

Rock of Ages

Words: Augustus M. Toplady

Music: Thomas Hastings

Other versions of this song:

343.

Amazing Grace

Words: John Newton

Music: Edwin O. Excell; O. D. Hall, Jr.

Other versions of this song:

344.

Grace Greater Than Our Sin

Words: Julia H. Johnston

Music: Daniel B. Towner

345.

What a Wonderful Savior!

Words: Elisha A. Hoffman

Music: Elisha A. Hoffman

347.

And Can It Be?

Words: Charles Wesley

Music: Thomas Campbell

Other versions of this song:

348.

My Savior's Love

Words: Charles H. Gabriel

Music: Charles H. Gabriel

Other versions of this song:

349.

O How He Loves You and Me

Words: Kurt Kaiser

Music: Kurt kaiser

350.

God So Loved the World

Words: John Stainer; William J. Sparrow Simpson

Music: John Stainer

Other versions of this song:

351.

Amazing Love

Words: Graham Kendrick

Music: Graham Kendrick

352.

O the Deep, Deep Love of Jesus

Words: Samuel Trevor Francis

Music: Thomas J. Williams

353.

Victory in Jesus

Words: Eugene M. Bartlett

Music: Eugene M. Bartlett

354.

I Cannot Tell

Words: Ken Bible; William Y. Fullerton

Music: Unknown

355.

There's a Wideness in God's Mercy

Words: Frederick W. Faber

Music: Lizzie S. Tourjee

Other versions of this song:

356.

Redeemed

Words: Fanny J. Crosby

Music: William J. Kirkpatrick

357.

Christ Arose

Words: Robert Lowry

Music: Robert Lowry

Other versions of this song:

358.

Because He Lives

Words: William J. Gaither; Gloria Gaither

Music: William J. Gaither

Other versions of this song:

359.

Alleluia, Alleluia! Give Thanks

Words: Donald Fishel

Music: Donald Fishel

360.

Jesus Christ Is Risen Today

Words: Latin hymn

Music: Robert Williams

Other versions of this song:

361.

Worship Christ, the Risen King

Words: Jack W. Hayford

Music: Henry T. Smart

362.

Celebrate Jesus

Words: Gary Oliver

Music: Gary Oliver

Other versions of this song:

363.

Be Joyful

Words: Kurt Kaiser

Music: Kurt Kaiser

365.

Alleluia! Alleluia!

Words: Christopher Wordsworth

Music: Ludwig van Beethoven; Edward Hodges

Other versions of this song:

366.

I Live

Words: Rich Cook

Music: Rich Cook

367.

Christ the Lord Is Risen Today

Words: Charles Wesley

Music: Don Hart

Other versions of this song:

368.
369.

He Rose Triumphantly

Words: Oswald J. Smith

Music: Bentley D. Ackley

370.

Rejoice, the Lord Is King

Words: Charles Wesley

Music: John Darwall

Other versions of this song:

371.

Oh for a Thousand Tongues

Words: David Binion

Music: David Binion

372.

Our God Reigns

Words: Leonard E. Smith, Jr.

Music: Leonard E. Smith, Jr.

373.

To Him Who Sits on the Throne

Words: Debbye Graafsma

Music: Debbye Graafsma

374.

Victory Chant

Words: Joseph Vogels

Music: Joseph Vogels

375.

Jesus Shall Reign

Words: Isaac Watts

Music: John Hatton

Other versions of this song:

376.

Great Is the Lord Almighty!

Words: Dennis L. Jernigan

Music: Dennis L. Jernigan

377.

Alleluia! Sing to Jesus

Words: William Chatterton Dix

Music: Rowland H. Prichard; Robert Harkness

Other versions of this song:

The Holy Spirit

(Return to top)
382.

Come, Holy Spirit

Words: Gloria Gaither; William J. Gaither

Music: William J. Gaither

383.

Fill Me Now

Words: Elwood H. Stokes

Music: John R. Sweney

384.

Spirit Song

Words: John Wimber

Music: John Wimber

385.

Where the Spirit of the Lord Is

Words: Stephen R. Adams

Music: Stephen R. Adams

386.

The Comforter Has Come

Words: Frank Bottome

Music: William J. Kirkpatrick

387.

Holy Spirit, Thou Art Welcome

Words: Dottie Rambo; Daivd Huntsinger

Music: Dottie Rambo; David Huntsinger

389.

Spirit of the Living God

Words: Daniel Iverson

Music: Daniel Iverson

Other versions of this song:

390.

Spirit of God, Descend upon My Heart

Words: George Croly

Music: Frederick C. Atkinson; William David Young

Other versions of this song:

391.

Sweet, Sweet Spirit

Words: Doris Akers

Music: Doris Akers

392.

Holy Spirit, Light Divine

Words: Andrew Reed

Music: Louis M. Gottschalk; Edwin P. Parker

393.

Breathe on Me, Breath of God

Words: Edwin Hatch

Music: Robert Jackson

Other versions of this song:

394.

Greater Is He That Is in Me

Words: Lanny Wolfe

Music: Lanny Wolfe

395.

Descend, O Holy Spirit

Words: Michaele Murphy

Music: Alexander Ewing

396.

Breathe on Me

Words: Edwin Hatch; B. B. McKinney

Music: B. B. McKinney

The Living Church

(Return to top)
399.

We Are God's People

Words: Bryan Jeffery Leech

Music: Johannes Brahms; Fred Bock

400.

Glorious Things of Thee Are Spoken

Words: John Newton

Music: Franz Joseph Haydn

Other versions of this song:

401.

The Church's One Foundation

Words: Samuel J. Stone

Music: Samuel S. Wesley; David T. Clydesdale

Other versions of this song:

402.

Cornerstone

Words: Leon Patillo

Music: Leon Patillo

403.

Christ Is Made the Sure Foundation

Words: Latin hymn

Music: Henry T. Smart

Other versions of this song:

404.

Faith of Our Fathers

Words: Frederick W. Faber

Music: Henri F. Hemy; James G. Walton

Other versions of this song:

405.

I Love Thy Kingdom, Lord

Words: Psalm 137; Timothy Dwight

Music: Aaron Williams

Other versions of this song:

406.

Wonderful Words of Life

Words: Philip Paul Bliss

Music: Philip P. Bliss

Other versions of this song:

407.

God Has Spoken by His Prophets

Words: George W. Briggs

Music: John Zundel

408.

How Firm a Foundation

Words: Selection of Hymns, John Rippon, 1787; Robert Keen

Music: Unknown

Other versions of this song:

409.

Thanks to God Whose Word Was Spoken

Words: R. T. Brooks

Music: Henry T. Smart

410.

Standing on the Promises

Words: R. Kelso Carter

Music: R. Kelso Carter; Tom Fettke

Other versions of this song:

411.

I Hide Your Word Within My Heart

Words: Claire Cloninger

Music: Alexander R. Reinagle

412.

Holy Bible, Book Divine

Words: John Burton

Music: William B. Bradbury

413.

Break Thou the Bread of Life

Words: Mary Ann Lathbury

Music: William F. Sherwin

Other versions of this song:

414.

O Word of God Incarnate

Words: William Walsham How

Music: Felix Mendelssohn

Other versions of this song:

415.

We Are Called to Be God's People

Words: Thomas A. Jackson

Music: Franz Joseph Haydn

416.

We're Marching to Zion

Words: Isaac Watts

Music: Robert Lowry

Other versions of this song:

417.

We Will Stand

Words: Russ Taff; Tori Taff

Music: James Hollihan

418.

Make Us One

Words: Carol Cymbala

Music: Carol Cymbala

419.

The Family of God

Words: William J. Gaither

Music: William J. Gaither

420.

Come into His Presence

Song credits not available

422.

I Love You with the Love of the Lord

Words: Jim Gilbert

Music: Jim Gilbert

423.

The Bond of Love

Words: Otis Skillings

Music: Otis Skillings

424.

The Servant Song

Words: Richard Gillard

Music: Richard Gillard

425.

Bind Us Together

Words: Bob Gillman

Music: Bob Gillman

426.

Blest Be the Tie That Binds

Words: John Fawcett

Music: Johann G. Naegeli; Lowell Mason

Other versions of this song:

427.

People of God

Words: Wayne Watson

Music: Wayne Watson

428.

In Christ There Is No East or West

Words: William A. Dunkerley

Music: Alexander R. Reinagle

Other versions of this song:

429.

They'll Know We Are Christians by Our Love

Words: Peter Scholtes

Music: Peter Scholtes

Other versions of this song:

430.

There Shall Be Showers of Blessing

Words: Daniel W. Whittle

Music: James McGranahan

Other versions of this song:

431.

Shine, Jesus, Shine

Words: Graham Kendrick

Music: Graham Kendrick

432.

Revive Us, O Lord

Words: Steve Camp; Carman

Music: Steve Camp; Carman

433.

Rise Up, O Church of God

Words: William Pierson Merrill

Music: Aaron Williams; Joseph Barlowe

Other versions of this song:

434.

Revive Us Again

Words: William P. Mackay

Music: John J. Husband

435.

God of Grace and God of Glory

Words: Harry E. Fosdick

Music: John Hughes

Other versions of this song:

436.

Freely, Freely

Words: Carol Owens

Music: Carol Owens

Other versions of this song:

437.

Send the Light

Words: Charles H. Gabriel

Music: Charles H. Gabriel

Other versions of this song:

438.

Jesus Saves!

Words: Priscilla J. Owens

Music: William J. Kirkpatrick

Other versions of this song:

439.

Song for the Nations

Words: Chris Christensen

Music: Chris Christensen

440.

So Send I You – by Grace Made Strong

Words: Margaret Clarkson

Music: John W. Peterson

441.

Rescue the Perishing

Words: Fanny J. Crosby

Music: William H. Doane

Other versions of this song:

442.

Each One, Reach One

Words: Babbie Mason

Music: Babbie Mason

443.

O Zion, Haste

Words: Mary A. Thomson

Music: James Walch

Other versions of this song:

444.

I Love to Tell the Story

Words: Katherine Hankey

Music: William G. Fishcer

Other versions of this song:

445.

People Need the Lord

Words: Greg Nelson; Phill McHugh

Music: Greg Nelson; Phill McHugh; David Allen

446.

We've a Story to Tell to the Nations

Words: H. Ernest Nichol

Music: H. Ernest Nichol

Other versions of this song:

447.

Jesus Loves the Little Children

Words: C. Herbert Woolston

Music: George F. Root

Other versions of this song:

448.

I'll Tell the World That I'm a Christian

Words: Baynard L. Fox

Music: Baynard L. Fox

449.

Lord, Lay Some Soul upon My Heart

Words: Leon Tucker

Music: Ira D.Sankey

450.

Lift High the Cross

Words: George W. Kitchin; Michael R. Newbolt

Music: Sydney H. Nicholson

451.

A Christian Home

Words: Barbara B. Hart

Music: Jean Sibelius

452.

I Am a Woman

Words: Claire Cloninger

Music: Richard S. Willis

453.

Happy Our Home When God Is There

Words: Henry Ware Jr.

Music: John B. Dykes

Other versions of this song:

454.

The Family Prayer Song

Words: Morris Chapman

Music: Morris Chapman

455.

I Am a Man

Words: Jack W. Hayford

Music: Jean Sibelius

456.

Find Us Faithful

Words: Jon Mohr

Music: Jon Mohr

457.

God, Give Us Christian Homes

Words: B. B. McKinney

Music: B. B. McKinney

458.

O Perfect Love

Words: Dorothy B. Gurney

Music: Joseph Barnby

Other versions of this song:

459.

We Remember You

Words: Kirk Dearman

Music: Kirk Dearman

460.

Let Us Break Bread Together

Words: African-American spiritual

Music: Keith Phillips

Other versions of this song:

461.

In Remembrance

Words: Ragan Courtney

Music: Buryl Red

Other versions of this song:

462.

Come, Share the Lord

Words: Bryan Jeffery Leech

Music: Bryan Jeffery Leech

463.

I Will Remember Thee

Words: James Montgomery

Music: Unknown

Other versions of this song:

464.

Come to the Table

Words: Claire Cloninger

Music: Martin J. Nystrom

465.

Baptized in Water

Words: Michael Saward

Music: Tom Fettke

466.

Jesus, Our Lord and King

Words: Anonymous

Music: Robert Jackson

467.

Come, Holy Spirit, Dove Divine

Words: Adoniram Judson

Music: H. Percy Smith

468.

Good Shepherd, Take This Little Child

Words: Claire Cloninger

Music: Ken Barker

469.

This Child We Dedicate to Thee

Words: Christoph Friedrich Neander

Music: Henry K. Oliver

Other versions of this song:

470.

The Blessing Song

Words: Nancy Gordon; Linda Walker; Jamie Harvill

Music: Nancy Gordon; Linda Walker; Jamie Harvill; Tom Fettke

New Life in Christ

(Return to top)
478.

Have You Any Room for Jesus?

Words: Daniel W. Whittle

Music: C. C. Williams; Eugene Thomas

479.

Softly and Tenderly

Words: Will L. Thompson

Music: Will L. Thompson

Other versions of this song:

480.

Only Trust Him

Words: John H. Stockton

Music: John H. Stockton

Other versions of this song:

481.

Come Just as You Are

Words: Joseph Sabolick

Music: Joseph Sabolick

482.

Jesus Is Calling

Words: Fanny J. Crosby

Music: George C. Stebbins

483.

The Savior Is Waiting

Words: Ralph Carmichael

Music: Ralph Carmichael

484.

Come, Let Us Reason

Words: Ken Medema

Music: Ken Medema

485.

Into My Heart

Words: Harry D. Clarke

Music: Harry D. Clarke

Other versions of this song:

486.

Come, Ye Sinners, Poor and Needy

Words: Joseph Hart

Music: Unknown

Other versions of this song:

487.

Room at the Cross for You

Words: Ira F. Stanphill

Music: Ira F. Stanphill

488.

Just As I Am

Words: Charlotte Elliott

Music: William B. Bradbury; Tom Fettke

Other versions of this song:

489.

Pass Me Not

Words: Fanny J. Crosby

Music: William H. Doane

Other versions of this song:

490.

Lord, I'm Coming Home

Words: William J. Kirkpatrick

Music: William J. Kirkpatrick

491.

Jesus, I Come

Words: William T. Sleeper

Music: George C. Stebbins

492.

At Calvary

Words: William R. Newell

Music: Daniel B. Towner

493.

Glory to His Name

Words: Elisha A. Hoffman

Music: John H. Stockton

Other versions of this song:

494.

It Took a Miracle

Words: John W. Peterson

Music: John W. Peterson

495.

Jesus Loves Even Me

Words: Philip Paul Bliss

Music: Philip P. Bliss

Other versions of this song:

496.

No One Ever Cared for Me like Jesus

Words: Charles F. Weigle

Music: Charles F. Weigle

497.

I Will Praise Him

Words: Margaret J. Harris

Music: Margaret J. Harris

498.

O Happy Day!

Words: Philip Doddridge

Music: Edward F. Rimbault

Other versions of this song:

499.

I Will Sing the Wondrous Story

Words: Francis H. Rowley

Music: Peter P. Bilhorn

500.

Saved, Saved!

Words: Jack P. Scholfield

Music: Jack P. Scholefield

Other versions of this song:

501.

Now I Belong to Jesus

Words: Norman J. Clayton

Music: Norman J. Clayton

502.

In My Heart There Rings a Melody

Words: Elton M. Roth

Music: Elton M. Roth

503.

Since Jesus Came into My Heart

Words: Rufus H. McDaniel

Music: Charles H. Gabriel

Other versions of this song:

504.

Without Him

Words: Mylon R. LeFevre

Music: Mylon R. LeFevre

505.

He Touched Me

Words: William J. Gaither

Music: William J. Gaither

506.

I'd Rather Have Jesus

Words: Rhea F. Miller

Music: George Beverly Shea

507.

Something Beautiful

Words: Gloria Gaither

Music: William J. Gaither

508.

Love Lifted Me

Words: James Rowe

Music: Howard E. Smith

Other versions of this song:

509.

He Lifted Me

Words: Charlotte G. Homer

Music: Charles H. Gabriel

Other versions of this song:

510.

Heaven Came Down

Words: John W. Peterson

Music: John W. Peterson

511.

All That Thrills My Soul

Words: Thoro Harris

Music: Thoro Harris

512.

Jesus Is All the World to Me

Words: Will L. Thompson

Music: Will L. Thompson

513.

Thank You, Lord

Words: Seth Sykes

Music: Seth Sykes; Bessie Sykes

514.

I Love to Praise Him

Words: Jennifer Randolph

Music: Jennifer Randolph

515.

Since I Have Been Redeemed

Words: Edwin O. Excell

Music: Edwin O. Excell

516.

Redeemed

Words: Fanny J. Crosby

Music: Aubrey L. Butler

517.

I Will Sing of My Redeemer

Words: Philip Paul Bliss

Music: James McGranahan

518.
519.

Jesus Is Lord of All

Words: LeRoy McClard

Music: LeRoy McClard

520.

The Longer I Serve Him

Words: William J. Gaither

Music: William J. Gaither

521.

A New Name in Glory

Words: C. Austin Miles

Music: C. Austin Miles

Other versions of this song:

522.

I'm So Glad Jesus Lifted Me

Words: Camp Kirkland

Music: Camp Kirkland

Walking with God

(Return to top)
526.

The Solid Rock

Words: Edward Mote

Music: William B. Bradbury; Doug Holck

Other versions of this song:

527.

I Know Whom I Have Believed

Words: Daniel W. Whittle

Music: James McGranahan

Other versions of this song:

528.

My Faith Has Found a Resting Place

Words: Lidie H. Edmunds

Music: William J. Kirkpatrick

530.

I Will Call upon the Lord

Words: Michael O'Shields

Music: Michael O'Shields

531.

Unto Thee, O Lord

Words: Charles F. Monroe

Music: Charles F. Monroe

532.

Only Believe

Words: Paul Rader

Music: Paul Rader

533.

There Is a Savior

Words: Sandi Patty; Phil McHugh

Music: Greg Nelson; Bob Farrell

534.

Learning to Lean

Words: John Stallings

Music: John Stallings

535.

Ask Ye What Great Thing I Know

Words: Johann C. Schwedler; Benjamin H. Kennedy

Music: H. A. César Malan

536.

Have Faith in God

Words: B. B. McKinney

Music: B. B. McKinney

537.

He Who Began a Good Work in You

Words: Jon Mohr

Music: Jon Mohr

539.

My Faith Looks Up to Thee

Words: Ray Palmer

Music: Lowell Mason

Other versions of this song:

540.

My Hope Is in the Lord

Words: Norman J. Clayton

Music: Norman J. Clayton; Michael James

541.

The Joy of the Lord

Words: Alliene G. Vale

Music: Alliene G. Vale

542.

My Life Is in You, Lord

Words: Daniel Gardner

Music: Daniel Gardner

543.

'Til the Storm Passes By

Words: Mosie Lister

Music: Mosie Lister

544.

My Faith Still Holds

Words: Gloria Gaither; William J. Gaither

Music: William J. Gaither

545.

Moment by Moment

Words: Daniel W. Whittle

Music: May Whittle Moody

Other versions of this song:

548.

As the Deer

Words: Psalm 42; Martin Nystrom

Music: Martin Nystrom

Other versions of this song:

549.

Higher Ground

Words: Johnson Oatman Jr.

Music: Charles H. Gabriel

Other versions of this song:

550.

I Want to Be Like Jesus

Words: Thomas O. Chisholm

Music: David Livingstone Ives

551.

O to Be Like Thee!

Words: Thomas O. Chisholm

Music: William J. Kirkpatrick

552.

I Am Thine, O Lord

Words: Fanny J. Crosby

Music: William H. Doane

Other versions of this song:

553.

Nearer, My God, to Thee

Words: Sarah F. Adams

Music: Lowell Mason

Other versions of this song:

554.

Give Me Jesus

Words: Fanny J. Crosby

Music: John R. Sweney

555.

To Be Like Jesus

Words: Dick Tunney; Melodie Tunney

Music: Dick Tunney; Melodie Tunney

557.

Seekers of Your Heart

Words: Melodie Tunney; Dick Tunney; Beverly Darnall

Music: Melodie Tunney; Dick Tunney; Beverly Darnall

558.

I Am Crucified with Christ

Words: John G. Elliott

Music: John G. Elliott

559.

Praise You

Words: Elizabeth Goodine

Music: Elizabeth Goodine

560.

More About Jesus

Words: Eliza E. Hewitt

Music: John R. Sweney

Other versions of this song:

561.

I Would Be Like Jesus

Words: James Rowe

Music: Bentley D. Ackley

Other versions of this song:

562.

Be Thou My Vision

Words: Dallán Forgaill; Irish hymn, 8th century

Music: David Allen

Other versions of this song:

563.

Open My Eyes, That I May See

Words: Clara H. Scott

Music: Clara H. Scott

Other versions of this song:

564.

Just a Closer Walk with Thee

Words: Anonymous

Music: Anonymous

565.

To Be Like Jesus

Song credits not available

566.

I Am Resolved

Words: Palmer Hartsough

Music: James H. Fillmore

567.

Nearer, Still Nearer

Words: Lelia N. Morris

Music: Lelia N. Morris

568.

May the Mind of Christ, My Savior

Words: Kate B. Wilkinson

Music: A. Cyril Barham-Gould

571.

Trust and Obey

Words: John H. Sammis

Music: Daniel B. Towner

Other versions of this song:

572.

Blessed Assurance

Words: Fanny J. Crosby

Music: Phoebe P. Knapp; James C. Gibson

Other versions of this song:

573.

His Strength Is Perfect

Words: Steven Curtis Chapman; Jerry Salley

Music: Steven Curtis Chapman; Jerry Salley

574.

A Child of the King

Words: Harriet E. Buell

Music: John B. Sumner

Other versions of this song:

575.

Leaning on the Everlasting Arms

Words: Elisha A. Hoffman

Music: Anthony J. Showalter

Other versions of this song:

576.

The Steadfast Love of the Lord

Words: Edith McNeill

Music: Edith McNeill

577.

In Times like These

Words: Ruth Caye Jones

Music: Ruth Caye Jones

578.

Trusting Jesus

Words: Edgar P. Stites

Music: Ira D.Sankey

580.

Through It All

Words: Andraé Crouch

Music: Andraé Crouch

581.

'Tis So Sweet to Trust in Jesus

Words: Louisa M. R. Stead

Music: William J. Kirkpatrick

Other versions of this song:

582.

I Am Trusting Thee, Lord Jesus

Words: Frances R. Havergal

Music: Ethelbert W. Bullinger

Other versions of this song:

583.

You are My All in All

Words: Dennis L. Jernigan

Music: Dennis L. Jernigan

584.

Yesterday, Today, Forever

Words: Albert B. Simpson

Music: James H. Burke

585.

Be Still and Know

Words: Anonymous; Tom Fettke

Music: Anonymous; Lee Herrington

586.

He's Got the Whole World in His Hands

Words: African-American spiritual

Music: Eugene Thomas

Other versions of this song:

588.

All for Jesus

Words: Mary D. James

Music: Unknown

Other versions of this song:

589.

Here I Am, Lord

Words: Daniel L. Schutte

Music: Daniel L. Schutte

Other versions of this song:

590.

I'll Live for Him

Words: Ralph E. Hudson

Music: C. R. Dunbar

591.

Have Thine Own Way, Lord

Words: Adelaide A. Pollard

Music: George C. Stebbins

Other versions of this song:

592.

Jesus Calls Us

Words: Cecil Frances Alexander

Music: William H. Jude

Other versions of this song:

593.

Where He Leads Me

Words: Ernest W. Blandly

Music: John S. Norris

Other versions of this song:

595.

I Give All to You

Words: Larnelle Harris

Music: Larnelle Harris

596.

I Surrender All

Words: Judson W. Van DeVenter

Music: Winfield S. Weeden

Other versions of this song:

597.

Take My Life, and Let It Be Consecrated

Words: Frances R. Havergal

Music: H. A. César Malan; O. D. Hall, Jr.

Other versions of this song:

598.

Wherever He Leads I'll Go

Words: B. B. McKinney

Music: B. B. McKinney; Ken Barker

599.

Jesus Is Lord of All

Words: Gloria Gaither; William J. Gaither

Music: William J. Gaither

Other versions of this song:

600.

I Pledge Allegiance to the Lamb

Words: Ray Boltz

Music: Ray Boltz

Other versions of this song:

601.

Yes, Lord, Yes

Words: Lynn Keesecker

Music: Lynn Keesecker

602.

I Have Decided to Follow Jesus

Words: S. Sundar Singh

Music: Eugene Thomas

Other versions of this song:

603.

Jesus, I My Cross Have Taken