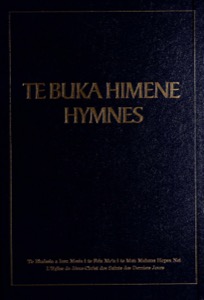 Te Buka Himene: Te Ekalesia a Iesu Mesia i te Feia Mo'a i te Mau Mahana Hopea Nei — Hymnes: L'Eglise de Jésus-Christ des Saints des Derniers Jours
1948 Hymns, Tahitian.
Salt Lake City, Utah, USA. The Church of Jesus Christ of Latter-day Saints.
1978. First edition. 110 songs.
Book © 1977. 3/78 printing.
---
Indexes
References
List of songs
Jump to:

Te Faaho'iraahia Mai o te Evanelia

(Return to top)
1.

Te Hiti Mai Nei te Mahana

Words: Parley P. Pratt

Music: George Careless

Other versions of this song:

2.

E te Faaora o Iseraela

Words: Joseph Swain; William W. Phelps (adapter)

Music: Repository of Sacred Music, Part Second, Wyeth, 1813; Freeman Lewis

Other versions of this song:

3.

Mauruuru Matou, E te Atua

Words: William Fowler

Music: Caroline E. Sheridan Norton

Other versions of this song:

4.

To'u Metua

Words: Eliza R. Snow

Music: James McGranahan

Other versions of this song:

5.

Haere Mai, E te Feia Mo'a

Words: William Clayton

Music: English folk song

Other versions of this song:

6.

Aue te Varua o te Atua

Words: William W. Phelps

Music: English melody

Other versions of this song:

7.

Oaoa Tatou i te Tau no te Ora

Words: William W. Phelps

Music: Henry Tucker

Other versions of this song:

8.

E Tamaiti Apî Roa

Words: George Manwaring

Music: Sylvanus Billings Pond

Other versions of this song:

9.

Eaha te Parau Mau?

Words: John Jaques

Music: Ellen Knowles Melling

Other versions of this song:

10.

Aue te Taata i Parau Ia Iehova

Words: William W. Phelps

Music: Scottish folk song

Other versions of this song:

11.

E te Mau Nunaa e

Words: Joel H. Johnson

Music: Ebenezer Beesley

Other versions of this song:

12.

Ua Pou Maira Moroni

Words: Parley P. Pratt

Music: John E. Tullidge

Other versions of this song:

13.

Otohe Anei, Feia Apî

Words: Evan Stephens

Music: Evan Stephens

Other versions of this song:

14.

Noa'tu te Peapea

Words: Eliza R. Snow

Music: George Careless

Other versions of this song:

15.

No te Puai o te Mou'a ra

Words: Felicia D. Hemans; Edward L. Sloan (adapter)

Music: Evan Stephens

Other versions of this song:

16.

Mai te Hupe Aahiata

Words: Thomas Kelly

Music: Joseph J. Daynes

Other versions of this song:

Te Faaitoitoraa

(Return to top)
17.

A Haapao, te Fatata Mai Nei

Words: Anon.

Music: George Kiallmark Sr.

Other versions of this song:

18.

Haere Mai e Himene

Words: James H. Wallis

Music: Spanish melody

Other versions of this song:

19.

Ara Mai Tatou

Words: Evan Stephens

Music: Evan Stephens

Other versions of this song:

20.

Haere Mai Ia Iesu

Words: Orson Pratt Huish

Music: Orson Pratt Huish

Other versions of this song:

21.

Mai Haere Tatou Nei

Words: Isaac Watts

Music: Aaron Williams

Other versions of this song:

22.

Tiaturiraa no Ziona

Words: Joseph L. Townsend

Music: William Clayson

Other versions of this song:

23.

Mai Faaroo i te Reo o te Peropheta

Words: Joseph S. Murdock; Bruce R. McConkie

Music: Joseph J. Daynes

Other versions of this song:

24.

Te Hinaarohia Nei te Feia Ohipa

Words: Will L. Thompson

Music: Will L. Thompson

Other versions of this song:

25.

Pii Maira te Atua

Words: Richard Smyth

Music: Charles C. Converse

Other versions of this song:

26.

E Faehau Faaroo

Words: Sabine Baring-Gould

Music: Arthur S. Sullivan

Other versions of this song:

27.

Ohipa Rahi Ta'u

Words: Josephine Pollard

Music: William J. Kirkpatrick

Other versions of this song:

28.

Aue te Parau Aroha e

Words: Joseph L. Townsend

Music: Edwin F. Parry

Other versions of this song:

29.

E Itehia te Parau Mau

Words: Anon.; M. E. Abbey

Music: Charles Davis Tillman

Other versions of this song:

30.

Ia Parau Haamaita'i Noa Tatou

Words: Joseph L. Townsend

Music: Ebenezer Beesley

Other versions of this song:

Te Mauruuru e te Oaoa

(Return to top)
31.

Aue te Nehenehe, No te Aroha

Words: John Hugh McNaughton

Music: John Hugh McNaughton

Other versions of this song:

32.

I To Mau Tau Ati

Words: Johnson Oatman Jr.

Music: Edwin O. Excell

Other versions of this song:

33.

Haapao i To Taime

Words: Robert B. Baird

Music: Robert B. Baird

Other versions of this song:

34.

O te Fatu ra To'u Maramarama

Words: James L. Nicholson

Music: John R. Sweney

Other versions of this song:

35.

Tei Roto i To'u Nei Aau

Words: Eliza E. Hewitt

Music: John R. Sweney

Other versions of this song:

36.

Anaana te E'a

Words: Helen Silcott Dungan

Music: James M. Dungan

Other versions of this song:

37.

Ia Vai te Mahana, Arohi â

Words: Luella Clark

Music: Evan Stephens

Other versions of this song:

38.

I Teie Ao Oto e te Poiri

Words: Lanta Wilson Smith

Music: Edwin O. Excell

Other versions of this song:

Te Oro'a

(Return to top)
39.

Aue te Paari e te Aroha

Words: Eliza R. Snow

Music: Thomas McIntyre

Other versions of this song:

40.

E te Atua Faaroo Mai

Words: Annie Pinnock Malin

Music: Louis M. Gottschalk

Other versions of this song:

41.

E Iesu, Ia Feruri Au

Words: Bernard of Clairvaux

Music: John B. Dykes

Other versions of this song:

42.

E Aivi Tei te Atea

Words: Cecil Frances Alexander

Music: John H. Gower

Other versions of this song:

43.

E Himene Tatou i to Iesu I'oa

Words: Richard Alldridge

Music: Joseph Coslett

Other versions of this song:

44.

Te Maere Nei Au

Words: Charles H. Gabriel

Music: Charles H. Gabriel

Other versions of this song:

45.

E te Fatu, Horoa Mai i To Varua

Words: Mabel Jones Gabbott

Music: Rowland H. Prichard

Other versions of this song:

46.

Te Atua, Te Metua

Words: William W. Phelps

Music: Felix Mendelssohn

Other versions of this song:

47.

Pohe Atu te Faaora Ei Haapao i te Ture ra

Words: Eliza R. Snow

Music: George Careless

Other versions of this song:

48.

Iesu Tei Fanauhia ra

Words: Parley P. Pratt

Music: Giacomo Meyerbeer; English Chorister

Other versions of this song:

49.

Himene ma te Mărû

Words: William W. Phelps

Music: Thomas C. Griggs

Other versions of this song:

50.

E Here to te Atua

Words: Edward P. Kimball

Music: Alexander Schreiner

Other versions of this song:

51.

I to Tatou Raveraa i na Tapa'o

Words: John Nicholson

Music: Alexander Schreiner

Other versions of this song:

52.

Ei Mana'oraa Teie

Words: Frank I. Kooyman

Music: Alexander Schreiner

Other versions of this song:

53.

Pohe Atu te Faaora

Words: Isaac Watts

Music: George Careless

Other versions of this song:

Te Tiaororaa

(Return to top)
54.

Hinaaro Vau Ia Oe

Words: Annie S. Hawks

Music: Robert Lowry

Other versions of this song:

55.

Aue te Oaoa e

Words: Isaac Watts

Music: John J. McClellan

Other versions of this song:

56.

Aue te Aroha Rahi

Words: Philip Doddridge

Music: Hans Georg Nägeli

Other versions of this song:

57.

Ua Ite Au, Te Ora Nei To'u Fatu

Words: Samuel Medley

Music: Lewis D. Edwards

Other versions of this song:

58.

Mai Pee Mai

Words: John Nicholson

Music: Samuel McBurney

Other versions of this song:

59.

E to Matou Metua Here

Words: Charles Denney Jr.

Music: George Careless

Other versions of this song:

60.

E te Fatu Here

Words: Philip Paul Bliss

Music: Philip Paul Bliss

Other versions of this song:

61.

Iehova To'u Tiai

Words: Psalm 23; James Montgomery (adapter)

Music: Thomas Koschat

Other versions of this song:

62.

E te Atua, to Matou Metua

Words: Angus S. Hibbard

Music: Friedrich F. Flemming

Other versions of this song:

63.

Arata'i Mai, E Tena Tiarama

Words: John Henry Newman

Music: John B. Dykes

Other versions of this song:

Te Arueraa

(Return to top)
64.

Aue te Paari

Words: Selection of Hymns, John Rippon, 1787; Robert Keen

Music: Anon.; John Ellis

Other versions of this song:

65.

Taa ê ta Oe ra Mau Ohipa

Words: Henry U. Onderdonk

Music: Joseph Martin Kraus

Other versions of this song:

66.

E te Fatu, Tei Tauturu

Words: Isaac Watts

Music: William Croft; Supplement to the New Version, 1708

Other versions of this song:

67.

A Haere Mai, Te Arii

Words: Parley P. Pratt

Music: Anon.

Other versions of this song:

68.

E ta te Atua Rahi

Words: St. Francis of Assisi; William H. Draper (adapter)

Music: German hymn; Geistliche Kirchengesäng, Cologne, 1623

Other versions of this song:

69.

Arata'i Mai, E Iehova

Words: William Williams

Music: Annie F. Harrison

Other versions of this song:

70.

E Pare Puai te Fatu

Words: Martin Luther

Music: Martin Luther

Other versions of this song:

71.

Aue te Nehenehe

Words: Thomas R. Taylor

Music: Thomas C. Griggs

Other versions of this song:

72.

A Haamauruuru i to Tatou Atua

Words: Martin Rinkhart

Music: Johann Crüger

Other versions of this song:

73.

Arue Ia'na

Words: Joachim Neander

Music: Stralsund Gesangbuch, 1665

Other versions of this song:

74.

E Iehova, Te Arii

Words: Anon.

Music: Oliver Holden

Other versions of this song:

75.

Atua no to Matou Metua

Words: Daniel C. Roberts

Music: George W. Warren

Other versions of this song:

76.

E te Fatu, Farii Mai na

Words: Richard Alldridge

Music: Joseph J. Daynes

Other versions of this song:

77.

E te Fatu no te Mau Metua

Words: Charles W. Penrose

Music: Ebenezer Beesley

Other versions of this song:

78.

E Arue Tatou Nei

Words: James Allen

Music: Felice de Giardini

Other versions of this song:

Te Faaotiraa

(Return to top)
79.

Ei Ia'u Nei, To'u Atua e

Words: Henry F. Lyte

Music: William H. Monk

Other versions of this song:

80.

Ei te Atua Tatou i Teie Nei

Words: Jeremiah E. Rankin

Music: William G. Tomer

Other versions of this song:

81.

I te Taa-ê-raa

Words: George Manwaring

Music: Benjamin Milgrove

Other versions of this song:

82.

Roa Mai ra te Ata

Words: George W. Doane

Music: Carl Maria von Weber

Other versions of this song:

83.

Himene Tatou Nei

Words: George Manwaring

Music: Ebenezer Beesley

Other versions of this song:

84.

Topa te Mahana

Words: Sabine Baring-Gould

Music: Joseph Barnby

Other versions of this song:

85.

Ei Ia'u Nei, E te Fatu

Words: M. Lowrie Hofford

Music: Harrison Millard

Other versions of this song:

86.

Arue i te Atua

Words: Thomas Ken

Music: Louis Bourgeois; Genevan Psalter, 1551

Other versions of this song:

Te Pure

(Return to top)
87.

Ua Pure Anei Oe?

Words: Mary A. Pepper Kidder

Music: William O. Perkins

Other versions of this song:

88.

Hora Pure

Words: William W. Walford

Music: William B. Bradbury

Other versions of this song:

89.

I Tera Hora ma te Hau

Words: Hans Henry Petersen

Music: Hans Henry Petersen

Other versions of this song:

90.

Te Hiaai Mau o te Aau

Words: James Montgomery

Music: George Careless

Other versions of this song:

Te Mau Parabole

(Return to top)
91.

E Mea Puai te Vero

Words: Mary Ann Baker

Music: Horatio R. Palmer

Other versions of this song:

92.

Te Ueue Noa Nei Tatou

Words: Anon.

Music: Henry A. Tuckett

Other versions of this song:

93.

Ua Farerei Pinepine ra Vau

Words: James Montgomery

Music: George Coles

Other versions of this song:

94.

Mai te Hoê Fare Mori

Words: Philip Paul Bliss

Music: Philip Paul Bliss

Other versions of this song:

95.

Te Tia ra o Iesu e

Words: Robert Morris

Music: Horatio R. Palmer

Other versions of this song:

Te Mau Himene Taa e

(Return to top)
96.

A Haere Mai Outou, E te Mau Tamaroa

Words: Thomas Davenport

Music: Orson Pratt Huish

Other versions of this song:

97.

E te Mau Tavini o te Atua

Words: Cyrus H. Wheelock

Music: Thomas H. Bayly

Other versions of this song:

98.

Mauruuru i te Haapiiraa

Words: William Willes

Music: James R. Murray

Other versions of this song:

99.

Tia Faahou Mai Iesu

Words: Charles Wesley

Music: Lyra Davidica, 1708; Henry Carey

Other versions of this song:

100.

Ua Tia Mai te Fatu

Words: Cecil Frances Alexander

Music: Joachim Neander

Other versions of this song:

101.

Aore Paha i te Mou'a ra

Words: Mary Brown

Music: Carrie E. Rounsefell

Other versions of this song:

Te Noela

(Return to top)
102.

Po Mo'a, Po Mărû

Words: Joseph Mohr

Music: Franz Gruber

Other versions of this song:

103.

I te Atea, I Iudea ra

Words: John Menzies Macfarlane

Music: John Menzies Macfarlane

Other versions of this song:

104.

A Haere Mai Outou o Tei Faaroo

Words: Latin hymn, 18th century; John F. Wade

Music: John F. Wade

Other versions of this song:

105.

Ua Tae Maira te Mesia

Words: Isaac Watts

Music: George Frideric Handel

Other versions of this song:

106.

Himene te Melahi ra

Words: Charles Wesley

Music: Felix Mendelssohn

Other versions of this song:

107.

E Betelehema e

Words: Phillips Brooks

Music: Lewis H. Redner

Other versions of this song:

108.

I te Noela Matamua

Words: English carol; Christmas Carols, W. Sandys, 1833

Music: English carol; Christmas Carols, W. Sandys, 1833

Other versions of this song:

109.

Mea Maere e, Te Fâraa Mai

Words: Anon.

Music: William K. Bassford

Other versions of this song:

110.

Fanauhia Mai Iesu

Words: French carol

Music: French carol

Other versions of this song: