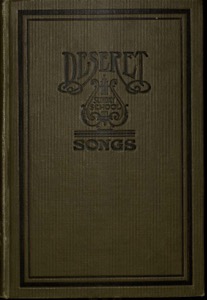 Deseret Sunday School Songs
Deseret Sunday School Songs: For the use of Sunday Schools and Suitable for Primary Associations, Religion Classes, Quorum Meetings, Social Gatherings and the Home
Deseret Sunday School Songs, English.
Salt Lake City, Utah, USA. Deseret Sunday School Union.
1909. First edition. 296 songs.
Book © 1909 by Joseph F. Smith.
This edition does not include hymn 296, which was added sometime after 1937. The only date recorded in the book is 1909, but there are no indications of whether or not it's the first edition.
---
Indexes
References
List of songs

Songs

(Return to top)
1.

Stars of Morning, Shout for Joy!

Words: Anon.

Music: Thomas L. Durham

Other versions of this song:

2.

Beautiful Home

Words: Horatio R. Palmer

Music: Horatio R. Palmer

Other versions of this song:

3.

Land of the Blest

Words: J. K. Hall

Music: Thomas C. Griggs

Other versions of this song:

4.

Come, Join Our Celebration

Words: Samuel B. Marsh

Music: Samuel B. Marsh

Other versions of this song:

5.

Supplication Hymn

Words: Richard Alldridge

Music: Henry Emery

Other versions of this song:

6.

Oh, How Blest Will Be That Day!

Words: James H. Wallis

Music: Edwin F. Parry

Other versions of this song:

7.

Join the Children of the Lord

Words: Frederick Christensen

Music: Frederick Christensen

Other versions of this song:

8.

The Unknown Grave

Words: David H. Smith

Music: David H. Smith

Other versions of this song:

9.

Who are These Arrayed in White

Words: De Courcy; Charles Wesley

Music: Samuel B. Marsh

Other versions of this song:

10.

The Coming Day

Words: J. H. Ward

Music: Ebenezer Beesley

Other versions of this song:

11.

My Own Home

Words: Eliza R. Snow

Music: Anon.

Other versions of this song:

12.

Zion is Growing

Words: Henry Maiben

Music: German air

Other versions of this song:

13.

Behold, 'Tis Eventide

Words: M. Lowrie Hofford

Music: Harrison Millard

Other versions of this song:

14.

Catch the Sunshine!

Words: George F. Root

Music: George F. Root

Other versions of this song:

15.

Come, Let Us One and All

Words: Andrew Dalrymple

Music: L. Schofield

Other versions of this song:

16.

Come, Come, Ye Saints

Words: William Clayton

Music: English folk song

Other versions of this song:

17.

Missionary Hymn

Words: Ruthinda E. Moench

Music: Ebenezer Beesley

Other versions of this song:

18.

Utah, We Love Thee

Words: Evan Stephens

Music: Evan Stephens

Other versions of this song:

19.

Precious Savior, Dear Redeemer

Words: Horatio R. Palmer

Music: Horatio R. Palmer

Other versions of this song:

20.

O Thou Rock of Our Salvation

Words: Joseph L. Townsend

Music: William Clayson

Other versions of this song:

21.

Sing and Pray

Words: George Manwaring

Music: William H. Foster

Other versions of this song:

22.

Flag of the Free

Words: Richard Wagner

Music: Richard Wagner

Other versions of this song:

23.

Come, Rally in the Sunday-School

Words: William Willes

Music: John S. Lewis

Other versions of this song:

24.

Praise to the Man

Words: William W. Phelps

Music: Scottish folk song

Other versions of this song:

25.

O Lord, Accept Our Jubilee (Jubilee Song)

Words: Samuel L. Evans

Music: Charles J. Thomas

Other versions of this song:

26.

Rock of My Refuge

Words: Anon.

Music: Anon.

Other versions of this song:

27.

Rock of Ages

Words: Augustus M. Toplady

Music: Thomas Hastings

Other versions of this song:

28.

A Stranger Star O'er Bethlehem (Song for Christmas)

Words: Orson F. Whitney

Music: Edwin F. Parry

Other versions of this song:

29.

O What Songs of the Heart

Words: Joseph L. Townsend

Music: William Clayson

Other versions of this song:

30.

My Sabbath Home

Words: Anon.

Music: Anon.

31.

A Sunday School Call

Words: John M. Chamberlain

Music: John M. Chamberlain

Other versions of this song:

32.

Come With Tuneful Voices

Words: Margaret S. Haycraft

Music: Samuel McBurney

Other versions of this song:

33.

O Thou Kind and Gracious Father

Words: Charles Denney Jr.

Music: George Careless

Other versions of this song:

34.

Song of Triumph

Words: Evan Stephens

Music: Evan Stephens

Other versions of this song:

35.

Sweet is the Work

Words: Isaac Watts

Music: John J. McClellan

Other versions of this song:

36.

Welcome to Our Union Meeting

Words: G. M.

Music: A. Parsons

Other versions of this song:

37.

Sowing

Words: Anon.

Music: Henry A. Tuckett

Other versions of this song:

38.

Parting Hymn

Words: George Manwaring

Music: Ebenezer Beesley

Other versions of this song:

39.

Sabbath Morning Comes With Gladness

Words: James Gallaher

Music: John S. Lewis

Other versions of this song:

40.

A Call and Answer

Words: Richard S. Horne

Music: Richard S. Horne

Other versions of this song:

41.

Joseph Smith's First Prayer

Words: George Manwaring

Music: Sylvanus Billings Pond

Other versions of this song:

42.

The Bees of Deseret

Words: Evan Stephens

Music: Evan Stephens

Other versions of this song:

43.

The Gushing Rill

Words: Evan Stephens

Music: Evan Stephens

Other versions of this song:

44.

One More Year Has Gone

Words: Mary B. C. Slade

Music: Anon.

Other versions of this song:

45.

In Remembrance of Thy Suffering

Words: Evan Stephens

Music: Evan Stephens

Other versions of this song:

46.

Love at Home

Words: John Hugh McNaughton

Music: John Hugh McNaughton

Other versions of this song:

47.

Jesus, Once of Humble Birth

Words: Parley P. Pratt

Music: Giacomo Meyerbeer; English Chorister

Other versions of this song:

48.

Scatter Seeds of Kindness

Words: Anon.

Music: Anon.

Other versions of this song:

49.

Lord, We Ask Thee, Ere We Part

Words: George Manwaring

Music: Benjamin Milgrove

Other versions of this song:

50.

Lord, Accept Our True Devotion

Words: Richard Alldridge

Music: Joseph J. Daynes

Other versions of this song:

51.

Sunday School Opening Hymn

Words: William Willes

Music: Ebenezer Beesley

Other versions of this song:

52.

For the Strength of the Hills

Words: Felicia D. Hemans; Edward L. Sloan (adapter)

Music: Evan Stephens

Other versions of this song:

53.

Improve the Shining Moments

Words: Robert B. Baird

Music: Robert B. Baird

Other versions of this song:

54.

Come, Ye Children of the Lord

Words: James H. Wallis

Music: Spanish melody

Other versions of this song:

55.

The Iron Rod

Words: Joseph L. Townsend

Music: William Clayson

Other versions of this song:

56.

The Songs of Zion

Words: Robert B. Baird

Music: Robert B. Baird

Other versions of this song:

57.

Gently Raise the Sacred Strain

Words: William W. Phelps

Music: Thomas C. Griggs

Other versions of this song:

58.

Hark! Listen to the Trumpeters

Words: John A. Granade

Music: Lewis D. Edwards

Other versions of this song:

59.

Come, Children, Let Us Join and Sing (A Thanksgiving Hymn)

Words: Richard Alldridge

Music: Ebenezer Beesley

Other versions of this song:

60.

Ere the Sun Goes Down

Words: Josephine Pollard

Music: William J. Kirkpatrick

Other versions of this song:

61.

Give Us Room That We May Dwell

Words: Thomas Kelly

Music: William N. B. Shepherd

Other versions of this song:

62.

Hope of Israel

Words: Joseph L. Townsend

Music: William Clayson

Other versions of this song:

63.

Go When the Morning Shineth

Words: Evan Stephens

Music: Evan Stephens

Other versions of this song:

64.

Loving One Another

Words: Lula Greene Richards

Music: Evan Stephens

Other versions of this song:

65.

Did You Think to Pray?

Words: Mary A. Pepper Kidder

Music: William O. Perkins

Other versions of this song:

66.

Beautiful Words of Love

Words: Joseph L. Townsend

Music: Edwin F. Parry

Other versions of this song:

67.

Angry Words! Oh, Let Them Never

Words: Horatio R. Palmer

Music: Horatio R. Palmer

Other versions of this song:

68.

Merry, Merry Children, Sweetly Sing

Words: Charles W. Stayner

Music: Ebenezer Beesley

Other versions of this song:

69.

Life is Full of Toil and Care

Words: James H. Wallis

Music: Edwin F. Parry

Other versions of this song:

70.

Nearer, Dear Savior, to Thee

Words: Joseph L. Townsend

Music: William Clayson

Other versions of this song:

71.

I Do Remember Thee (A Sacramental Hymn)

Words: Joseph L. Townsend

Music: Edwin F. Parry

Other versions of this song:

72.

The Opening Buds of Spring-time

Words: A. P. Welshman

Music: Robert B. Baird

Other versions of this song:

73.

'Tis Sweet to Sing the Matchless Love

Words: George Manwaring

Music: Ebenezer Beesley

Other versions of this song:

74.

When Jesus Shall Come in His Glory

Words: Joseph L. Townsend

Music: John M. Chamberlain

Other versions of this song:

75.

Earth, With Her Ten Thousand Flowers

Words: Thomas R. Taylor

Music: Thomas C. Griggs

76.

O Say, What is Truth?

Words: John Jaques

Music: Ellen Knowles Melling

Other versions of this song:

77.

Home, Sweet Home

Words: John Howard Payne

Music: Henry R. Bishop

Other versions of this song:

78.

Marching Homeward

Words: John M. Chamberlain

Music: John M. Chamberlain

Other versions of this song:

79.

Never Be Late

Words: Anon.

Music: A. C. Smyth

Other versions of this song:

80.

Forbid Them Not

Words: Anon.

Music: Anon.

Other versions of this song:

81.

Far, Far Away On Judea's Plains

Words: John Menzies Macfarlane

Music: John Menzies Macfarlane

Other versions of this song:

82.

Welcome, Welcome Sabbath Morning

Words: Robert B. Baird

Music: Ebenezer Beesley

Other versions of this song:

83.

O My Father

Words: Eliza R. Snow

Music: James McGranahan

84.

What Prize Shall Be Your Reward?

Words: Joseph L. Townsend

Music: Ebenezer Beesley

Other versions of this song:

85.

Praise God From Whom All Blessings Flow

Words: Thomas Ken

Music: Louis Bourgeois; Genevan Psalter, 1551

Other versions of this song:

86.

Choose the Right

Words: Joseph L. Townsend

Music: Henry A. Tuckett

Other versions of this song:

87.

How Firm a Foundation

Words: Selection of Hymns, John Rippon, 1787; Robert Keen

Music: Anon.; John Ellis

Other versions of this song:

88.

Nay, Speak No Ill

Words: Charles Swain

Music: Anon.

Other versions of this song:

89.

God Speed the Right

Words: William E. Hickson

Music: Ernst Moritz Arndt

Other versions of this song:

90.

God is Love

Words: Thomas R. Taylor

Music: Joseph G. Fones

91.

All Things Beautiful

Words: William Powell

Music: William Powell

Other versions of this song:

92.

Beautiful Zion, Built Above

Words: George Gill

Music: Joseph G. Fones

Other versions of this song:

93.

Gladly Meeing, Kindly Greeting

Words: Evan Stephens

Music: Evan Stephens

Other versions of this song:

94.

Let the Holy Spirit Guide

Words: Edwin F. Parry

Music: Edwin F. Parry

Other versions of this song:

95.

Prayer is the Soul's Sincere Desire

Words: James Montgomery

Music: George Careless

Other versions of this song:

96.

The World's Jubilee

Words: Eliza R. Snow

Music: George F. Root

Other versions of this song:

97.

I'll Strive While Young to Tune My Voice (Hymn of Praise)

Words: Evan Stephens

Music: Alfred Peterson

Other versions of this song:

98.

Come, Let Us Anew

Words: Charles Wesley

Music: James Lucas

Other versions of this song:

99.

Dearest Children, God is Near You

Words: Charles L. Walker

Music: John Menzies Macfarlane

Other versions of this song:

100.

Sacramental

Words: Henry W. Naisbitt

Music: Joseph G. Fones

Other versions of this song:

101.

Christmas Carol

Words: Anon.

Music: William K. Bassford

Other versions of this song:

102.

We Thank Thee, O God, For a Prophet

Words: William Fowler

Music: Caroline E. Sheridan Norton

Other versions of this song:

103.

Abide With Me

Words: Henry F. Lyte

Music: William H. Monk

Other versions of this song:

104.

The Spirit of God Like a Fire

Words: William W. Phelps

Music: English melody

Other versions of this song:

105.

Heavenly Treasure

Words: John Edwards

Music: John Edwards

Other versions of this song:

106.

The Lord is My Light

Words: James L. Nicholson

Music: John R. Sweney

Other versions of this song:

107.

We'll Sing All Hail to Jesus' Name

Words: Richard Alldridge

Music: Joseph Coslett

Other versions of this song:

108.

Hark! Listen to the Music!

Words: Elizabeth F. Lindsey Thomas

Music: R. Monckton Milnes

Other versions of this song:

109.

Hark! The Pretty Birds are Singing (Round for Four Voices)

Words: Anon.

Music: Anon.

Other versions of this song:

110.

Guide Me to Thee

Words: Orson Pratt Huish

Music: Orson Pratt Huish

Other versions of this song:

111.

Don't Worry

Words: W. W. Burton

Music: H. H. Peterson

Other versions of this song:

112.

Break Not the Sabbath Day

Words: Robert B. Baird

Music: Robert B. Baird

Other versions of this song:

113.

Welcome, Happy Sunday

Words: George Manwaring

Music: Ebenezer Beesley

Other versions of this song:

114.

In Our Lovely Deseret

Words: Eliza R. Snow

Music: George F. Root

Other versions of this song:

115.

How Great the Wisdom and the Love

Words: Eliza R. Snow

Music: Thomas McIntyre

Other versions of this song:

116.

The Joy and the Song

Words: Julia H. Johnson

Music: Horatio R. Palmer

Other versions of this song:

117.

Little Lispers

Words: Joseph L. Townsend

Music: J. Hosler

Other versions of this song:

118.

Do What is Right

Words: Anon.

Music: George Kiallmark Sr.

Other versions of this song:

119.

Glorious Things of Thee Are Spoken

Words: John Newton

Music: James S. Hanecy

Other versions of this song:

120.

Welcome to All

Words: Henry A. Tuckett

Music: Henry A. Tuckett

Other versions of this song:

121.

Wanted on the Other Side

Words: Charles W. Stayner

Music: John S. Lewis

Other versions of this song:

122.

Memories of Galilee

Words: Robert Morris

Music: Horatio R. Palmer

Other versions of this song:

123.

The World is Full of Beauty

Words: M. W. Hackleton

Music: George Careless

Other versions of this song:

124.

Rock-a-bye, Baby

Words: Henry A. Tuckett

Music: Henry A. Tuckett

Other versions of this song:

125.

O Come to the Jubilee

Words: Charles J. Thomas

Music: Charles J. Thomas

Other versions of this song:

126.

Zion Stands With Hills Surrounded

Words: Thomas Kelly

Music: A. C. Smyth

Other versions of this song:

127.

Pansies

Words: Alice E. Allen

Music: Joseph Ballantyne

Other versions of this song:

128.

Battle Hymn of the Republic

Words: Julia Ward Howe

Music: Anon.

Other versions of this song:

129.

Arbor Morning, Bright and Fair (Arbor Day Song)

Words: Evan Stephens

Music: Evan Stephens

Other versions of this song:

130.

We Are All Enlisted

Words: Anon.

Music: William B. Bradbury

Other versions of this song:

131.

The Savior at Jerusalem

Words: Lula Greene Richards

Music: Evan Stephens

Other versions of this song:

132.

Waiting for the Reapers

Words: Anon.

Music: Friedrich Kücken

Other versions of this song:

133.

Redeemer of Israel

Words: Joseph Swain; William W. Phelps (adapter)

Music: Repository of Sacred Music, Part Second, Wyeth, 1813; Freeman Lewis

Other versions of this song:

134.

Tradition and Error in Battle Array

Words: William Powell

Music: William Powell

Other versions of this song:

135.

Come, Follow Me

Words: John Nicholson

Music: Joseph Ballantyne

Other versions of this song:

136.

That the Lord Will Provide

Words: Joseph L. Townsend

Music: Evan Stephens

Other versions of this song:

137.

To Thee, Our Heavenly Father (A Thanksgiving Hymn)

Words: A. N. K.

Music: Edwin F. Parry

Other versions of this song:

138.

To-day, While the Sun Shines

Words: Luella Clark

Music: Evan Stephens

Other versions of this song:

139.

Our Mountain Home So Dear

Words: Emmeline B. Wells

Music: Evan Stephens

Other versions of this song:

140.

Now Let Us Rejoice

Words: William W. Phelps

Music: Henry Tucker

Other versions of this song:

141.

Jesus, Savior, Pilot Me

Words: Edward Hopper

Music: John Edgar Gould

Other versions of this song:

142.

The Teacher's Work is Done (Male Quartet)

Words: Annie Pike Greenwood

Music: Lewis D. Edwards

Other versions of this song:

143.

When Dark and Drear the Skies Appear

Words: Emily H. Woodmansee

Music: Joseph J. Daynes

Other versions of this song:

144.

Kind and Heavenly Father

Words: Evan Stephens

Music: Evan Stephens

Other versions of this song:

145.

Children of the Saints of Zion

Words: Gus M. Clarke

Music: Joseph J. Daynes

Other versions of this song:

146.

Let Us Treat Each Other Kindly

Words: Lula Greene Richards

Music: John S. Lewis

Other versions of this song:

147.

God of Our Fathers, We Come Unto Thee

Words: Charles W. Penrose

Music: Ebenezer Beesley

Other versions of this song:

148.

The Day-Dawn is Breaking

Words: Joseph L. Townsend

Music: William Clayson

Other versions of this song:

149.

Haste to the Sunday School

Words: William G. Bickley

Music: William G. Bickley

Other versions of this song:

150.

Utah, the Queen of the West

Words: J. H. Ward

Music: John M. Chamberlain

Other versions of this song:

151.
152.

Let Us All Press On

Words: Evan Stephens

Music: Evan Stephens

Other versions of this song:

153.

Zion Prospers, All is Well

Words: Eliza R. Snow

Music: Evan Stephens

154.

When the Rosy Light of Morning

Words: Robert B. Baird

Music: Robert B. Baird

Other versions of this song:

155.

Lord, We Come Before Thee Now

Words: William Hammond

Music: Carl Maria von Weber

Other versions of this song:

156.

Try It Again

Words: John Lyon

Music: J. Eardley

Other versions of this song:

157.

Nearer, My God, to Thee

Words: Sarah F. Adams

Music: Lowell Mason

Other versions of this song:

158.

If the Way be Full of Trial, Weary Not

Words: W. H. Flaville

Music: John R. Sweney

Other versions of this song:

159.

I'll Serve the Lord While I Am Young

Words: Eliza R. Snow

Music: Thomas McIntyre

Other versions of this song:

160.

We are Watchers, Earnest Watchers

Words: Henry W. Naisbitt

Music: Joseph G. Fones

Other versions of this song:

161.

Come, Dear Children, Join and Sing

Words: Annie Smith

Music: Charles J. Thomas

Other versions of this song:

162.

Beautiful Mountain Home

Words: George Manwaring

Music: A. C. Smyth

Other versions of this song:

163.

Don't Kill the Birds

Words: C. B. Derry

Music: Anon.

Other versions of this song:

164.

Thanks for the Sabbath School

Words: William Willes

Music: James R. Murray

Other versions of this song:

165.

Sunshine in the Soul

Words: Eliza E. Hewitt

Music: John R. Sweney

Other versions of this song:

166.

Angels Singing Glad Hosannas

Words: Harry A. Dean

Music: Hans Henry Petersen

Other versions of this song:

167.

Glory to God on High

Words: James Allen

Music: Felice de Giardini

Other versions of this song:

168.

To the Giver of all Blessings (A Thanksgiving Song)

Words: William G. Park

Music: Charles J. Thomas

Other versions of this song:

169.

Summer Time

Words: Boston School Song Book, 1845

Music: Joseph Ballantyne

Other versions of this song:

170.

We Ever Pray for Thee (Trio for Girls' Voices)

Words: Evan Stephens

Music: Henry A. Tuckett

Other versions of this song:

171.

Accept the Tribute of Our Hearts (Our Jubilee)

Words: E. H. Goddard

Music: Ebenezer Beesley

Other versions of this song:

172.

When the Mists Have Cleared Away

Words: Anna Herbert

Music: Hans Henry Petersen

Other versions of this song:

173.

Jesus, Mighty King in Zion

Words: John Fellows

Music: John Edwards

Other versions of this song:

174.

Christmas Cradle Song

Words: George F. Wilson

Music: Joseph Ballantyne

Other versions of this song:

175.

Sweet is the Breath of Morning Air (Communion)

Words: Evan Stephens

Music: Evan Stephens

Other versions of this song:

176.

We Meet Again in Sabbath School

Words: George Manwaring

Music: Ebenezer Beesley

Other versions of this song:

177.

Sing the Wondrous Story

Words: Evan Stephens

Music: Evan Stephens

Other versions of this song:

178.

Put Your Shoulder to the Wheel

Words: Will L. Thompson

Music: Will L. Thompson

Other versions of this song:

179.

True to the Faith

Words: Evan Stephens

Music: Evan Stephens

Other versions of this song:

180.

Verdant Spring and Rosy Summer

Words: Anon.

Music: Anon.

Other versions of this song:

181.

O My Father

Words: Eliza R. Snow

Music: Franz Joseph Haydn

182.

Children, Gladly Join and Sing

Words: George Manwaring

Music: Ebenezer Beesley

Other versions of this song:

183.

Jesus Bids Us Shine

Words: Susan Warner

Music: A. C. Smyth

Other versions of this song:

184.

Oh, I Had Such a Pretty Dream, Mamma

Words: Anon.

Music: John S. Lewis

Other versions of this song:

185.

Hush! Be Every Sound Subdued (Sacramental Hymn)

Words: Lula Greene Richards

Music: George Careless

Other versions of this song:

186.

Hymn of Praise

Words: Lillie T. Freeze

Music: Henry A. Tuckett

Other versions of this song:

187.

O Lord of Hosts

Words: Andrew Dalrymple

Music: George Careless

Other versions of this song:

188.

Come Along, Come Along

Words: William Willes

Music: A. C. Smyth

Other versions of this song:

189.

Our Children

Words: Emmeline B. Wells

Music: Ebenezer Beesley

Other versions of this song:

190.

Father, Thy Children to Thee Now Raise

Words: Evan Stephens

Music: Evan Stephens

Other versions of this song:

191.

I'm a Pilgrim

Words: Hans Henry Petersen

Music: Hans Henry Petersen

Other versions of this song:

192.

O God, the Eternal Father

Words: William W. Phelps

Music: Felix Mendelssohn

Other versions of this song:

193.

Secret Prayer

Words: Hans Henry Petersen

Music: Hans Henry Petersen

Other versions of this song:

194.

Sweet Sabbath Day

Words: George Manwaring

Music: Robert Lowry

Other versions of this song:

195.

Seeds of Kindness

Words: M. L. Bartlett

Music: M. L. Bartlett

Other versions of this song:

196.

Scatter Sunshine

Words: Lanta Wilson Smith

Music: Edwin O. Excell

Other versions of this song:

197.

Make the World Brighter

Words: Carrie E. Ellis Breck

Music: Frank A. Simpkins

Other versions of this song:

198.

O Ye Mountains High

Words: Charles W. Penrose

Music: Henry S. Thompson

Other versions of this song:

199.

Let Us All be Good and Kind

Words: John Edwards

Music: John Edwards

Other versions of this song:

200.

Proud? Yes, of Our Home in the Mountains

Words: John S. Lewis

Music: John S. Lewis

Other versions of this song:

201.

When Shall We Meet Thee?

Words: Edwin F. Parry

Music: Edwin F. Parry

Other versions of this song:

202.

Utah, the Star of the West

Words: Orson Pratt Huish

Music: Orson Pratt Huish

Other versions of this song:

203.

The Star-spangled Banner

Words: Francis Scott Key

Music: John Stafford Smith

Other versions of this song:

204.

Master, the Tempest is Raging!

Words: Mary Ann Baker

Music: Horatio R. Palmer

Other versions of this song:

205.

Who's on the Lord's Side?

Words: Hannah Last Cornaby

Music: Henry H. Russell

Other versions of this song:

206.

Let Love Abound

Words: Joseph L. Townsend

Music: Evan Stephens

Other versions of this song:

207.

Have I Done Any Good?

Words: Will L. Thompson

Music: Will L. Thompson

Other versions of this song:

208.

Think Gently of the Erring One

Words: Julia Abigail Fletcher Carney

Music: Henry A. Tuckett

Other versions of this song:

209.

Hark to the Classmates' Song

Words: H. G. Whitney

Music: H. G. Whitney

Other versions of this song:

210.

In Hymns of Praise

Words: Ada Blenkhorn

Music: Alfred Beirly

Other versions of this song:

211.

I'll Be a Sunbeam

Words: Nellie Talbot

Music: Edwin O. Excell

Other versions of this song:

212.

The Lord is My Shepherd

Words: Psalm 23; James Montgomery (adapter)

Music: Thomas Koschat

Other versions of this song:

213.

My Jesus, As Thou Wilt!

Words: Benjamin Schmolck

Music: Carl Maria von Weber

Trans.: Jane L. Borthwick (from German)

Arr.: Joseph P. Holbrook

Other versions of this song:

214.

Luther's Cradle Hymn

Words: Martin Luther; Little Children's Book for Schools and Families, 1885

Music: Charles H. Gabriel

Other versions of this song:

215.

America

Words: Samuel F. Smith

Music: Henry Carey; Thesaurus Musicus

Other versions of this song:

215a.

Our God, We Raise to Thee

Words: Bernard Snow

Music: N/A (words only)

Other versions of this song:

216.

Come, Thou Fount of Every Blessing

Words: Robert Robinson

Music: Alfred J. Gentry

Other versions of this song:

217.

Onward, Christian Soldiers

Words: Sabine Baring-Gould

Music: Arthur S. Sullivan

Other versions of this song:

218.

Count Your Blessings

Words: Johnson Oatman Jr.

Music: Edwin O. Excell

Other versions of this song:

219.

A Happy Band of Children

Words: A. Parsons

Music: Edwin F. Parry

Other versions of this song:

220.

Lead, Kindly Light

Words: John Henry Newman

Music: John B. Dykes

Other versions of this song:

221.

When Christ Was Born in Bethlehem (Christmas Carol)

Words: Henry Wadsworth Longfellow

Music: Ebenezer Beesley

Other versions of this song:

222.

If There's Sunshine In Your Heart

Words: Helen Silcott Dungan

Music: James M. Dungan

Other versions of this song:

223.

Come, We that Love the Lord

Words: Isaac Watts

Music: Macy

Other versions of this song:

224.

O Jesus, the Giver of All We Enjoy

Words: Anon.; William W. Phelps

Music: Jonathan E. Spilman

Other versions of this song:

225.
226.

That Beautiful Land

Words: F. A. F. Wood-White

Music: Alfred Beirly

Other versions of this song:

227.

A Happy Greeting to All

Words: Anon.

Music: Anon.

Other versions of this song:

228.

Morning

Words: Evan Stephens

Music: Evan Stephens

Other versions of this song:

229.

I Need Thee Every Hour

Words: Annie S. Hawks

Music: Robert Lowry

Other versions of this song:

230.

Only a Little While

Words: Somerset C. Lowry

Music: Hans Henry Petersen

Other versions of this song:

231.

Come, Let's Make Our Voices Ring

Words: Anon.

Music: Anon.

Other versions of this song:

232.

Joseph Smith

Words: Edwin F. Parry

Music: Evan Stephens

Other versions of this song:

233.

Lord, Dismiss Us

Words: John Fawcett; Walter Shirley

Music: S.

Other versions of this song:

234.

One Hundred Years (Centenary Song in Honor of the Prophet Joseph Smith)

Words: Evan Stephens

Music: Evan Stephens

Other versions of this song:

235.

Before You Make a Promise (Round for Four Voices)

Words: Anon.

Music: Anon.

Other versions of this song:

236.

Our Angels (Song for Zion's Little Ones)

Words: Lula Greene Richards

Music: Ebenezer Beesley

Other versions of this song:

237.

Thy Will Be Done

Words: Charlotte Elliott

Music: A. H. D. Troyte

Other versions of this song:

238.

Morning Thanksgiving

Words: Evan Stephens

Music: Evan Stephens

Other versions of this song:

239.

Let's be Kind to One Another

Words: Evan Stephens

Music: Evan Stephens

Other versions of this song:

240.

Hark! the Children Sweetly Sing

Words: Amos Clarke

Music: Anon.

Other versions of this song:

241.
242.

The Joyful Song

Words: Fanny J. Crosby

Music: Adam Geibel

Other versions of this song:

243.

Once More We Come Before Our God (Bethlehem)

Words: Henry F. Lyte

Music: Arthur S. Sullivan

Other versions of this song:

244.

God Be With You

Words: Jeremiah E. Rankin

Music: William G. Tomer

Other versions of this song:

245.
246.

"Truth Reflects Upon Our Senses"

Words: Anon.; M. E. Abbey

Music: Charles Davis Tillman

Other versions of this song:

247.

He Died! the Great Redeemer Died

Words: Isaac Watts

Music: George Careless

Other versions of this song:

248.

My Father Knows

Words: S. M. I. Henry

Music: Edwin O. Excell

Other versions of this song:

249.

Jehovah, Lord of Heaven and Earth

Words: Anon.

Music: Oliver Holden

Other versions of this song:

250.

Easter Morning

Words: Civilla D. Martin

Music: William J. C. Thiel

Other versions of this song:

251.

In Heavenly Love Abiding

Words: Anna L. Waring

Music: Alfred Beirly

Other versions of this song:

252.

There is a Green Hill Far Away

Words: Cecil Frances Alexander

Music: John H. Gower

Other versions of this song:

253.

With Hearts Sincere (A Jubilee Song)

Words: J. K. Hall

Music: Thomas C. Griggs

Other versions of this song:

254.

Oh, It is Wonderful

Words: Charles H. Gabriel

Music: Charles H. Gabriel

Other versions of this song:

255.

Parting Hymn

Words: Fanny J. Crosby

Music: Robert Lowry

Other versions of this song:

256.

Sometime, Somewhere

Words: Ophelia G. Adams

Music: Charles Davis Tillman

Other versions of this song:

257.

The Everlasting Friend

Words: John Lyon

Music: Hans Henry Petersen

Other versions of this song:

258.

Send the Light

Words: Charles H. Gabriel

Music: Charles H. Gabriel

Other versions of this song:

259.

Children's Praise

Words: Charlotte G. Homer

Music: George F. Rosche

Other versions of this song:

260.

Joseph the Blest (Century of the Prophet's Birth)

Words: Lula Greene Richards

Music: Evan Stephens

Other versions of this song:

261.

Our Nation's Glory

Words: J. H. Ward

Music: Henry A. Tuckett

Other versions of this song:

262.

On, One and All

Words: B. F. Blakeley

Music: John R. Sweney

Other versions of this song:

263.

Sweet Sabbath School

Words: J. Parsons

Music: J. Parsons

264.

What Shall the Harvest Be?

Words: Emily S. Oakey

Music: Philip Paul Bliss

Other versions of this song:

265.

Kind Words are Sweet Tones

Words: Joseph L. Townsend

Music: Ebenezer Beesley

Other versions of this song:

266.

Hail, Columbia!

Words: Joseph Hopkinson

Music: Philip Phile

Other versions of this song:

267.

Zion's Sunday School Jubilee Hymn

Words: Emily H. Woodmansee

Music: W. Daunt Scott

Other versions of this song:

268.

Jesus, I My Cross Have Taken (Anthem)

Words: Henry F. Lyte

Music: S. L. Fish

Other versions of this song:

269.

The "Mormon" Boy

Words: Evan Stephens

Music: Evan Stephens

Other versions of this song:

270.

Pilgrim Chorus

Words: Giuseppe Verdi

Music: Giuseppe Verdi

Other versions of this song:

271.

Arise, My Soul, Arise

Words: Charles Wesley; Wesley's Collection

Music: George Careless

Other versions of this song:

272.

I Know That My Redeemer Lives

Words: Samuel Medley

Music: Lewis D. Edwards

Other versions of this song:

273.

Though Deepening Trials

Words: Eliza R. Snow

Music: George Careless

Other versions of this song:

274.

Lord, I Would Own Thy Tender Care

Words: Anon.

Music: Anon.

Other versions of this song:

275.

My Future Home

Words: Hans Henry Petersen

Music: Hans Henry Petersen

Other versions of this song:

276.

Awake, My Soul

Words: Thomas Ken

Music: Alfred Beirly

Other versions of this song:

277.

Come, Ye Disconsolate (Invitation)

Words: Thomas Moore; Thomas Hastings

Music: Samuel Webbe

Other versions of this song:

278.

O Awake! My Slumbering Minstrel

Words: Eliza R. Snow

Music: William B. Bradbury

279.

As the Dew, From Heaven Distilling

Words: Thomas Kelly

Music: Joseph J. Daynes

Other versions of this song:

280.

Take Courage, Saints

Words: James Crystal

Music: Felix Mendelssohn

Other versions of this song:

281.

Again We Meet Around the Board

Words: Eliza R. Snow

Music: Joseph Ballantyne

Other versions of this song:

282.

How Fleet the Precious Moments Roll

Words: Parley P. Pratt

Music: Anon.

Other versions of this song:

283.

God of Our Fathers (Recessional)

Words: Rudyard Kipling

Music: Isaac B. Woodbury

Other versions of this song:

284.

Come Unto Jesus

Words: Orson Pratt Huish

Music: Orson Pratt Huish

Other versions of this song:

285.

The King of Love My Shepherd Is

Words: Henry W. Baker

Music: Alfred Beirly

Other versions of this song:

286.

My Father, For Another Night

Words: Henry W. Baker

Music: Gioachino Rossini

Other versions of this song:

287.

How Gentle God's Commands!

Words: Philip Doddridge

Music: Hans Georg Nägeli

Other versions of this song:

288.

Jesus, the Very Thought of Thee

Words: Bernard of Clairvaux

Music: John B. Dykes

Trans.: Edward Caswall (from Latin)

Other versions of this song:

289.

May the Grace of Christ, Our Savior

Words: John Newton

Music: Alfred Beirly

Other versions of this song:

290.

Behold, the Great Redeemer Comes

Words: Parley P. Pratt

Music: Joseph Ballantyne

Other versions of this song:

291.

Hear Us Pray

Words: Annie Pinnock Malin

Music: Louis M. Gottschalk

Other versions of this song:

292.

God Moves in a Mysterious Way

Words: William Cowper

Music: Thomas A. Arne

Other versions of this song:

293.

Sometime We'll Understand

Words: Maxwell N. Cornelius

Music: James McGranahan

Other versions of this song:

294.

My Prayer

Words: Philip Paul Bliss

Music: Philip Paul Bliss

Other versions of this song:

295.

Dear to the Heart of the Shepherd

Words: Mary B. Wingate

Music: William J. Kirkpatrick

Other versions of this song: