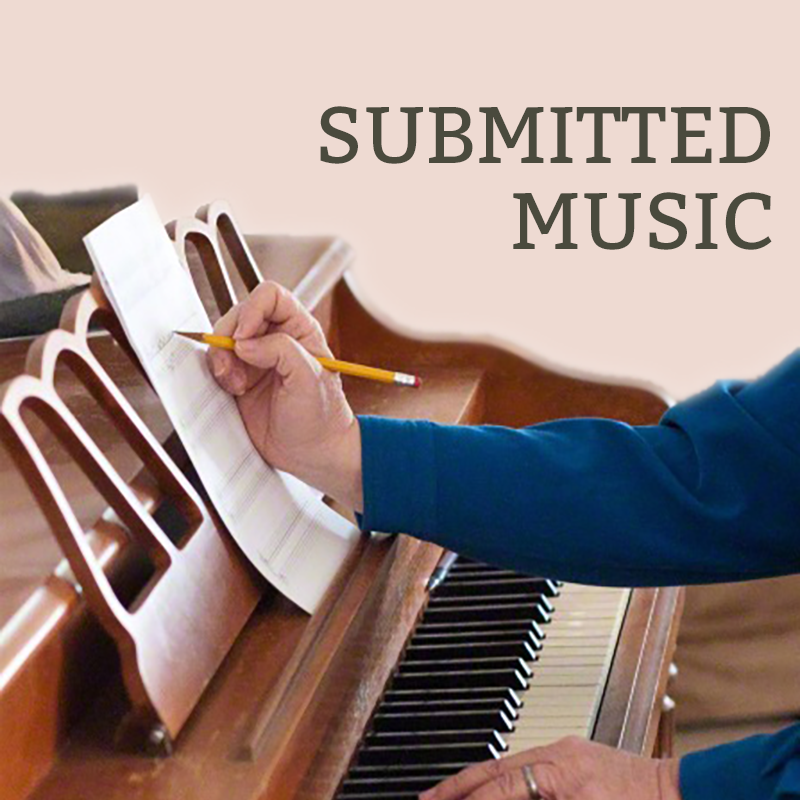 Submitted Music, English.
The Church of Jesus Christ of Latter-day Saints.
1980–Present. 1566 songs.
A few songs aren't noted as having awards, but appear with others on the Church website, so are included. Songs with the year "1900" have an unknown date. 1995–2005 data is incomplete.
Songs that have received awards in the annual Church Music Submission.
---
Stream audio from this collection
Indexes
References
List of songs
Jump to:

2021

(Return to top)
Jan 2021.

May the Candle Guide My Vision

Contributor: Anna M. Molgard; Rachel P. Mohlman

Artist: Women's choir; Caleb Saunders (piano); Kasey Bradbury (director)

Words: Anna M. Molgard; Rachel P. Mohlman

Music: Anna M. Molgard; Rachel P. Mohlman

No PDF page layout
No PDF lyrics
No MP3 audio (words only)
No MP3 audio (music only)

Jan 2021.

My Gift, My Offering

Contributor: Sally DeFord

Words: Sally DeFord

Music: Sally DeFord

No PDF page layout
No PDF lyrics
No MP3 audio (words only)
No MP3 audio (music only)
No MP3 audio (words and music)

Jan 2021.

Reverently and Meekly Now

Contributor: Shelley Hannig

Artist: Mixed choir; Diane Bastian (piano); Geoff Anderson (director)

Words: Joseph L. Townsend

Music: Shelley Hannig

No PDF page layout
No PDF lyrics
No MP3 audio (words only)
No MP3 audio (music only)

Jan 2021.

And He Shall Rise

Contributor: Ross Farnworth

Words: Mosiah 3:10; Ross Farnworth

Music: Ross Farnworth

No PDF page layout
No PDF lyrics
No MP3 audio (words only)
No MP3 audio (music only)
No MP3 audio (words and music)

Jan 2021.

Awake and Arise!

Contributor: Mary Ann W. Snowball; Kevin G. Pace

Words: Mary Ann W. Snowball

Music: Kevin G. Pace

No PDF page layout
No PDF lyrics
No MP3 audio (words only)
No MP3 audio (music only)
No MP3 audio (words and music)

Jan 2021.

Believe in God

Contributor: Alaina Larsen; Daniel Blomberg; Cris Conerty

Words: Alaina Larsen

Music: Alaina Larsen

Arr.: Daniel Blomberg; Cris Conerty

No PDF page layout
No PDF lyrics
No MP3 audio (words only)
No MP3 audio (music only)

Jan 2021.

By the Waters of Mormon

Contributor: Bonnie Hart Murray; Janice Kapp Perry

Words: Bonnie Hart Murray

Music: Janice Kapp Perry

No PDF page layout
No PDF lyrics
No MP3 audio (words only)
No MP3 audio (music only)
No MP3 audio (words and music)

Jan 2021.

The Lord Is My Shepherd

Contributor: K. D. Christensen; Sally DeFord

Words: Psalm 23; Sally DeFord

Music: Sally DeFord

No PDF page layout
No PDF lyrics
No MP3 audio (words only)
No MP3 audio (music only)

Jan 2021.

The Lord's Prayer

Contributor: Vivian Layne

Words: Matthew 6:9–13; Vivian Layne

Music: Vivian Layne

No PDF page layout
No PDF lyrics
No MP3 audio (words only)
No MP3 audio (music only)
No MP3 audio (words and music)

Jan 2021.

How Wondrous and Great

Contributor: Shelley Hannig

Artist: Women's choir; Caleb Saunders (piano); Kasey Bradbury (director)

Words: Henry U. Onderdonk

Music: Joseph Martin Kraus

No PDF page layout
No PDF lyrics
No MP3 audio (words only)
No MP3 audio (music only)

Jan 2021.

With Wondering Awe

Contributor: Ross Farnworth

Artist: Men's double quartet; LaChelle Hansen (piano); Bryson Gray (director)

Words: Anon.

Music: Anon.

No PDF page layout
No PDF lyrics
No MP3 audio (words only)
No MP3 audio (music only)

Jan 2021.

Sweet Hour of Prayer

Contributor: Rebekah H. Jennings

Words: William W. Walford

Music: William B. Bradbury

Arr.: Rebekah H. Jennings

No PDF page layout
No PDF lyrics
No MP3 audio (words only)
No MP3 audio (music only)
No MP3 audio (words and music)

Jan 2021.

The Day Dawn Is Breaking

Contributor: Suzanne Ostler Shippen

Words: Joseph L. Townsend

Music: William Clayson

Arr.: Suzanne Ostler Shippen

No PDF page layout
No PDF lyrics
No MP3 audio (words only)
No MP3 audio (music only)

Jan 2021.

Come, Rejoice!

Contributor: Tami N. Petersen

Artist: Mixed choir; Diane Bastian (piano); Geoff Anderson (director)

Words: Tracy Y. Cannon; John A. Granade; Edward Partridge

Music: Tracy Y. Cannon; Gesangbuch der Herzogl, Wirtembergischen Katholischen Hofkapelle, 1784

Arr.: Tami N. Petersen

Medleyist: Tami N. Petersen

No PDF page layout
No PDF lyrics
No MP3 audio (words only)
No MP3 audio (music only)

Jan 2021.

We Ever Pray for Thee

Contributor: Shelley Hannig

Words: Evan Stephens

Music: Henry A. Tuckett

No PDF page layout
No PDF lyrics
No MP3 audio (words only)
No MP3 audio (music only)
No MP3 audio (words and music)

Jan 2021.

God of Our Fathers, Whose Almighty Hand

Contributor: Ross Farnworth

Words: Daniel C. Roberts

Music: George W. Warren

No PDF page layout
No PDF lyrics
No MP3 audio (words only)
No MP3 audio (music only)
No MP3 audio (words and music)

Jan 2021.

I'll Follow Him in Faith

Contributor: Ann Kapp Andersen

Words: Janice Kapp Perry

Music: Janice Kapp Perry

No PDF sheet music
No PDF lyrics
No MP3 audio (words only)
No MP3 audio (music only)
No MP3 audio (words and music)

Jan 2021.

Sleep, Little Jesus / The First Noel

Contributor: Heather D. Zurcher

Words: Mabel Jones Gabbott; English carol; Christmas Carols, W. Sandys, 1833

Music: Michael F. Moody; English carol; Christmas Carols, W. Sandys, 1833

Arr.: Heather D. Zurcher

Medleyist: Heather D. Zurcher

No PDF page layout
No PDF lyrics
No MP3 audio (words only)
No MP3 audio (music only)
No MP3 audio (words and music)

Jan 2021.

Sweet Hour of Prayer

Contributor: Rebecca Green

Words: William W. Walford

Music: William B. Bradbury

No PDF page layout
No PDF lyrics
No MP3 audio (words only)
No MP3 audio (music only)
No MP3 audio (words and music)

Jan 2021.

To Minister Like Thee

Contributor: Brent Jorgensen

Words: Joy Saunders Lundberg

Music: Janice Kapp Perry

No PDF page layout
No PDF lyrics
No MP3 audio (words only)
No MP3 audio (music only)
No MP3 audio (words and music)

Jan 2021.

We Will Sing of Zion

Contributor: Walter Birkedahl

Words: Merrill Bradshaw

Music: Merrill Bradshaw

No PDF page layout
No PDF lyrics
No MP3 audio (words only)
No MP3 audio (music only)
No MP3 audio (words and music)

Jan 2021.

Along the Covenant Path

Contributor: Jocelyn Parker Parmer

Artist: Elle Hirst; Dennis Hirst (piano)

Words: Jocelyn Parker Parmer

Music: Jocelyn Parker Parmer

No PDF page layout
No PDF lyrics
No MP3 audio (words only)
No MP3 audio (music only)

Jan 2021.

I Will Say a Prayer

Contributor: Janice Kapp Perry

Artist: Alexandros Chacon; Harumi Chacon; Jonathan Chacon; Miyuki Chacon; Sayuri Chacon; Tsukie Chacon; Yukari Chacon; Yuzuki Chacon; Ellis Lucero (piano)

Words: Janice Kapp Perry

Music: Janice Kapp Perry

No PDF page layout
No PDF lyrics
No MP3 audio (words only)
No MP3 audio (music only)

Jan 2021.

Hear Him

Contributor: Angie Taylor; Libby Knapp

Words: Angie Taylor

Music: Libby Knapp

No PDF page layout
No PDF lyrics
No MP3 audio (words only)
No MP3 audio (music only)
No MP3 audio (words and music)

Jan 2021.

Hosanna to My Lord

Contributor: Emma Rae Mohlman; Rachel P. Mohlman

Words: Emma Rae Mohlman

Music: Emma Rae Mohlman

No PDF page layout
No PDF lyrics
No MP3 audio (words only)
No MP3 audio (music only)
No MP3 audio (words and music)

Jan 2021.

The Holy Ghost Will Tell Me

Contributor: Andrew Moore; David J. Conway

Words: David J. Conway

Music: Andrew Moore

No PDF page layout
No PDF lyrics
No MP3 audio (words only)
No MP3 audio (music only)
No MP3 audio (words and music)

Jan 2021.

The Promises of Baptism

Contributor: Toni Thomas; Michael F. Moody

Words: Toni Thomas

Music: Michael F. Moody

No PDF page layout
No PDF lyrics
No MP3 audio (words only)
No MP3 audio (music only)
No MP3 audio (words and music)

Jan 2021.

It Is Glorious

Contributor: Marie Tarbet; Larry Pearson

Artist: April Kerr

Words: Marie Tarbet; Larry Pearson

Music: Marie Tarbet; Larry Pearson

No PDF page layout
No PDF lyrics
No MP3 audio (words only)
No MP3 audio (music only)

Jan 2021.

Every Step Along the Way

Contributor: Rachel P. Mohlman

Artist: Emily Summerhays; Diane Bastian (piano)

Words: Rachel P. Mohlman

Music: Rachel P. Mohlman

No PDF page layout
No PDF lyrics
No MP3 audio (words only)
No MP3 audio (music only)

Jan 2021.

Follow Me

Contributor: Joshua D. Yordy

Artist: Joshua D. Yordy

Words: Joshua D. Yordy

Music: Joshua D. Yordy

No PDF page layout
No PDF lyrics
No MP3 audio (words only)
No MP3 audio (music only)

Jan 2021.

Grateful

Contributor: Dixie Linn Choque

Artist: Dixie Linn Choque

Words: Dixie Linn Choque

Music: Dixie Linn Choque

No PDF page layout
No PDF lyrics
No MP3 audio (words only)
No MP3 audio (music only)

Jan 2021.

I Have You

Contributor: Emma Lounsbury

Artist: Emma Lounsbury

Words: Emma Lounsbury

Music: Emma Lounsbury

No PDF sheet music
No PDF page layout
No MP3 audio (words only)
No MP3 audio (music only)

Jan 2021.

Better Man

Contributor: Tarekebi Beinbein; Jason Natherniel; Sarah Natherniel

Words: Tarekebi Beinbein

Music: Tarekebi Beinbein

No PDF sheet music
No PDF page layout
No MP3 audio (words only)
No MP3 audio (music only)

Jan 2021.

Remember

Contributor: Maleia Robinson

Words: Maleia Robinson

Music: Maleia Robinson

No PDF page layout
No PDF lyrics
No MP3 audio (words only)
No MP3 audio (music only)

Jan 2021.

More Than Just a Story to Tell

Contributor: R. Gilles Bokolo; Jemima Mukuna

Artist: R. Gilles Bokolo; Jemima Bokolo

Words: R. Gilles Bokolo

Music: R. Gilles Bokolo

No PDF page layout
No PDF lyrics
No MP3 audio (words only)
No MP3 audio (music only)

Jan 2021.

Touch Thou My Eyes

Contributor: Jan Pinborough; Michael F. Moody

Artist: Men's double quartet; LaChelle Hansen (piano); Bryson Gray (director)

Words: Jan Pinborough

Music: Michael F. Moody

No PDF page layout
No PDF lyrics
No MP3 audio (words only)
No MP3 audio (music only)

Jan 2021.

No Happier People

Contributor: Bonnie Hart Murray; Janice Kapp Perry

Words: Bonnie Hart Murray

Music: Janice Kapp Perry

No PDF page layout
No PDF lyrics
No MP3 audio (words only)
No MP3 audio (music only)
No MP3 audio (words and music)

Jan 2021.

Of One Heart

Contributor: Rachel P. Mohlman; Anna M. Molgard

Words: Anna M. Molgard; Rachel P. Mohlman

Music: Anna M. Molgard; Rachel P. Mohlman

No PDF page layout
No PDF lyrics
No MP3 audio (words only)
No MP3 audio (music only)
No MP3 audio (words and music)

Jan 2021.

His Holy Name

Contributor: Karen Whiting Heiner; Libby Knapp

Words: Karen Whiting Heiner

Music: Libby Knapp

No PDF page layout
No PDF lyrics
No MP3 audio (words only)
No MP3 audio (music only)
No MP3 audio (words and music)

Jan 2021.

I Asked

Contributor: Andrew Moore; David J. Conway

Words: David J. Conway

Music: Andrew Moore

Other versions of this song:
I Asked

No PDF page layout
No PDF lyrics
No MP3 audio (words only)
No MP3 audio (music only)
No MP3 audio (words and music)

Jan 2021.

In Loving Memory of Our Lord

Contributor: Margo Faraoni Edgeworth; Jed Nash Crowther

Words: Jed Nash Crowther

Music: Margo Faraoni Edgeworth

No PDF page layout
No PDF lyrics
No MP3 audio (words only)
No MP3 audio (music only)
No MP3 audio (words and music)

Jan 2021.

Sacred Emblems of His Suffering

Contributor: Jay Lawrence; K. Newell Dayley

Words: Jay Lawrence

Music: K. Newell Dayley

No PDF page layout
No PDF lyrics
No MP3 audio (words only)
No MP3 audio (music only)
No MP3 audio (words and music)

Jan 2021.

The King of Love My Shepherd Is

Contributor: Michael F. Moody

Words: Henry W. Baker

Music: Michael F. Moody

No PDF page layout
No PDF lyrics
No MP3 audio (words only)
No MP3 audio (music only)
No MP3 audio (words and music)

Jan 2021.

The Lord's Plan of Salvation

Contributor: George J. Master

Words: George J. Master

Music: George J. Master

No PDF page layout
No PDF lyrics
No MP3 audio (words only)
No MP3 audio (music only)
No MP3 audio (words and music)

Jan 2021.

The Love of God

Contributor: Janice Kapp Perry

Words: Janice Kapp Perry

Music: Irish folk tune

No PDF page layout
No PDF lyrics
No MP3 audio (words only)
No MP3 audio (music only)
No MP3 audio (words and music)

Jan 2021.

The Youth Battalion

Contributor: Eric Malizia; Peter Murray

Words: Eric Malizia

Music: Eric Malizia

No PDF page layout
No PDF lyrics
No MP3 audio (words only)
No MP3 audio (music only)
No MP3 audio (words and music)

Jan 2021.

O Father, Light Mine Eyes

Words: Toni Thomas

Music: N/A (words only)

No PDF sheet music
No PDF page layout
No MP3 audio (words only)
No MP3 audio (music only)
No MP3 audio (words and music)

Jan 2021.

With Greater Trust in Jesus

Contributor: David B. Larsen

Words: David B. Larsen

Music: N/A (words only)

No PDF sheet music
No PDF page layout
No MP3 audio (words only)
No MP3 audio (music only)
No MP3 audio (words and music)

Jan 2021.

Shepherds' Awe

Contributor: Donald N. Bugg

Full credits not available

No PDF sheet music
No PDF page layout
No PDF lyrics
No MP3 audio (words only)
No MP3 audio (music only)
No MP3 audio (words and music)

Jan 2021.

The Glorious Restoration's Come

Contributor: Kristina H. Peterson

Words: Kristina H. Peterson

Music: N/A (words only)

No PDF sheet music
No PDF page layout
No MP3 audio (words only)
No MP3 audio (music only)
No MP3 audio (words and music)

Jan 2021.

The Love of God

Words: Holly Boyd

Music: N/A (words only)

No PDF sheet music
No PDF page layout
No MP3 audio (words only)
No MP3 audio (music only)
No MP3 audio (words and music)

Jan 2021.

Worthy Is the Lamb

Contributor: Bruce T. Forbes

Words: Bruce T. Forbes

Music: N/A (words only)

No PDF sheet music
No PDF page layout
No MP3 audio (words only)
No MP3 audio (music only)
No MP3 audio (words and music)

Jan 2021.

Above the Brightness

Contributor: Jed Nash Crowther

Words: Jed Nash Crowther

Music: N/A (words only)

No PDF sheet music
No PDF page layout
No MP3 audio (words only)
No MP3 audio (music only)
No MP3 audio (words and music)

Jan 2021.

As I Seek Thee in Thy Temples

Contributor: Tommi Williams

Words: Tommi Williams

Music: N/A (words only)

No PDF sheet music
No PDF page layout
No MP3 audio (words only)
No MP3 audio (music only)
No MP3 audio (words and music)

Jan 2021.

I Am Planted

Contributor: Lynn Watkins

Words: Lynn Watkins

Music: N/A (words only)

No PDF sheet music
No PDF page layout
No MP3 audio (words only)
No MP3 audio (music only)
No MP3 audio (words and music)

Jan 2021.

Oh, My Father, High Above

Contributor: Rodney Beacham; Camille Beacham

Words: Rodney Beacham; Camille Beacham

Music: N/A (words only)

No PDF sheet music
No PDF page layout
No MP3 audio (words only)
No MP3 audio (music only)
No MP3 audio (words and music)

Jan 2021.

The Redemption of the Dead

Contributor: Helen Hughes

Words: Helen Hughes

Music: N/A (words only)

No PDF sheet music
No PDF page layout
No MP3 audio (words only)
No MP3 audio (music only)
No MP3 audio (words and music)

Jan 2021.

A Poor Wayfaring Man of Grief / Have I Done Any Good?

Contributor: Sally DeFord

Words: N/A

Music: Will L. Thompson; George Coles

Arr.: Sally DeFord

Medleyist: Sally DeFord

No PDF page layout
No PDF lyrics
No MP3 audio (words only)
No MP3 audio (music only)
No MP3 audio (words and music)

Jan 2021.

Journey to Bethlehem

Contributor: Katherine Wright

Artist: Emily Rice (violin); Abby Kagie (viola); Jonny Steward (cello); Jim Bergstedt (piano)

Words: N/A

Music: John Henry Hopkins Jr.; English carol; Christmas Carols, W. Sandys, 1833; French carol

Arr.: Katherine Wright

Medleyist: Katherine Wright

No PDF page layout
No PDF lyrics
No MP3 audio (words only)
No MP3 audio (words and music)

Jan 2021.

I Know That My Redeemer Lives

Contributor: Connie Stauffer

Words: N/A

Music: Lewis D. Edwards

No PDF page layout
No PDF lyrics
No MP3 audio (words only)
No MP3 audio (music only)
No MP3 audio (words and music)

Jan 2021.

Nearer, My God, to Thee

Contributor: Heather G. Badger

Artist: Jonny Stewart (cello); Diane Bastian (piano)

Words: N/A

Music: Lowell Mason

No PDF page layout
No PDF lyrics
No MP3 audio (words only)
No MP3 audio (words and music)

Jan 2021.

Be Still, My Soul

Contributor: Linda Hartman

Words: N/A

Music: Jean Sibelius

No PDF page layout
No PDF lyrics
No MP3 audio (words only)
No MP3 audio (music only)
No MP3 audio (words and music)

Jan 2021.

Nearer, My God, to Thee

Contributor: Michael Bailey

Words: N/A

Music: Lowell Mason

No PDF page layout
No PDF lyrics
No MP3 audio (words only)
No MP3 audio (music only)
No MP3 audio (words and music)

Jan 2021.

There Is a Green Hill Far Away

Contributor: Ginger Fairbanks; Timothy McMurray

Artist: Unknown (violin); Unknown (piano)

Words: N/A

Music: John H. Gower

Arr.: Ginger Fairbanks; Timothy McMurray

No PDF page layout
No PDF lyrics
No MP3 audio (words only)
No MP3 audio (words and music)

Jan 2021.

When I Am Baptized

Contributor: Nathaniel Gates

Words: N/A

Music: Nita Dale Milner

No PDF page layout
No PDF lyrics
No MP3 audio (words only)
No MP3 audio (music only)
No MP3 audio (words and music)

Jan 2021.

Child in a Manger

Contributor: Katherine Wright; Sally DeFord

Words: Sally DeFord

Music: Katherine Wright

No PDF page layout
No PDF lyrics
No MP3 audio (words only)
No MP3 audio (music only)

Jan 2021.

His Redeeming Love

Contributor: Brent Jorgensen

Words: Jan Pinborough

Music: Brent Jorgensen

No PDF page layout
No PDF lyrics
No MP3 audio (words only)
No MP3 audio (music only)
No MP3 audio (words and music)

Jan 2021.

Silent Night

Contributor: Rachel P. Mohlman

Artist: ShaRee Larsen; Leslie Moon (piano)

Words: Joseph Mohr

Music: Franz Gruber

Trans.: John F. Young (from German)

Arr.: Rachel P. Mohlman

No PDF page layout
No PDF lyrics
No MP3 audio (words only)
No MP3 audio (music only)

Jan 2021.

Like Jesus

Contributor: Janice Kapp Perry

Words: Janice Kapp Perry

Music: Janice Kapp Perry

No PDF page layout
No PDF lyrics
No MP3 audio (words only)
No MP3 audio (music only)
No MP3 audio (words and music)

Jan 2021.

Prayer of Faith

Contributor: Tyler Castleton; Wayne Burton

Words: Wayne Burton; Tyler Castleton

Music: Wayne Burton; Tyler Castleton

No PDF page layout
No PDF lyrics
No MP3 audio (words only)
No MP3 audio (music only)
No MP3 audio (words and music)

Jan 2021.

Seek the Christ

Contributor: Kayla Spurlock; Lindsey Andersen

Words: Kayla Spurlock

Music: Kayla Spurlock

No PDF page layout
No PDF lyrics
No MP3 audio (words only)
No MP3 audio (music only)

2020

(Return to top)
Jan 2020.

Joseph Smith's First Prayer

Contributor: Rachel P. Mohlman

Words: George Manwaring

Music: Rachel P. Mohlman

No PDF page layout
No PDF lyrics
No MP3 audio (words only)
No MP3 audio (music only)
No MP3 audio (words and music)

Jan 2020.

Peace, Peace Be Still

Contributor: Katherine Wright; Sally DeFord

Words: Sally DeFord

Music: Katherine Wright

No PDF page layout
No PDF lyrics
No MP3 audio (words only)
No MP3 audio (music only)
No MP3 audio (words and music)

Jan 2020.

Sing Noel!

Contributor: Ross Farnworth

Words: Ross Farnworth

Music: Ross Farnworth

No PDF page layout
No PDF lyrics
No MP3 audio (words only)
No MP3 audio (music only)
No MP3 audio (words and music)

Jan 2020.

When Saints Unite to Sing God's Praise

Contributor: Janice Kapp Perry

Words: Janice Kapp Perry

Music: Janice Kapp Perry

No PDF page layout
No PDF lyrics
No MP3 audio (words only)
No MP3 audio (music only)
No MP3 audio (words and music)

Jan 2020.

A Carol to the King

Contributor: Sally DeFord; Katherine Wright

Words: Sally DeFord

Music: Sally DeFord; Katherine Wright

No PDF page layout
No PDF lyrics
No MP3 audio (words only)
No MP3 audio (music only)
No MP3 audio (words and music)

Jan 2020.

Where Can I Turn for Peace?

Contributor: Morgan J. Busch

Words: Emma Lou Thayne

Music: Morgan J. Busch

No PDF page layout
No PDF lyrics
No MP3 audio (words only)
No MP3 audio (music only)
No MP3 audio (words and music)

Jan 2020.

Evensong Service Setting in C

Contributor: Thomas Hardaway

Words: Thomas Hardaway

Music: Thomas Hardaway

No PDF sheet music
No PDF lyrics
No MP3 audio (words only)
No MP3 audio (music only)
No MP3 audio (words and music)

Jan 2020.

For the Beauty of the Earth

Contributor: Michael F. Moody

Words: Folliott S. Pierpoint

Music: Michael F. Moody

No PDF page layout
No PDF lyrics
No MP3 audio (words only)
No MP3 audio (music only)
No MP3 audio (words and music)

Jan 2020.

In the Midst of You

Contributor: Elane Roberts Palmer

Words: Elane Roberts Palmer

Music: Elane Roberts Palmer

No PDF page layout
No PDF lyrics
No MP3 audio (words only)
No MP3 audio (music only)
No MP3 audio (words and music)

Jan 2020.

In the Sacred Grove

Contributor: Toni Thomas; Wayne Burton

Words: Toni Thomas

Music: Wayne Burton

No PDF page layout
No PDF lyrics
No MP3 audio (words only)
No MP3 audio (music only)
No MP3 audio (words and music)

Jan 2020.

Master, the Tempest Is Raging

Words: Mary Ann Baker

Music: Lisa Powell

No PDF page layout
No PDF lyrics
No MP3 audio (words only)
No MP3 audio (music only)
No MP3 audio (words and music)

Jan 2020.

The Vision

Contributor: Sam Abramson

Words: Sam Abramson

Music: Sam Abramson

No PDF page layout
No PDF lyrics
No MP3 audio (words only)
No MP3 audio (music only)
No MP3 audio (words and music)

Jan 2020.

When Jesus Came to Bountiful

Contributor: Bonnie Hart Murray; Janice Kapp Perry

Words: Bonnie Hart Murray

Music: Janice Kapp Perry

No PDF page layout
No PDF lyrics
No MP3 audio (words only)
No MP3 audio (music only)
No MP3 audio (words and music)

Jan 2020.

Gesu, Bambino

Contributor: Sally DeFord

Words: Pietro Yon; Frederick H. Martens

Music: Pietro Yon

No PDF page layout
No PDF lyrics
No MP3 audio (words only)
No MP3 audio (music only)
No MP3 audio (words and music)

Jan 2020.

The Lord My Pasture Will Prepare

Contributor: Shelley Hannig

Words: Joseph Addison

Music: Dmitri Bortniansky

No PDF page layout
No PDF lyrics
No MP3 audio (words only)
No MP3 audio (music only)
No MP3 audio (words and music)

Jan 2020.

Stricken, Smitten, and Afflicted

Contributor: Wesley D. Peters

Words: Thomas Kelly

Music: Geistliche Volkslieder, 1850

No PDF page layout
No PDF lyrics
No MP3 audio (words only)
No MP3 audio (music only)
No MP3 audio (words and music)

Jan 2020.

What Child Is This?

Contributor: Heather D. Zurcher

Words: William Chatterton Dix

Music: English folk song, 16th century

No PDF page layout
No PDF lyrics
No MP3 audio (words only)
No MP3 audio (music only)
No MP3 audio (words and music)

Jan 2020.

Blessed Assurance

Contributor: Kathleen Wood Holyoak

Words: Fanny J. Crosby

Music: Phoebe P. Knapp

Arr.: Kathleen Wood Holyoak

No PDF page layout
No PDF lyrics
No MP3 audio (words only)
No MP3 audio (music only)
No MP3 audio (words and music)

Jan 2020.

Should the Savior Ask, Do You Love Me?

Contributor: Brent Jorgensen

Words: David B. Larsen

Music: Janice Kapp Perry

No PDF page layout
No PDF lyrics
No MP3 audio (words only)
No MP3 audio (music only)
No MP3 audio (words and music)

Jan 2020.

The First Noel

Contributor: Ross Farnworth

Words: English carol; Christmas Carols, W. Sandys, 1833

Music: English carol; Christmas Carols, W. Sandys, 1833

No PDF page layout
No PDF lyrics
No MP3 audio (words only)
No MP3 audio (music only)
No MP3 audio (words and music)

Jan 2020.

Guide Us, O Thou Great Jehovah

Contributor: Suzanne Ostler Shippen

Words: William Williams

Music: John Hughes

Arr.: Suzanne Ostler Shippen

No PDF page layout
No PDF lyrics
No MP3 audio (words only)
No MP3 audio (music only)
No MP3 audio (words and music)

Jan 2020.

Abide with Me; 'Tis Eventide

Contributor: Richard Anderson

Words: M. Lowrie Hofford

Music: Harrison Millard

No PDF page layout
No PDF lyrics
No MP3 audio (words only)
No MP3 audio (music only)
No MP3 audio (words and music)

Jan 2020.

Hear Him: This Is My Beloved Son

Contributor: Cecil R. Sullivan

Words: Marvin K. Gardner

Music: Vanja Y. Watkins

No PDF page layout
No PDF lyrics
No MP3 audio (words only)
No MP3 audio (music only)
No MP3 audio (words and music)

Jan 2020.

How Firm a Foundation

Contributor: Shelley Hannig

Words: Selection of Hymns, John Rippon, 1787; Robert Keen

Music: Anon.; John Ellis

No PDF page layout
No PDF lyrics
No MP3 audio (words only)
No MP3 audio (music only)
No MP3 audio (words and music)

Jan 2020.

Lord, I Would Follow Thee

Contributor: Christian Hansen

Words: Susan Evans McCloud

Music: K. Newell Dayley

No PDF page layout
No PDF lyrics
No MP3 audio (words only)
No MP3 audio (music only)
No MP3 audio (words and music)

Jan 2020.

Nearer, My God, to Thee

Contributor: James Mohlman

Words: Sarah F. Adams

Music: Lowell Mason

No PDF page layout
No PDF lyrics
No MP3 audio (words only)
No MP3 audio (music only)
No MP3 audio (words and music)

Jan 2020.

The Morning Breaks

Contributor: Martin L. Green

Words: Parley P. Pratt

Music: George Careless

No PDF page layout
No PDF lyrics
No MP3 audio (words only)
No MP3 audio (music only)
No MP3 audio (words and music)

Jan 2020.

The Song of the Righteous

Contributor: Brent Jorgensen

Words: Janice Kapp Perry

Music: Traditional

No PDF page layout
No PDF lyrics
No MP3 audio (words only)
No MP3 audio (music only)
No MP3 audio (words and music)

Jan 2020.

I Can Be That Light

Contributor: Sara Cenatiempo

Words: Sara Cenatiempo

Music: Sara Cenatiempo

No PDF page layout
No PDF lyrics
No MP3 audio (words only)
No MP3 audio (music only)

Jan 2020.

Come and Belong

Contributor: Tyler Castleton; Wayne Burton

Words: Tyler Castleton; Wayne Burton

Music: Tyler Castleton; Wayne Burton

No PDF page layout
No PDF lyrics
No MP3 audio (words only)
No MP3 audio (music only)
No MP3 audio (words and music)

Jan 2020.

Beauty for Ashes

Contributor: Anna M. Molgard; Rachel P. Mohlman

Words: Anna M. Molgard

Music: Anna M. Molgard

No PDF page layout
No PDF lyrics
No MP3 audio (words only)
No MP3 audio (music only)
No MP3 audio (words and music)

Jan 2020.

Have I Done Any Good?

Contributor: Lisa M. Keawekane

Words: Will L. Thompson

Music: Lisa M. Keawekane

No PDF page layout
No PDF lyrics
No MP3 audio (words only)
No MP3 audio (music only)
No MP3 audio (words and music)

Jan 2020.

Hear Him

Contributor: Marlene D. Bartlett

Words: Marlene D. Bartlett

Music: Marlene D. Bartlett

No PDF page layout
No PDF lyrics
No MP3 audio (words only)
No MP3 audio (music only)
No MP3 audio (words and music)

Jan 2020.

Simon of Cyrene

Contributor: Gregory Reece; Daniel Blomberg

Words: Gregory Reece

Music: Daniel Blomberg

No PDF page layout
No PDF lyrics
No MP3 audio (words only)
No MP3 audio (music only)

Jan 2020.

The Heavens Are Open

Contributor: Nina Harris; Gunnella Murphy

Words: Gunnella Murphy; Nina Harris

Music: Nina Harris

No PDF page layout
No PDF lyrics
No MP3 audio (words only)
No MP3 audio (music only)

Jan 2020.

Unchanging Truths

Contributor: Ashley Flake

Words: Ashley Flake

Music: Ashley Flake

No PDF sheet music
No PDF page layout
No MP3 audio (words only)
No MP3 audio (music only)

Jan 2020.

Where I Stand

Contributor: Claire Kaelin; Abe Kaelin

Words: Claire Kaelin; Abe Kaelin

Music: Claire Kaelin; Abe Kaelin

No PDF sheet music
No PDF page layout
No MP3 audio (words only)
No MP3 audio (music only)

Jan 2020.

Advent Fantasy

Contributor: Katherine Wright

Words: N/A

Music: French melody; Ukrainian folk chant; Mykola Leontovych; English folk song, 16th century

Arr.: Katherine Wright

Medleyist: Katherine Wright

No PDF page layout
No PDF lyrics
No MP3 audio (words only)
No MP3 audio (music only)
No MP3 audio (words and music)

Jan 2020.

The Lord Is My Shepherd

Contributor: Jenny Shaw Garlock

Words: N/A

Music: Thomas Koschat

No PDF page layout
No PDF lyrics
No MP3 audio (words only)
No MP3 audio (music only)
No MP3 audio (words and music)

Jan 2020.

Joseph Smith's First Prayer

Contributor: Michael Bailey

Words: N/A

Music: Sylvanus Billings Pond

No PDF page layout
No PDF lyrics
No MP3 audio (words only)
No MP3 audio (words and music)

Jan 2020.

A Poor Wayfaring Man of Grief

Words: N/A

Music: George Coles

No PDF page layout
No PDF lyrics
No MP3 audio (words only)
No MP3 audio (music only)
No MP3 audio (words and music)

Jan 2020.

Abide with Me

Contributor: Michelle Soderberg

Words: N/A

Music: William H. Monk

No PDF page layout
No PDF lyrics
No MP3 audio (words only)
No MP3 audio (music only)
No MP3 audio (words and music)

Jan 2020.

Angels from the Realms of Glory

Contributor: Kathleen Wood Holyoak

Words: N/A

Music: Henry T. Smart

Arr.: Kathleen Wood Holyoak

No PDF page layout
No PDF lyrics
No MP3 audio (words only)
No MP3 audio (music only)
No MP3 audio (words and music)

Jan 2020.

Be Still, My Soul

Contributor: Justin Lewis

Words: N/A

Music: Unknown

No PDF sheet music
No PDF page layout
No PDF lyrics
No MP3 audio (words only)
No MP3 audio (music only)
No MP3 audio (words and music)

Jan 2020.

Gentle Jesus

Contributor: Michael F. Moody; Mabel Jones Gabbott

Words: N/A

Music: Michael F. Moody

No PDF page layout
No PDF lyrics
No MP3 audio (words only)
No MP3 audio (music only)
No MP3 audio (words and music)

Jan 2020.

Joseph Smith's First Prayer

Contributor: Ross Farnworth

Words: N/A

Music: Sylvanus Billings Pond

No PDF page layout
No PDF lyrics
No MP3 audio (words only)
No MP3 audio (music only)
No MP3 audio (words and music)

Jan 2020.

Love at Home Medley

Contributor: Connie Stauffer

Words: N/A

Music: John Hugh McNaughton; Luacine Clark Fox; Joanne Bushman Doxey; Marjorie Castleton Kjar

Arr.: Connie Stauffer

Medleyist: Connie Stauffer

No PDF page layout
No PDF lyrics
No MP3 audio (words only)
No MP3 audio (music only)
No MP3 audio (words and music)

Jan 2020.

The Wisdom and the Love

Contributor: Delys W. Snyder

Words: N/A

Music: Thomas McIntyre

No PDF page layout
No PDF lyrics
No MP3 audio (words only)
No MP3 audio (music only)
No MP3 audio (words and music)

Jan 2020.

Precious Savior, Dear Redeemer

Contributor: Katherine Wright

Words: Horatio R. Palmer

Music: Katherine Wright

No PDF page layout
No PDF lyrics
No MP3 audio (words only)
No MP3 audio (music only)
No MP3 audio (words and music)

Jan 2020.

Watching for the Day When He Will Come

Contributor: Rachel P. Mohlman

Words: Rachel P. Mohlman

Music: Rachel P. Mohlman

No PDF page layout
No PDF lyrics
No MP3 audio (words only)
No MP3 audio (music only)
No MP3 audio (words and music)

Jan 2020.

Arise and Shine Forth

Contributor: Sally DeFord

Words: Sally DeFord

Music: Sally DeFord

No PDF page layout
No PDF lyrics
No MP3 audio (words only)
No MP3 audio (music only)
No MP3 audio (words and music)

Jan 2020.

Hear Him

Contributor: Wayne Burton; Tyler Castleton

Words: Tyler Castleton; Wayne Burton

Music: Tyler Castleton; Wayne Burton

No PDF page layout
No PDF lyrics
No MP3 audio (words only)
No MP3 audio (music only)
No MP3 audio (words and music)

Jan 2020.

Sweet Above All That Is Sweet

Contributor: Penelope Moody Allen; Michael F. Moody

Words: Penelope Moody Allen

Music: Michael F. Moody

No PDF page layout
No PDF lyrics
No MP3 audio (words only)
No MP3 audio (music only)
No MP3 audio (words and music)

Jan 2020.

The Lord Is My Shepherd

Contributor: Shelley Hannig

Words: Shelley Hannig

Music: Shelley Hannig

No PDF page layout
No PDF lyrics
No MP3 audio (words only)
No MP3 audio (music only)
No MP3 audio (words and music)

Jan 2020.

This Is My Beloved

Contributor: Holly Boyd; Wendy Jensen

Words: Holly Boyd

Music: Wendy Jensen

No PDF page layout
No PDF lyrics
No MP3 audio (words only)
No MP3 audio (music only)
No MP3 audio (words and music)

Jan 2020.

For Me

Contributor: Tyler Castleton; Wayne Burton

Words: Tyler Castleton; Wayne Burton

Music: Tyler Castleton; Wayne Burton

Other versions of this song:
For Me

No PDF page layout
No PDF lyrics
No MP3 audio (words only)
No MP3 audio (music only)
No MP3 audio (words and music)

Jan 2020.

He Brought Me Light

Contributor: Janice Kapp Perry

Words: Janice Kapp Perry

Music: Janice Kapp Perry

No PDF page layout
No PDF lyrics
No MP3 audio (words only)
No MP3 audio (music only)
No MP3 audio (words and music)

Jan 2020.

How Firm a Foundation

Contributor: Heather D. Zurcher

Words: Selection of Hymns, John Rippon, 1787; Robert Keen

Music: Anon.; John Ellis

No PDF page layout
No PDF lyrics
No MP3 audio (words only)
No MP3 audio (music only)
No MP3 audio (words and music)

Jan 2020.

I Will Obey

Contributor: Andrew Moore

Words: Andrew Moore

Music: Andrew Moore

No PDF page layout
No PDF lyrics
No MP3 audio (words only)
No MP3 audio (music only)
No MP3 audio (words and music)

Jan 2020.

Little Wonder

Contributor: Kevin G. Pace; Mary Ann W. Snowball

Words: Mary Ann W. Snowball

Music: Kevin G. Pace

No PDF page layout
No PDF lyrics
No MP3 audio (words only)
No MP3 audio (music only)
No MP3 audio (words and music)

Jan 2020.

One Sacred Moment

Words: Boyd A. Waite

Music: Boyd A. Waite

No PDF page layout
No PDF lyrics
No MP3 audio (words only)
No MP3 audio (music only)
No MP3 audio (words and music)

Jan 2020.

There Is a Green Hill Far Away

Contributor: Jeffrey Furgo

Words: Cecil Frances Alexander

Music: John H. Gower

No PDF page layout
No PDF lyrics
No MP3 audio (words only)
No MP3 audio (music only)
No MP3 audio (words and music)

2019

(Return to top)
Jan 2019.

Gloria!

Contributor: Suzanne Ostler Shippen

Words: Suzanne Ostler Shippen

Music: Suzanne Ostler Shippen

Other versions of this song:
Gloria

No PDF page layout
No PDF lyrics
No MP3 audio (words only)
No MP3 audio (music only)
No MP3 audio (words and music)

Jan 2019.

I Heard the Bells on Christmas Day

Contributor: Heather D. Zurcher

Words: Henry Wadsworth Longfellow

Music: Heather D. Zurcher

No PDF page layout
No PDF lyrics
No MP3 audio (words only)
No MP3 audio (music only)
No MP3 audio (words and music)

Jan 2019.

The Lord's Love

Contributor: Sam Fleming; Cody Reed

Words: Cody Reed

Music: Sam Fleming

No PDF page layout
No PDF lyrics
No MP3 audio (words only)
No MP3 audio (music only)
No MP3 audio (words and music)

Jan 2019.

Behold the Great Redeemer Die

Words: Eliza R. Snow

Music: Fen Frehner

No PDF page layout
No PDF lyrics
No MP3 audio (words only)
No MP3 audio (music only)
No MP3 audio (words and music)

Jan 2019.

Come unto Christ

Contributor: Rachel P. Mohlman; Anna M. Molgard

Words: Rachel P. Mohlman; Anna M. Molgard

Music: Rachel P. Mohlman; Anna M. Molgard

No PDF page layout
No PDF lyrics
No MP3 audio (words only)
No MP3 audio (music only)
No MP3 audio (words and music)

Jan 2019.

Come unto Christ

Contributor: Rachel P. Mohlman; Anna M. Molgard

Words: Rachel P. Mohlman; Anna M. Molgard

Music: Rachel P. Mohlman; Anna M. Molgard

No PDF page layout
No PDF lyrics
No MP3 audio (words only)
No MP3 audio (music only)
No MP3 audio (words and music)

Jan 2019.

Gaudete

Contributor: Erica Kyree Glenn

Words: Erica Kyree Glenn

Music: Erica Kyree Glenn

Other versions of this song:
Rejoice

No PDF page layout
No PDF lyrics
No MP3 audio (words only)
No MP3 audio (music only)
No MP3 audio (words and music)

Jan 2019.

God So Loved the World

Contributor: Michael F. Moody

Words: John 3:16; Michael F. Moody

Music: Michael F. Moody

No PDF page layout
No PDF lyrics
No MP3 audio (words only)
No MP3 audio (music only)
No MP3 audio (words and music)

Jan 2019.

Not Now, but in the Coming Years

Contributor: Morgan J. Busch

Words: Maxwell N. Cornelius

Music: Morgan J. Busch

No PDF page layout
No PDF lyrics
No MP3 audio (words only)
No MP3 audio (music only)
No MP3 audio (words and music)

Jan 2019.

The Greatest of All (Charity)

Contributor: Ralph B. Woodward

Words: Moroni 7:46–47; Ralph B. Woodward

Music: Ralph B. Woodward

No PDF page layout
No PDF lyrics
No MP3 audio (words only)
No MP3 audio (music only)
No MP3 audio (words and music)

Jan 2019.

Daughters in His Kingdom

Contributor: Michelle Soderberg

Words: Michelle Soderberg

Music: Michelle Soderberg

No PDF page layout
No PDF lyrics
No MP3 audio (words only)
No MP3 audio (music only)
No MP3 audio (words and music)

Jan 2019.

Guide Us, O Thou Great Jehovah

Contributor: Andrew Moore

Words: William Williams

Music: Andrew Moore

No PDF page layout
No PDF lyrics
No MP3 audio (words only)
No MP3 audio (music only)
No MP3 audio (words and music)

Jan 2019.

He Is Risen

Contributor: Ross Farnworth

Words: Cecil Frances Alexander

Music: Ross Farnworth

No PDF page layout
No PDF lyrics
No MP3 audio (words only)
No MP3 audio (music only)
No MP3 audio (words and music)

Jan 2019.

Rejoice!

Contributor: Margo Faraoni Edgeworth

Words: William W. Phelps

Music: Margo Faraoni Edgeworth

No PDF page layout
No PDF lyrics
No MP3 audio (words only)
No MP3 audio (music only)
No MP3 audio (words and music)

Jan 2019.

Where Jesus Walked

Contributor: Kathleen Wood Holyoak

Words: Kathleen Wood Holyoak; Carma Salvesen

Music: Kathleen Wood Holyoak

No PDF page layout
No PDF lyrics
No MP3 audio (words only)
No MP3 audio (music only)
No MP3 audio (words and music)

Jan 2019.

Abide with Me; 'Tis Eventide

Contributor: Heather D. Zurcher

Words: M. Lowrie Hofford

Music: Harrison Millard

No PDF page layout
No PDF lyrics
No MP3 audio (words only)
No MP3 audio (music only)
No MP3 audio (words and music)

Jan 2019.

Jesus, the Very Thought of Thee

Contributor: Sally DeFord

Words: Bernard of Clairvaux

Music: John B. Dykes

No PDF page layout
No PDF lyrics
No MP3 audio (words only)
No MP3 audio (music only)
No MP3 audio (words and music)

Jan 2019.

Once in Royal David's City

Contributor: Katherine Wright

Words: Cecil Frances Alexander

Music: Henry J. Gauntlett

No PDF page layout
No PDF lyrics
No MP3 audio (words only)
No MP3 audio (music only)
No MP3 audio (words and music)

Jan 2019.

Ever Lead Me

Contributor: Lane E. Johnson; Michelle Smyth

Words: Michelle Smyth

Music: Norman W. Smith

No PDF page layout
No PDF lyrics
No MP3 audio (words only)
No MP3 audio (music only)
No MP3 audio (words and music)

Jan 2019.

Come, Come, Ye Saints

Contributor: Shelley Hannig

Words: William Clayton

Music: English folk song

No PDF page layout
No PDF lyrics
No MP3 audio (words only)
No MP3 audio (music only)
No MP3 audio (words and music)

Jan 2019.

Come, Follow Me

Contributor: Davis Rann; Lindsey Partridge

Words: John Nicholson

Music: English folk tune

Arr.: Davis Rann; Lindsey Partridge

No PDF page layout
No PDF lyrics
No MP3 audio (words only)
No MP3 audio (music only)
No MP3 audio (words and music)

Jan 2019.

God Shall Wipe All Tears Away

Words: Antonio L. Haskell

Music: Antonio L. Haskell

No PDF page layout
No PDF lyrics
No MP3 audio (words only)
No MP3 audio (music only)
No MP3 audio (words and music)

Jan 2019.

I Am a Child of God

Contributor: Lynn R. Shurtleff

Words: Naomi W. Randall

Music: Mildred Tanner Pettit

No PDF page layout
No PDF lyrics
No MP3 audio (words only)
No MP3 audio (music only)
No MP3 audio (words and music)

Jan 2019.

Take Time to Be Holy

Contributor: Tami J. Creamer

Words: William D. Longstaff

Music: Tami J. Creamer

No PDF page layout
No PDF lyrics
No MP3 audio (words only)
No MP3 audio (music only)
No MP3 audio (words and music)

Jan 2019.

Take Time to Be Holy

Contributor: Tami J. Creamer

Words: William D. Longstaff

Music: Tami J. Creamer

No PDF page layout
No PDF lyrics
No MP3 audio (words only)
No MP3 audio (music only)
No MP3 audio (words and music)

Jan 2019.

There Is a Green Hill Far Away

Contributor: Kevin G. Pace

Words: Cecil Frances Alexander

Music: John H. Gower

No PDF page layout
No PDF lyrics
No MP3 audio (words only)
No MP3 audio (music only)
No MP3 audio (words and music)

Jan 2019.

Sweet Is the Work

Contributor: Michelle Soderberg

Words: Isaac Watts

Music: John J. McClellan

No PDF page layout
No PDF lyrics
No MP3 audio (words only)
No MP3 audio (music only)
No MP3 audio (words and music)

Jan 2019.

While Shepherds Watched Their Flocks

Contributor: Carole M. Knight

Words: Nahum Tate

Music: Yorkshire carol

No PDF page layout
No PDF lyrics
No MP3 audio (words only)
No MP3 audio (music only)
No MP3 audio (words and music)

Jan 2019.

Brightly Beams Our Father's Mercy

Contributor: Garrett Breeze

Words: Philip Paul Bliss

Music: Philip Paul Bliss

No PDF page layout
No PDF lyrics
No MP3 audio (words only)
No MP3 audio (music only)
No MP3 audio (words and music)

Jan 2019.

I Need Thee Every Hour / Sweet Hour of Prayer

Contributor: Julie Acor Clegg

Words: Annie S. Hawks; William W. Walford

Music: Robert Lowry; William B. Bradbury

Arr.: Julie Acor Clegg

Medleyist: Julie Acor Clegg

No PDF page layout
No PDF lyrics
No MP3 audio (words only)
No MP3 audio (music only)
No MP3 audio (words and music)

Jan 2019.

Rise Up, O Men of God

Contributor: Victor Rafael Olvera

Words: William Pierson Merrill; William Pierson Merrill

Music: Frank W. Asper; William H. Walter

Arr.: Victor R. Olvera

Medleyist: Victor R. Olvera

No PDF page layout
No PDF lyrics
No MP3 audio (words only)
No MP3 audio (music only)
No MP3 audio (words and music)

Jan 2019.

We'll Sing and We'll Shout

Words: Janice Kapp Perry; William W. Phelps

Music: Janice Kapp Perry; English melody

Arr.: Emily Ricks

Medleyist: Emily Ricks

No PDF page layout
No PDF lyrics
No MP3 audio (words only)
No MP3 audio (music only)
No MP3 audio (words and music)

Jan 2019.

Where Can I Turn For Peace? / I Feel Peace

Contributor: Suzanne Ostler Shippen

Words: Emma Lou Thayne; Suzanne Ostler Shippen

Music: Joleen G. Meredith; Suzanne Ostler Shippen

Arr.: Suzanne Ostler Shippen

Medleyist: Suzanne Ostler Shippen

No PDF page layout
No PDF lyrics
No MP3 audio (words only)
No MP3 audio (music only)
No MP3 audio (words and music)

Jan 2019.

If You Could Hie to Kolob

Contributor: Tami J. Creamer

Words: N/A

Music: English melody

No PDF page layout
No PDF lyrics
No MP3 audio (words only)
No MP3 audio (music only)
No MP3 audio (words and music)

Jan 2019.

Abide with Me; 'Tis Eventide

Contributor: Martin L. Green

Words: N/A

Music: Harrison Millard

No PDF page layout
No PDF lyrics
No MP3 audio (words only)
No MP3 audio (music only)
No MP3 audio (words and music)

Jan 2019.

I Am a Child of God

Contributor: Lane E. Johnson

Words: N/A

Music: Mildred Tanner Pettit

No PDF page layout
No PDF lyrics
No MP3 audio (words only)
No MP3 audio (music only)
No MP3 audio (words and music)

Jan 2019.

Jesus, Once of Humble Birth

Contributor: Stephen A. Reynolds

Words: N/A

Music: Giacomo Meyerbeer; English Chorister

Arr.: Stephen A. Reynolds

No PDF page layout
No PDF lyrics
No MP3 audio (words only)
No MP3 audio (music only)
No MP3 audio (words and music)

Jan 2019.

Precious Savior, Dear Redeemer

Contributor: Connie Stauffer

Words: N/A

Music: Horatio R. Palmer

No PDF page layout
No PDF lyrics
No MP3 audio (words only)
No MP3 audio (music only)
No MP3 audio (words and music)

Jan 2019.

Come, Follow Me

Contributor: Lynn R. Shurtleff

Words: N/A

Music: Samuel McBurney

No PDF page layout
No PDF lyrics
No MP3 audio (words only)
No MP3 audio (music only)
No MP3 audio (words and music)

Jan 2019.

Families Can Be Together Forever / I Love to See the Temple

Contributor: Jenna B. Mosley

Words: N/A

Music: Vanja Y. Watkins; Janice Kapp Perry

Arr.: Jenna B. Mosley

Medleyist: Jenna B. Mosley

No PDF page layout
No PDF lyrics
No MP3 audio (words only)
No MP3 audio (music only)
No MP3 audio (words and music)

Jan 2019.

God Be with You

Contributor: Shelley Hannig

Words: N/A

Music: William G. Tomer

No PDF sheet music
No PDF lyrics
No MP3 audio (words only)
No MP3 audio (music only)
No MP3 audio (words and music)

Jan 2019.

Nearer, My God, to Thee

Words: N/A

Music: Lowell Mason

No PDF page layout
No PDF lyrics
No MP3 audio (words only)
No MP3 audio (music only)
No MP3 audio (words and music)

Jan 2019.

O My Father

Words: N/A

Music: James McGranahan

No PDF page layout
No PDF lyrics
No MP3 audio (words only)
No MP3 audio (music only)
No MP3 audio (words and music)

Jan 2019.

Primary Medley

Contributor: Janice Kapp Perry

Words: N/A

Music: Janice Kapp Perry; Janice Kapp Perry; Janice Kapp Perry; Janice Kapp Perry

Arr.: Janice Kapp Perry

Medleyist: Janice Kapp Perry

No PDF page layout
No PDF lyrics
No MP3 audio (words only)
No MP3 audio (music only)
No MP3 audio (words and music)

Jan 2019.

There Is a Green Hill Far Away

Contributor: Katherine Wright

Words: N/A

Music: John H. Gower

No PDF page layout
No PDF lyrics
No MP3 audio (words only)
No MP3 audio (music only)
No MP3 audio (words and music)

Jan 2019.

A Missionary's Prayer

Contributor: Tyler Castleton; Wayne Burton

Words: Tyler Castleton; Wayne Burton

Music: Tyler Castleton; Wayne Burton

No PDF page layout
No PDF lyrics
No MP3 audio (words only)
No MP3 audio (music only)
No MP3 audio (words and music)

Jan 2019.

Guide Me to Thee

Contributor: Rebekah H. Jennings

Words: Orson Pratt Huish

Music: Rebekah H. Jennings

No PDF page layout
No PDF lyrics
No MP3 audio (words only)
No MP3 audio (music only)
No MP3 audio (words and music)

Jan 2019.

That First Christmas Day

Contributor: Lane E. Johnson

Words: Lane E. Johnson

Music: Lane E. Johnson

No PDF page layout
No PDF lyrics
No MP3 audio (words only)
No MP3 audio (music only)
No MP3 audio (words and music)

Jan 2019.

The Manger Carol

Contributor: Shelley Hannig

Words: Martin Luther; Little Children's Book for Schools and Families, 1885

Music: James R. Murray

No PDF page layout
No PDF lyrics
No MP3 audio (words only)
No MP3 audio (music only)
No MP3 audio (words and music)

Jan 2019.

Will You Come to the Manger?

Contributor: Sally DeFord

Words: Sally DeFord

Music: Sally DeFord

No PDF page layout
No PDF lyrics
No MP3 audio (words only)
No MP3 audio (music only)
No MP3 audio (words and music)

Jan 2019.

He Is

Contributor: Wayne Burton; Tyler Castleton

Words: Wayne Burton; Tyler Castleton

Music: Wayne Burton; Tyler Castleton

Other versions of this song:
He Is

No PDF page layout
No PDF lyrics
No MP3 audio (words only)
No MP3 audio (music only)
No MP3 audio (words and music)

Jan 2019.

His Daughter

Contributor: Michelle Soderberg

Words: Michelle Soderberg

Music: Michelle Soderberg

No PDF page layout
No PDF lyrics
No MP3 audio (words only)
No MP3 audio (music only)
No MP3 audio (words and music)

Jan 2019.

I Glory in My Jesus

Contributor: Jan Pinborough; Michael F. Moody

Words: Jan Pinborough

Music: Michael F. Moody

No PDF page layout
No PDF lyrics
No MP3 audio (words only)
No MP3 audio (music only)
No MP3 audio (words and music)

Jan 2019.

I'll Walk with Him in White

Words: Nathan Howe

Music: Nathan Howe

No PDF page layout
No PDF lyrics
No MP3 audio (words only)
No MP3 audio (music only)
No MP3 audio (words and music)

Jan 2019.

Is My Heart Prepared to Hear the Words of Christ?

Contributor: David B. Larsen; Janice Kapp Perry

Words: David B. Larsen

Music: Janice Kapp Perry

No PDF page layout
No PDF lyrics
No MP3 audio (words only)
No MP3 audio (music only)
No MP3 audio (words and music)

Jan 2019.

Oh, May My Heart Be True

Contributor: Mark A. Hamberlin; Franklin D. Ashdown

Words: Mark A. Hamberlin

Music: Franklin D. Ashdown

No PDF page layout
No PDF lyrics
No MP3 audio (words only)
No MP3 audio (music only)
No MP3 audio (words and music)

Jan 2019.

Sometimes I Pray

Contributor: Janice Kapp Perry

Words: Janice Kapp Perry

Music: Janice Kapp Perry

No PDF page layout
No PDF lyrics
No MP3 audio (words only)
No MP3 audio (music only)
No MP3 audio (words and music)

Jan 2019.

A Light to the World

Contributor: Tyler Castleton; Wayne Burton

Words: Tyler Castleton; Wayne Burton

Music: Tyler Castleton; Wayne Burton

No PDF page layout
No PDF lyrics
No MP3 audio (words only)
No MP3 audio (music only)
No MP3 audio (words and music)

Jan 2019.

Sunday Will Come

Contributor: Rebekah H. Jennings

Words: Rebekah H. Jennings

Music: Rebekah H. Jennings

No PDF page layout
No PDF lyrics
No MP3 audio (words only)
No MP3 audio (music only)
No MP3 audio (words and music)

Jan 2019.

I Will Follow with Love

Contributor: Wayne Burton

Words: Wayne Burton

Music: Wayne Burton

No PDF page layout
No PDF lyrics
No MP3 audio (words only)
No MP3 audio (music only)
No MP3 audio (words and music)

Jan 2019.

In the Strength of the Lord

Words: Nina Harris

Music: Nina Harris

No PDF page layout
No PDF lyrics
No MP3 audio (words only)
No MP3 audio (music only)
No MP3 audio (words and music)

Jan 2019.

Press Forward

Contributor: Beckee Davis

Words: Beckee Davis

Music: Beckee Davis

No PDF page layout
No PDF lyrics
No MP3 audio (words only)
No MP3 audio (music only)
No MP3 audio (words and music)

Jan 2019.

Can You Feel So Now?

Contributor: David B. Larsen; Janice Kapp Perry

Words: David B. Larsen

Music: Janice Kapp Perry

No PDF page layout
No PDF lyrics
No MP3 audio (words only)
No MP3 audio (music only)
No MP3 audio (words and music)

Jan 2019.

Have Faith, Have Courage

Words: Phill Swapp

Music: Phill Swapp

No PDF sheet music
No PDF page layout
No PDF lyrics
No MP3 audio (words only)
No MP3 audio (music only)
No MP3 audio (words and music)

Jan 2019.

Holding You

Contributor: Melody Fern Jackman

Words: Melody Fern Jackman

Music: Melody Fern Jackman

No PDF sheet music
No PDF page layout
No PDF lyrics
No MP3 audio (words only)
No MP3 audio (music only)
No MP3 audio (words and music)

Jan 2019.

I'll Turn to Him

Contributor: Monica Scott

Words: Monica Scott

Music: Monica Scott

No PDF page layout
No PDF lyrics
No MP3 audio (words only)
No MP3 audio (music only)
No MP3 audio (words and music)

Jan 2019.

Joseph, Did You See?

Contributor: Norman Douglas Huff; Julie A. Turnbow

Words: N. Douglas Huff

Music: N. Douglas Huff; Julie A. Turnbow

No PDF page layout
No PDF lyrics
No MP3 audio (words only)
No MP3 audio (music only)
No MP3 audio (words and music)

Jan 2019.

More Alike Than Different

Contributor: Greg Hansen; Nina A. Lee

Words: Nina A. Lee

Music: Greg Hansen

No PDF page layout
No PDF lyrics
No MP3 audio (words only)
No MP3 audio (music only)
No MP3 audio (words and music)

Jan 2019.

Sons of Heavenly Father

Contributor: Katherine Wright; Lee Wright

Words: Lee Wright; Katherine Wright

Music: Katherine Wright

No PDF page layout
No PDF lyrics
No MP3 audio (words only)
No MP3 audio (music only)
No MP3 audio (words and music)

2018

(Return to top)
Jan 2018.

As Bread Is Broken

Contributor: Stephen A. Reynolds

Words: Stephen A. Reynolds

Music: Stephen A. Reynolds

No PDF page layout
No PDF lyrics
No MP3 audio (words only)
No MP3 audio (music only)
No MP3 audio (words and music)

Jan 2018.

Father, We Pray

Contributor: Heather D. Zurcher

Words: Heather D. Zurcher

Music: Heather D. Zurcher

No PDF page layout
No PDF lyrics
No MP3 audio (words only)
No MP3 audio (music only)
No MP3 audio (words and music)

Jan 2018.

Holy Places

Contributor: Sally DeFord; Katherine Wright

Words: Sally DeFord

Music: Katherine Wright

No PDF page layout
No PDF lyrics
No MP3 audio (words only)
No MP3 audio (music only)
No MP3 audio (words and music)

Jan 2018.

Within These Walls

Contributor: Larry Hiller; Michael F. Moody

Words: Larry Hiller

Music: Michael F. Moody

No PDF page layout
No PDF lyrics
No MP3 audio (words only)
No MP3 audio (music only)
No MP3 audio (words and music)

Jan 2018.

Consecration

Contributor: Tami N. Petersen

Words: Frances R. Havergal

Music: Tami N. Petersen

No PDF page layout
No PDF lyrics
No MP3 audio (words only)
No MP3 audio (music only)
No MP3 audio (words and music)

Jan 2018.

Sent from God

Contributor: David B. Larsen; Janice Kapp Perry

Words: David B. Larsen

Music: Janice Kapp Perry

No PDF page layout
No PDF lyrics
No MP3 audio (words only)
No MP3 audio (music only)
No MP3 audio (words and music)

Jan 2018.

Supplication

Contributor: T. Chemain Evans; Kelley Paystrup

Words: Kelley Paystrup

Music: T. Chemain Evans

No PDF page layout
No PDF lyrics
No MP3 audio (words only)
No MP3 audio (music only)
No MP3 audio (words and music)

Jan 2018.

Christ Can Heal the Broken Hearted

Contributor: David B. Larsen

Words: David B. Larsen

Music: Janice Kapp Perry

No PDF sheet music
No PDF lyrics
No MP3 audio (words only)
No MP3 audio (music only)
No MP3 audio (words and music)

Jan 2018.

Two Thousand Valiant-hearted Youth

Contributor: Donald N. Bugg

Words: Donald N. Bugg

Music: N/A (words only)

No PDF sheet music
No PDF page layout
No MP3 audio (words only)
No MP3 audio (music only)
No MP3 audio (words and music)

Jan 2018.

Behold the Empty Tomb

Contributor: William H. Baker

Words: William H. Baker

Music: N/A (words only)

No PDF sheet music
No PDF page layout
No MP3 audio (words only)
No MP3 audio (music only)
No MP3 audio (words and music)

Jan 2018.

The Resurrection

Contributor: Gary Croxall

Words: Gary Croxall

Music: N/A (words only)

No PDF sheet music
No PDF page layout
No MP3 audio (words only)
No MP3 audio (music only)
No MP3 audio (words and music)

Jan 2018.

First, Thou Art Our Father

Words: Ray Alston

Music: N/A (words only)

No PDF sheet music
No PDF lyrics
No MP3 audio (words only)
No MP3 audio (music only)
No MP3 audio (words and music)

Jan 2018.

Go, Ye Messengers of Glory

Contributor: Chad L. Nielsen

Words: Chad L. Nielsen

Music: N/A (words only)

No PDF sheet music
No PDF lyrics
No MP3 audio (words only)
No MP3 audio (music only)
No MP3 audio (words and music)

Jan 2018.

Humbly Now I Come to Thee

Contributor: L. Melvin Ward

Words: L. Melvin Ward

Music: Johannes Brahms

No PDF sheet music
No PDF lyrics
No MP3 audio (words only)
No MP3 audio (music only)
No MP3 audio (words and music)

Jan 2018.

Nephi's Psalm

Contributor: Bonnie Hart Murray

Words: Bonnie Hart Murray

Music: N/A (words only)

No PDF sheet music
No PDF page layout
No MP3 audio (words only)
No MP3 audio (music only)
No MP3 audio (words and music)

Jan 2018.

The Temple of Our God

Contributor: Sharlee Mullins Glenn

Words: Sharlee Mullins Glenn

Music: N/A (words only)

No PDF sheet music
No PDF page layout
No MP3 audio (words only)
No MP3 audio (music only)
No MP3 audio (words and music)

Jan 2018.

One Bright Star

Contributor: Tom Edward Clark

Words: Tom Edward Clark

Music: Tom Edward Clark

No PDF page layout
No PDF lyrics
No MP3 audio (words only)
No MP3 audio (music only)
No MP3 audio (words and music)

Jan 2018.

Read the Book of Mormon and Pray

Contributor: Teresa Barlow

Words: Teresa Barlow

Music: Teresa Barlow

No PDF page layout
No PDF lyrics
No MP3 audio (words only)
No MP3 audio (music only)
No MP3 audio (words and music)

Jan 2018.

The Shepherd and the Lamb

Contributor: Sally DeFord; Toni Thomas

Words: Toni Thomas

Music: Sally DeFord

No PDF page layout
No PDF lyrics
No MP3 audio (words only)
No MP3 audio (music only)
No MP3 audio (words and music)

Jan 2018.

The Armor of God

Contributor: Jennette Jay Booth; Rebekah Anne Pitts

Words: Rebekah Anne Pitts

Music: Jennette Jay Booth

No PDF page layout
No PDF lyrics
No MP3 audio (words only)
No MP3 audio (music only)
No MP3 audio (words and music)

Jan 2018.

Book of Mormon Prophets

Contributor: Jenny W. Francis

Words: Jenny W. Francis

Music: Jenny W. Francis

No PDF page layout
No PDF lyrics
No MP3 audio (words only)
No MP3 audio (music only)
No MP3 audio (words and music)

Jan 2018.

Choosing

Contributor: Penelope Moody Allen; Michael F. Moody

Words: Penelope Moody Allen

Music: Michael F. Moody

No PDF page layout
No PDF lyrics
No MP3 audio (words only)
No MP3 audio (music only)
No MP3 audio (words and music)

Jan 2018.

Come unto Me

Contributor: Rachel P. Mohlman; Anna M. Molgard

Words: Anna M. Molgard; Rachel P. Mohlman

Music: Anna M. Molgard; Rachel P. Mohlman

No PDF page layout
No PDF lyrics
No MP3 audio (words only)
No MP3 audio (music only)
No MP3 audio (words and music)

Jan 2018.

I'll Try My Best

Contributor: Andrew Moore

Words: Andrew Moore

Music: Andrew Moore

No PDF page layout
No PDF lyrics
No MP3 audio (words only)
No MP3 audio (music only)
No MP3 audio (words and music)

Jan 2018.

What Would Jesus Do

Contributor: Wayne Burton; Heather Burton

Words: Heather Burton; Wayne Burton

Music: Wayne Burton

No PDF page layout
No PDF lyrics
No MP3 audio (words only)
No MP3 audio (music only)
No MP3 audio (words and music)

Jan 2018.

When I Come to Him

Contributor: Matthew J. Neeley

Words: Matthew J. Neeley

Music: Matthew J. Neeley

No PDF page layout
No PDF lyrics
No MP3 audio (words only)
No MP3 audio (music only)
No MP3 audio (words and music)

Jan 2018.

The Iron Rod

Contributor: Rachel P. Mohlman

Words: Joseph L. Townsend

Music: William Clayson

No PDF page layout
No PDF lyrics
No MP3 audio (words only)
No MP3 audio (music only)
No MP3 audio (words and music)

Jan 2018.

Master, the Tempest Is Raging

Contributor: Suzanne Ostler Shippen

Words: Mary Ann Baker

Music: Horatio R. Palmer

Arr.: Suzanne Ostler Shippen

No PDF page layout
No PDF lyrics
No MP3 audio (words only)
No MP3 audio (music only)
No MP3 audio (words and music)

Jan 2018.

Hope of Israel

Words: Joseph L. Townsend

Music: William Clayson

No PDF page layout
No PDF lyrics
No MP3 audio (words only)
No MP3 audio (music only)
No MP3 audio (words and music)

Jan 2018.

I'll Go Where You Want Me to Go

Contributor: Morgan J. Busch

Words: Mary Brown

Music: Carrie E. Rounsefell

No PDF page layout
No PDF lyrics
No MP3 audio (words only)
No MP3 audio (music only)
No MP3 audio (words and music)

Jan 2018.

Oh, How Lovely Was the Morning

Contributor: Shelley Hannig

Words: George Manwaring

Music: Sylvanus Billings Pond

No PDF page layout
No PDF lyrics
No MP3 audio (words only)
No MP3 audio (music only)
No MP3 audio (words and music)

Jan 2018.

That Easter Morn

Contributor: Timothy Max Johnson

Words: Marion D. Hanks

Music: Robert Cundick

Arr.: Timothy Max Johnson

No PDF page layout
No PDF lyrics
No MP3 audio (words only)
No MP3 audio (music only)
No MP3 audio (words and music)

Jan 2018.

Joseph Smith's First Prayer

Words: George Manwaring

Music: James McGranahan

No PDF page layout
No PDF lyrics
No MP3 audio (words only)
No MP3 audio (music only)
No MP3 audio (words and music)

Jan 2018.

Master, the Tempest Is Raging

Contributor: Brigitta Wright

Words: Mary Ann Baker

Music: Horatio R. Palmer

No PDF page layout
No PDF lyrics
No MP3 audio (words only)
No MP3 audio (music only)
No MP3 audio (words and music)

Jan 2018.

O Savior, Thou Who Wearest a Crown

Contributor: Abigail Devitt

Words: Arnulf of Leuven; Paul Gerhardt

Music: English melody

Trans.: Karen Lynn Davidson (from German)

Arr.: Abigail Devitt

No PDF page layout
No PDF lyrics
No MP3 audio (words only)
No MP3 audio (music only)
No MP3 audio (words and music)

Jan 2018.

Praise God, from Whom All Blessings Flow

Contributor: Lynne Perry Christofferson

Words: Thomas Ken

Music: Louis Bourgeois; Genevan Psalter, 1551

Adapt.: Lynne Perry Christofferson

Arr.: Lynne Perry Christofferson

No PDF page layout
No PDF lyrics
No MP3 audio (words only)
No MP3 audio (music only)
No MP3 audio (words and music)

Jan 2018.

Angels We Have Heard on High

Contributor: Rachel P. Mohlman

Words: French carol

Music: French carol

No PDF page layout
No PDF lyrics
No MP3 audio (words only)
No MP3 audio (music only)
No MP3 audio (words and music)

Jan 2018.

Savior, Redeemer of My Soul

Contributor: Timothy Max Johnson

Words: Orson F. Whitney

Music: Joseph G. Fones

Arr.: Timothy Max Johnson

No PDF page layout
No PDF lyrics
No MP3 audio (words only)
No MP3 audio (music only)
No MP3 audio (words and music)

Jan 2018.

Nearer, My God, to Thee

Contributor: Lane E. Johnson

Words: Sarah F. Adams

Music: Lowell Mason

No PDF page layout
No PDF lyrics
No MP3 audio (words only)
No MP3 audio (music only)
No MP3 audio (words and music)

Jan 2018.

O Come, O Come, Emmanuel

Contributor: Shelley Hannig

Words: Latin, 9th century

Music: French melody

No PDF page layout
No PDF lyrics
No MP3 audio (words only)
No MP3 audio (music only)
No MP3 audio (words and music)

Jan 2018.

Loving Savior

Contributor: Kay Hicks Ward; L. Melvin Ward

Words: L. Melvin Ward

Music: Kay Hicks Ward

No PDF sheet music
No PDF lyrics
No MP3 audio (words only)
No MP3 audio (music only)
No MP3 audio (words and music)

Jan 2018.

The Pronouncement

Contributor: Scott Thompson

Words: Scott Thompson

Music: Scott Thompson

No PDF page layout
No PDF lyrics
No MP3 audio (words only)
No MP3 audio (music only)
No MP3 audio (words and music)

Jan 2018.

The Keeper of Galilee

Contributor: Kathleen Wood Holyoak; Sherry Summers

Words: Sherry Summers

Music: Kathleen Wood Holyoak

No PDF page layout
No PDF lyrics
No MP3 audio (words only)
No MP3 audio (music only)
No MP3 audio (words and music)

Jan 2018.

The Temple

Contributor: Lynn R. Shurtleff; Ross J. Davidson Jr.

Words: Ross J. Davidson Jr.

Music: Lynn R. Shurtleff

No PDF page layout
No PDF lyrics
No MP3 audio (words only)
No MP3 audio (music only)
No MP3 audio (words and music)

Jan 2018.

Believe the Savior!

Contributor: Toni Thomas; Diane Tuiofu

Words: Toni Thomas

Music: Diane Tuiofu

No PDF page layout
No PDF lyrics
No MP3 audio (words only)
No MP3 audio (music only)
No MP3 audio (words and music)

Jan 2018.

Let the Little Children Come

Contributor: Jenny N. Richards

Words: Emily H. Woodmansee

Music: Jenny N. Richards

No PDF page layout
No PDF lyrics
No MP3 audio (words only)
No MP3 audio (music only)
No MP3 audio (words and music)

Jan 2018.

Like the Sound of Many Waters

Contributor: Catherine A. Tibbitts; J. Frederic Voros Jr.

Words: J. Frederic Voros Jr.

Music: J. Frederic Voros Jr.

Arr.: Catherine A. Tibbitts

No PDF page layout
No PDF lyrics
No MP3 audio (words only)
No MP3 audio (music only)
No MP3 audio (words and music)

Jan 2018.

There Is No Place So Far Away

Contributor: Chad Staten; Michael D. Young

Words: Michael D. Young

Music: Chad Staten

No PDF page layout
No PDF lyrics
No MP3 audio (words only)
No MP3 audio (music only)
No MP3 audio (words and music)

Jan 2018.

Thou Art My God

Contributor: Timothy Max Johnson

Words: Timothy Max Johnson

Music: Timothy Max Johnson

No PDF page layout
No PDF lyrics
No MP3 audio (words only)
No MP3 audio (music only)
No MP3 audio (words and music)

Jan 2018.

Ye Elders of Israel

Contributor: Andrew Moore

Words: Cyrus H. Wheelock

Music: Andrew Moore

No PDF page layout
No PDF lyrics
No MP3 audio (words only)
No MP3 audio (music only)
No MP3 audio (words and music)

Jan 2018.

His Love Will Lead You Home

Contributor: Tyler Castleton; Wayne Burton

Words: Tyler Castleton; Wayne Burton

Music: Tyler Castleton; Wayne Burton

No PDF page layout
No PDF lyrics
No MP3 audio (words only)
No MP3 audio (music only)
No MP3 audio (words and music)

Jan 2018.

Does the Journey Seem Long?

Contributor: Rebekah H. Jennings

Words: Joseph Fielding Smith Jr.

Music: Rebekah H. Jennings

No PDF page layout
No PDF lyrics
No MP3 audio (words only)
No MP3 audio (music only)
No MP3 audio (words and music)

Jan 2018.

More Holiness Give Me

Contributor: Rachel Mecham Goates

Words: Philip Paul Bliss

Music: Philip Paul Bliss

Arr.: Rachel Mecham Goates

No PDF page layout
No PDF lyrics
No MP3 audio (words only)
No MP3 audio (music only)
No MP3 audio (words and music)

Jan 2018.

Thy Savior Yet

Contributor: Stephen M. Jones; Jan Pinborough

Words: Jan Pinborough

Music: Stephen M. Jones

No PDF page layout
No PDF lyrics
No MP3 audio (words only)
No MP3 audio (music only)
No MP3 audio (words and music)

Jan 2018.

Fear Not

Contributor: Anna M. Molgard; Rachel P. Mohlman

Words: Anna M. Molgard; Rachel P. Mohlman

Music: Anna M. Molgard; Rachel P. Mohlman

No PDF page layout
No PDF lyrics
No MP3 audio (words only)
No MP3 audio (music only)
No MP3 audio (words and music)

Jan 2018.

I'll Go Where You Want Me to Go

Contributor: Tami J. Creamer

Words: Mary Brown

Music: Carrie E. Rounsefell

No PDF page layout
No PDF lyrics
No MP3 audio (words only)
No MP3 audio (music only)
No MP3 audio (words and music)

Jan 2018.

Jesus, Savior, Pilot Me

Contributor: Erin D. Buehler

Words: Edward Hopper

Music: John Edgar Gould

No PDF page layout
No PDF lyrics
No MP3 audio (words only)
No MP3 audio (music only)
No MP3 audio (words and music)

Jan 2018.

Joseph's Lullaby

Contributor: Ann Kapp Andersen; Tamara S. Hann

Words: Tamara S. Hann

Music: Ann Kapp Andersen

No PDF page layout
No PDF lyrics
No MP3 audio (words only)
No MP3 audio (music only)
No MP3 audio (words and music)

Jan 2018.

Little Lamb

Contributor: Gary Croxall; Nina Harris

Words: Gary Croxall

Music: Nina Harris

No PDF page layout
No PDF lyrics
No MP3 audio (words only)
No MP3 audio (music only)
No MP3 audio (words and music)

Jan 2018.

Remember Me

Contributor: Kay Hicks Ward; L. Melvin Ward

Words: L. Melvin Ward

Music: Kay Hicks Ward

No PDF sheet music
No PDF lyrics
No MP3 audio (words only)
No MP3 audio (music only)
No MP3 audio (words and music)

Jan 2018.

There Is a Green Hill Far Away

Contributor: Sally DeFord

Words: Cecil Frances Alexander

Music: Sally DeFord

No PDF page layout
No PDF lyrics
No MP3 audio (words only)
No MP3 audio (music only)
No MP3 audio (words and music)

Jan 2018.

I Heard the Bells on Christmas Day

Contributor: Katherine Wright

Words: N/A

Music: John Baptiste Calkin

No PDF page layout
No PDF lyrics
No MP3 audio (words only)
No MP3 audio (music only)
No MP3 audio (words and music)

Jan 2018.

He Is Risen! (Easter Medley)

Contributor: Stephen Mitton; Kathleen Bradford; McKenzie Clawson; Sara Mitton; Brynn Vance

Words: N/A

Music: Joachim Neander; Silesian folk song; Schlesiche Volkslieder, 1842; Lyra Davidica, 1708; Henry Carey

Arr.: Stephen Mitton

Medleyist: Stephen Mitton

No PDF page layout
No PDF lyrics
No MP3 audio (words only)
No MP3 audio (music only)
No MP3 audio (words and music)

Jan 2018.

I Stand All Amazed

Contributor: Lane E. Johnson

Words: N/A

Music: Charles H. Gabriel

No PDF page layout
No PDF lyrics
No MP3 audio (words only)
No MP3 audio (music only)
No MP3 audio (words and music)

Jan 2018.

Jesus, Lover of My Soul

Contributor: Heather D. Zurcher

Words: N/A

Music: Joseph P. Holbrook

No PDF page layout
No PDF lyrics
No MP3 audio (words only)
No MP3 audio (music only)
No MP3 audio (words and music)

Jan 2018.

America the Beautiful

Words: N/A

Music: Samuel A. Ward

No PDF page layout
No PDF lyrics
No MP3 audio (words only)
No MP3 audio (music only)
No MP3 audio (words and music)

Jan 2018.

Count Your Blessings

Contributor: Ikuko Y. Weller

Words: N/A

Music: Edwin O. Excell

No PDF page layout
No PDF lyrics
No MP3 audio (words only)
No MP3 audio (music only)
No MP3 audio (words and music)

Jan 2018.

I Believe in Christ

Contributor: Jenna B. Mosley

Words: N/A

Music: John Longhurst

No PDF sheet music
No PDF lyrics