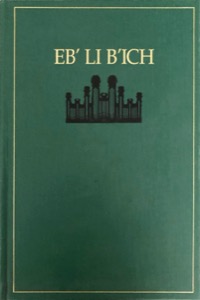 Eb' li b'ich re Lix Iglees li Jesukristo reheb' laj Santil Paab'anel sa' Roso'jikeb' li Kutan
Hymns, Kekchi.
Salt Lake City, Utah, USA. The Church of Jesus Christ of Latter-day Saints.
2012. 2013 Edition (current). 206 songs.
English approval: 11/02; translation approval: 11/02; Book © 2010 by Intellectual Reserve, Inc.
---
Indexes
References
List of songs
Jump to:

Lix k'ojlajik wi'chik li evangelio

(Return to top)
1.

Xnume' q'ojyin, kutan nachal

Words: Parley P. Pratt

Music: George Careless

2.

Lix Musiq' li Dios

Words: William W. Phelps

Music: English melody

3.

Chisaho'q sa' qach'ool

Words: William W. Phelps

Music: Henry Tucker

4.

Taqe'q sa' xb'een li tzuul

Words: Joel H. Johnson

Music: Ebenezer Beesley

5.

At xDios Israel

Words: Joseph Swain; William W. Phelps (adapter)

Music: Repository of Sacred Music, Part Second, Wyeth, 1813; Freeman Lewis

6.

Ex aj Israel, ab'ihomaq

Words: Richard Smyth

Music: Charles C. Converse

7.

Naq kisaqew chiru choxa

Words: Anon.; G. William Richards (adapter)

Music: H. Walford Davies

Not available due to copyright restrictions.

8.

Jun anjel taqlanb'il

Words: Parley P. Pratt

Music: John E. Tullidge

9.

At Dios, rajlal chawil li qaprofeet

Words: Bernard Snow

Music: Harry A. Dean

10.

Jun anjel chi purik kiwil

Words: Sacred Hymns, Manchester, 1840

Music: English melody

Arr.: Ralph Vaughan Williams

11.

Xyaab' xkux jun li profeet ab'i

Words: Joseph S. Murdock; Bruce R. McConkie

Music: Joseph J. Daynes

12.

B'antiox xaq aawe

Words: William Fowler

Music: Caroline E. Sheridan Norton

13.

Kawil Dios re tiikilal

Words: Wallace F. Bennett

Music: Tracy Y. Cannon

14.

Nokotijok chawix

Words: Evan Stephens

Music: Henry A. Tuckett

15.

Xb'een xtij laj Jose Smith

Words: George Manwaring

Music: Sylvanus Billings Pond

16.

Nimanb'ilaq li ki'ilok re Jehova

Words: William W. Phelps

Music: Scottish folk song

17.

Jun winq neb'a' aj numel b'e

Words: James Montgomery

Music: George Coles

18.

Chalqex, chalqex aj santil paab'anel

Words: William Clayton

Music: English folk song

19.

At Dios, qatenq'anel junxil

Words: Isaac Watts

Music: William Croft; Supplement to the New Version, 1708

20.

Ex li tzuul re Sion

Words: Charles W. Penrose

Music: Henry S. Thompson

21.

Xb'aan xkawil eb' li tzuul

Words: Felicia D. Hemans; Edward L. Sloan (adapter)

Music: Evan Stephens

22.

Chiwaklesiiq xloq'al Sion

Words: John A. Granade; Edward Partridge

Music: Gesangbuch der Herzogl, Wirtembergischen Katholischen Hofkapelle, 1784

23.

Chaab'il Sion, taqe'q nawan

Words: George Gill

Music: Joseph G. Fones

24.

Sa' li junelik yu'am

Words: John A. Widtsoe

Music: Alexander Schreiner

25.

B'ichanb'il resil Sion

Words: William W. Phelps

Music: Dutch melody

26.

Adan-ondi-Ahman

Words: William W. Phelps

Music: Anon.

27.

Ajen, ak xsaqew

Words: Joseph L. Townsend

Music: William Clayson

28.

Ralal xk'ajol li Qaawa'

Words: James H. Wallis

Music: Spanish melody

29.

Chalqat, xReyeb' li rey

Words: Parley P. Pratt

Music: Anon.

30.

Wilom rik'in xnaq' wu

Words: Julia Ward Howe

Music: Anon.

Li nimank ut b'antioxink

(Return to top)
31.

Ex xyiib'ahom qaDios ut Rey

Words: St. Francis of Assisi; William H. Draper (adapter)

Music: German hymn; Geistliche Kirchengesäng, Cologne, 1623

Arr.: Ralph Vaughan Williams

32.

At nimla Rey

Words: Carrie Stockdale Thomas

Music: Leroy J. Robertson

33.

Li Kristo wan choq' Rey

Words: Charles Wesley

Music: Horatio Parker

34.

Kawil ochoch a'an li Dios

Words: Martin Luther

Music: Martin Luther

35.

Xnimal li loq'onink

Words: Theodulph of Orleans

Music: Melchior Teschner

36.

Nim li Qaawa' tz'aqal

Words: James Allen

Music: Felice de Giardini

37.

Kaw chexb'ichanq re xnimankil

Words: Johann J. Schütz

Music: Bohemian Brethren's Songbook

38.

Li Qaawa' chiqanima

Words: Tracy Y. Cannon

Music: Tracy Y. Cannon

39.

Nim li Qaawa', li qaDios

Words: Joachim Neander

Music: Stralsund Gesangbuch, 1665

Arr.: William S. Bennett; Otto Goldschmidt

40.

Sa' xnimankil lix loq'alil

Words: Ada Blenkhorn

Music: Alfred Beirly

41.

Xyo'leb'aal li chaab'ilal

Words: Robert Robinson

Music: John Wyeth

42.

At nimla Dios, li yiib'anb'il aab'an

Words: Daniel C. Roberts

Music: George W. Warren

43.

Ub'ej chexxik

Words: Marvin K. Gardner

Music: Vanja Y. Watkins

44.

Jehova, chak'am qab'e

Words: William Williams

Music: John Hughes

45.

Kawil k'ojleb'aal

Words: Selection of Hymns, John Rippon, 1787; Robert Keen

Music: Anon.; John Ellis

46.

Jwal nim aawu

Words: Carl Boberg; Stuart K. Hine (adapter)

Music: Tradititonal Swedish folk tune

Not available due to copyright restrictions.

47.

Laa'at lin saqen

Words: James L. Nicholson

Music: John R. Sweney

48.

Chalen jun sut rub'el choxa

Words: Isaac Watts

Music: John C. Hatton

49.

Chalqex, tenamit, chalqex

Words: Henry Alford

Music: George J. Elvey

50.

Xb'aan xchaq'al li ru li tzuul

Words: Folliott S. Pierpoint

Music: Conrad Kocher

51.

Ex kok'al, li Dios texril

Words: Charles L. Walker

Music: John Menzies Macfarlane

Li tijok ut tz'aamank

(Return to top)
52.

Chaab'il saqen

Words: John Henry Newman

Music: John B. Dykes

53.

Rajlal nawaj aawu

Words: Annie S. Hawks

Music: Robert Lowry

54.

Nach' aawik'in, Qaawa'

Words: Sarah F. Adams

Music: Lowell Mason

55.

K'am wan inb'e

Words: Orson Pratt Huish

Music: Orson Pratt Huish

56.

At Jesus, aj Rahonel

Words: Charles Wesley

Music: Joseph P. Holbrook

57.

At Jesus li raarookat

Words: Horatio R. Palmer

Music: Horatio R. Palmer

58.

At Jesus, chak'am inb'e

Words: Edward Hopper

Music: John Edgar Gould

59.

Qaawa', xwakli chik li iq'

Words: Mary Ann Baker

Music: Horatio R. Palmer

60.

Na'ilok we Jehova

Words: Psalm 23; James Montgomery (adapter)

Music: Thomas Koschat

61.

Li Qaawa' a'an laj Ilol we

Words: Joseph Addison

Music: Dmitri Bortniansky

62.

Chalqex rik'in

Words: Theodore E. Curtis

Music: Hugh W. Dougall

63.

Chitamq li us

Words: William E. Hickson

Music: Ernst Moritz Arndt

64.

Pek tz'irb'il choq' we laa'in

Words: Augustus M. Toplady

Music: Thomas Hastings

65.

Li Kolonel rahok naxk'e

Words: Edward L. Hart

Music: Crawford Gates

66.

Kim, taaqehin

Words: John Nicholson

Music: Samuel McBurney

67.

B'ar wan xhiilal li waam?

Words: Emma Lou Thayne

Music: Joleen G. Meredith

68.

Chalqex rik'in li Kolonel

Words: Orson Pratt Huish

Music: Orson Pratt Huish

69.

Us ta ch'a'aj cheru lee b'e

Words: Eliza R. Snow

Music: George Careless

70.

At qaYuwa', tz'aqal aj rahonel

Words: Angus S. Hibbard

Music: Friedrich F. Flemming

71.

Hilan at waam

Words: Katharina von Schlegel

Music: Jean Sibelius

Not available due to copyright restrictions.

72.

Chaab'il xchaq'rab' li Dios

Words: Philip Doddridge

Music: Hans Georg Nägeli

73.

Sa' laa ch'ool tuulan chatwanq

Words: Grietje Terburg Rowley

Music: Grietje Terburg Rowley

74.

K'e insantilal

Words: Philip Paul Bliss

Music: Philip Paul Bliss

75.

Ninpaab' li Kristo

Words: Bruce R. McConkie

Music: John Longhurst

76.

Laj Kolol we yo'yo

Words: Gordon B. Hinckley

Music: G. Homer Durham

77.

Ninnaw naq yo'yo inKolonel

Words: Samuel Medley

Music: Lewis D. Edwards

78.

Lix nawom inch'ool

Words: Loren C. Dunn

Music: Michael F. Moody

79.

Tijok sa' muqmu

Words: Hans Henry Petersen

Music: Hans Henry Petersen

80.

Sa' kuyuk sa' xoochal chawu

Words: Paul L. Anderson

Music: Clay Christiansen

81.

Ma tijok xayal?

Words: Mary A. Pepper Kidder

Music: William O. Perkins

82.

Qaawa', yal xb'aan aak'oxlankil

Words: Bernard of Clairvaux

Music: John B. Dykes

83.

Xhoonal tijok, k'a'jo' xsahil

Words: William W. Walford

Music: William B. Bradbury

84.

Chiqab'i li Musiq'ej

Words: Penelope Moody Allen

Music: Martin Shaw

85.

Sa' loq'al, chi q'un b'ichan

Words: William W. Phelps

Music: Thomas C. Griggs

86.

A'an li tijok rajom li aamej

Words: James Montgomery

Music: George Careless

87.

Sa li k'anjel

Words: Isaac Watts

Music: John J. McClellan

88.

Jo' chanru naq li k'ajob'

Words: Thomas Kelly

Music: Joseph J. Daynes

89.

Li hilob'aal kutan

Words: Paul L. Anderson

Music: Lynn R. Carson

90.

Jun li sahil b'ich sa' li qaxikik

Words: George Manwaring

Music: Ebenezer Beesley

91.

Sa naqil lix yalb'al li qaq'e

Words: Andrés C. González

Music: Joseph P. Webster

92.

Aawik'in chiwanq li Dios rajlal

Words: Jeremiah E. Rankin

Music: William G. Tomer

93.

At Qaawa', sa' qaxikik

Words: George Manwaring

Music: Benjamin Milgrove

94.

Chawu, Qaawa', ninb'antioxin

Words: Joseph H. Dean

Music: Joseph H. Dean

95.

Ak xnume' kutan

Words: Sabine Baring-Gould

Music: Joseph Barnby

96.

Li Musiq'ej x'eek'an sa' qaam

Words: Frank I. Kooyman

Music: Alexander Schreiner

97.

Choohaachaq'rab'i, Qaawa'

Words: John Fawcett; Walter Shirley

Music: Jean-Jacques Rousseau

98.

Chatwanq wik'in, ak yoo chi ewuuk

Words: M. Lowrie Hofford

Music: Harrison Millard

99.

Chatwanq wik'in

Words: Henry F. Lyte

Music: William H. Monk

Li loq'laj wa'ak

(Return to top)
100.

Sa' tuulanil

Words: Zara Sabin

Music: Thomas L. Durham

101.

At qaYuwa' chawab'i

Words: Annie Pinnock Malin

Music: Louis M. Gottschalk

102.

Chi tuulan qach'ool

Words: Mabel Jones Gabbott

Music: Rowland H. Prichard

103.

Naq naqak'ul li eetalil

Words: John Nicholson

Music: Alexander Schreiner

104.

At Dios li Yuwa'b'ej

Words: William W. Phelps

Music: Felix Mendelssohn

105.

At Kolonel, naqatz'aama

Words: Andrew Dalrymple

Music: George Careless

106.

Jesus aj Nazaret, Nimajwal Rey

Words: Hugh W. Dougall

Music: Hugh W. Dougall

107.

At qaYuwa', chi yaal xqapaab'

Words: Parley P. Pratt

Music: Jane Romney Crawford

108.

Chiru Jesus nokob'ichan

Words: Richard Alldridge

Music: Joseph Coslett

109.

Chiru li krus sa' xb'een li tzuul

Words: Vilate Raile

Music: Leroy J. Robertson

110.

Chi tuulan, ut chi tuqtu

Words: Joseph L. Townsend

Music: Ebenezer Beesley

111.

Nokoch'utla sa' komonil

Words: Eliza R. Snow

Music: George Careless

112.

Koxra li Dios, ut li Ralal

Words: Edward P. Kimball

Music: Alexander Schreiner

113.

Jo' nakawaj, at Dios

Words: Frank I. Kooyman

Music: Robert P. Manookin

114.

Kristo, li tuulan xyo'la

Words: Parley P. Pratt

Music: Giacomo Meyerbeer; English Chorister

115.

Re xk'oxlankil li K'ajolb'ej

Words: Frank I. Kooyman

Music: Alexander Schreiner

116.

Kikam li nimla Kolonel

Words: Eliza R. Snow

Music: George Careless

117.

Kikam li nimla Kolonel, ut ke'yaab'ak

Words: Isaac Watts

Music: George Careless

118.

Sachso ninkana

Words: Charles H. Gabriel

Music: Charles H. Gabriel

119.

Sa' najtil tenamit

Words: Cecil Frances Alexander

Music: John H. Gower

120.

K'a'jo' xrahom ut xchaab'ilal

Words: Eliza R. Snow

Music: Thomas McIntyre

Li Rahil Kutan

(Return to top)
121.

Ak xwakli!

Words: Cecil Frances Alexander

Music: Joachim Neander

122.

Kristo anajwan xwakli

Words: Charles Wesley

Music: Lyra Davidica, 1708; Henry Carey

Li Ralankil

(Return to top)
123.

Sahaq eech'ool, li Qaawa' xchal

Words: Isaac Watts

Music: George Frideric Handel

Adapt.: William W. Phelps

124.

Chalqex, paab'anel

Words: Latin hymn, 18th century; John F. Wade

Music: John F. Wade

125.

Junxil chaq sa' xtenamit laj David

Words: Cecil Frances Alexander

Music: Henry J. Gauntlett

126.

Eb' li anjel xe'b'ichan

Words: French carol

Music: French carol

127.

Santil q'ojyin

Words: Joseph Mohr

Music: Franz Gruber

128.

Sa' xwa'leb'aal xul

Words: Martin Luther; Little Children's Book for Schools and Families, 1885

Music: William J. Kirkpatrick

129.

Chiru q'ojyin ki'ab'iman

Words: Edmund H. Sears

Music: Richard S. Willis

130.

At ch'ina tenamit Belen

Words: Phillips Brooks

Music: Lewis H. Redner

131.

Najt chaq chiru xch'och'ileb' laj Juda

Words: John Menzies Macfarlane

Music: John Menzies Macfarlane

132.

Ab'ihomaq xb'icheb' li anjel

Words: Charles Wesley

Music: Felix Mendelssohn

133.

Kampaan xwab'i sa' Ralankil

Words: Henry Wadsworth Longfellow

Music: John Baptiste Calkin

134.

Naq kiyo'la

Words: English carol; Christmas Carols, W. Sandys, 1833

Music: English carol; Christmas Carols, W. Sandys, 1833

Chirix jar paay chi na'leb'

(Return to top)
135.

Kampaan, chiru choxa b'ichan

Words: Alfred Tennyson

Music: Crawford Gates

136.

Chi ak'il xikaqo

Words: Charles Wesley

Music: James Lucas

137.

Jo' k'ihal mayej xqak'e

Words: William Walsham How

Music: Anon.; Cantica Laudis

Arr.: Lowell Mason; George J. Webb

138.

Li iyaj naqaw rajlal

Words: Anon.

Music: Henry A. Tuckett

139.

Chi'oksimanq li hoonal

Words: Robert B. Baird

Music: Robert B. Baird

140.

Rik'in naq k'iila usilal xink'ul

Words: Grace Noll Crowell

Music: Phillip Landgrave

Not available due to copyright restrictions.

141.

Qaawa', chatintaaqe

Words: Susan Evans McCloud

Music: K. Newell Dayley

142.

Sa' raam laj Ilol Karneer

Words: Mary B. Wingate

Music: William J. Kirkpatrick

143.

Ma chaab'il anajwan xinb'aanu arin?

Words: Will L. Thompson

Music: Will L. Thompson

144.

Jun saqen naru taak'e

Words: Helen Silcott Dungan

Music: James M. Dungan

145.

Naq toj anajwan

Words: Luella Clark

Music: Evan Stephens

146.

Xkutankil saq'e wan sa' li waam

Words: Eliza E. Hewitt

Music: John R. Sweney

147.

At Jesus, qanimla Rey

Words: John Fellows

Music: Tracy Y. Cannon

148.

A' li chaab'il aatin chiqaye

Words: Joseph L. Townsend

Music: Ebenezer Beesley

149.

Us taab'aanu

Words: Anon.

Music: George Kiallmark Sr.

150.

At Qaawa', chawu xoochal

Words: William Hammond

Music: Harry A. Dean

151.

Sik' li us

Words: Joseph L. Townsend

Music: Henry A. Tuckett

152.

Chanaw naq wan xwankil aawaam

Words: Anon.; Sally Swey

Music: Roger L. Miller

153.

K'e sa' ajl li k'iila usilal

Words: Johnson Oatman Jr.

Music: Edwin O. Excell

154.

Chiqanima li Qaawa' Dios

Words: Thomas Ken

Music: Louis Bourgeois; Genevan Psalter, 1551

155.

Sa' xk'anjel li Dios chiqayal tz'aqal qaq'e

Words: Evan Stephens

Music: Evan Stephens

156.

Kim chiwix

Words: William Willes

Music: A. C. Smyth

157.

Yo'qeb', ex Kristiaan

Words: Sabine Baring-Gould

Music: Arthur S. Sullivan

158.

Laa wochoch, Dios, naqara

Words: William Bullock

Music: Leroy J. Robertson

159.

B'oqb'ilo choq' xmoos

Words: Elsie Duncan Yale

Music: Adam Geibel

160.

B'oqb'ilo chixpleetinkil li maa'usilal

Words: Anon.

Music: William B. Bradbury

161.

Cheril! Lix teep li Rey

Words: Fanny J. Crosby

Music: Adam Geibel

162.

K'e xmetz'ew aawuq' chi yaal

Words: Will L. Thompson

Music: Will L. Thompson

163.

Santil aatin

Words: Marvin K. Gardner

Music: Robert Cundick

164.

Xaqxo toowanq

Words: Evan Stephens

Music: Evan Stephens

165.

Chi ub'ej

Words: Ruth May Fox

Music: Alfred M. Durham

166.

Jo' saaj ralal Sion wanko

Words: Susan Evans McCloud

Music: Irish melody

167.

Xyo'onihom laj Israel

Words: Joseph L. Townsend

Music: William Clayson

168.

Ani taataaqenq re li Qaawa' Dios?

Words: Hannah Last Cornaby

Music: Henry H. Russell

169.

Chexxik rik'in paab'aal

Words: Ruth Muir Gardner

Music: Lyall J. Gardner

170.

Xnume' li kutan

Words: Eliza R. Snow

Music: German folk song

171.

Ex tenamit, ak xtaw xkutankil

Words: Louis F. Mönch

Music: George F. Root

172.

K'a'jo' xnimal ru

Words: Henry U. Onderdonk

Music: Joseph Martin Kraus

173.

Santil aatin li yaal naxye

Words: Joseph L. Townsend

Music: Edwin F. Parry

174.

Tinxik b'ar taawaj naq tinxik

Words: Mary Brown

Music: Carrie E. Rounsefell

175.

K'a'ru pe' li yaal?

Words: John Jaques

Music: Ellen Knowles Melling

176.

Li b'arb'ookil ch'iich'

Words: Joseph L. Townsend

Music: William Clayson

177.

Eek'anb'il li yaal qab'aan

Words: Anon.; M. E. Abbey

Music: Charles Davis Tillman

178.

Xikaqo sa' dominkil tzoleb'aal

Words: Robert B. Baird

Music: Robert B. Baird

179.

Naq nintzol li loq'laj hu

Words: C. Marianne Johnson Fisher

Music: C. Marianne Johnson Fisher

180.

Xatsaqew, at hilob'aal

Words: Robert B. Baird

Music: Ebenezer Beesley

181.

Chink'utuq chi tenq'anb'il

Words: Lorin F. Wheelwright

Music: Lorin F. Wheelwright

182.

Wi ta toj sa' Kolob

Words: William W. Phelps

Music: English melody

Arr.: Ralph Vaughan Williams

183.

Muqmu xna'leb' naq li Qaawa'

Words: William Cowper

Music: William B. Bradbury

184.

K'a'jo'aq xb'ich li qaam

Words: Joseph L. Townsend

Music: William Clayson

185.

Sa' santil ochoch chex'ok

Words: Jean L. Kaberry

Music: Robert P. Manookin

186.

Li santil ochoch chi tzuul

Words: Archibald F. Bennett

Music: Alexander Schreiner

187.

Sutq'isihomaq eech'ool

Words: Paul L. Anderson

Music: Gaylen Hatton

188.

At Yuwa'

Words: Eliza R. Snow

Music: James McGranahan

189.

Sa' xyu'ameb' li ani chaab'il

Words: Karen Lynn Davidson

Music: A. Laurence Lyon

190.

Naq nawan rahok

Words: John Hugh McNaughton

Music: John Hugh McNaughton

191.

Li ochoch chanchan choxa

Words: Carolyn Hamilton Klopfer

Music: W. Herbert Klopfer

Reheb' li kok'al

(Return to top)
192.

QaYuwa', eb' li ralal

Words: Caroline V. Sandell-Berg

Music: Traditional Swedish melody

Not available due to copyright restrictions.

193.

Taaruuq toowanq aran sa' choxa

Words: Ruth Muir Gardner

Music: Vanja Y. Watkins

194.

Laa'in jun ralal li Dios

Words: Naomi W. Randall

Music: Mildred Tanner Pettit

195.

Yo'yo lin Dios, ninnaw

Words: Reid N. Nibley

Music: Reid N. Nibley

196.

Paab'eb' li taqlahom

Words: Barbara A. McConochie

Music: Barbara A. McConochie

197.

Tzolin chi b'eek sa' saqen

Words: Clara W. McMaster

Music: Clara W. McMaster

198.

Lix saqenkil li Dios

Words: Matilda Watts Cahoon

Music: Mildred Tanner Pettit

199.

Li rilom li Dios

Words: Marie C. Turk

Music: Willy Reske

200.

Sa' li tenamit Sion

Words: Eliza R. Snow

Music: George F. Root

201.

Li rahok cherib'il eerib'

Words: Luacine Clark Fox

Music: Luacine Clark Fox

Reheb' li ixq

(Return to top)
202.

Jo' qech ixqilal qib' arin sa' Sion (Reheb' li ixq)

Words: Emily H. Woodmansee

Music: Janice Kapp Perry

Reheb' li winq

(Return to top)
203.

Ex xb'eenil aj Israel (Reheb' li winq)

Words: Cyrus H. Wheelock

Music: Thomas H. Bayly

204.

Ex li ak b'oqb'ilex (Reheb' li winq)

Words: Mary Judd Page

Music: Daniel B. Towner

205.

Ex winq re li Qaawa' (Reheb' li winq)

Words: Thomas Davenport

Music: Orson Pratt Huish

206.

Nalemtz'un chaq li ruxtaan (Reheb' li winq)

Words: Philip Paul Bliss

Music: Philip Paul Bliss